'The Batman' Set Photos: What the New Images Reveal as Robert Pattinson Returns to Set
The Batman returned to filming in September after star Robert Pattinson tested positive for the coronavirus, and the cast and crew have been snapped by fans shooting in and around Liverpool in the United Kingdom. Some of the biggest stars of the show were seen filming what looked like a funeral scene, with actors like Colin Farrell, Zoe Kravitz and Pattinson himself seen on set, along with the new Batmobile.
This seems like the same funeral scene that fans got to see during the first teaser trailer for the movie, released during the DC FanDome event in August. In that scene, we not only saw Pattinson appear as Bruce Wayne, but also Big Little Lies' Zoe Kravitz in a glamorous black coat and hat as Selena Kyle, aka Catwoman.
The actor who has created the most buzz, however, is Colin Farrell, who looks nearly unrecognizable under the prosthetics as Oswald Cobblepot, the man who becomes The Penguin in Barman lore.
However, the response to Farrell's look has not been entirely positive. One Twitter user summed up much of the reaction when he wrote: "It will never not be funny to me that The Batman is spending thousands of dollars to make Colin Farrell look like...a normal middle aged actor." Another Twitter user commented: "Like they literally could've saved 10+ million on salary and makeup artists if they hired Tom Wilkinson."
Talking of middle-aged actors (and Tom Wilkinson), the photos also gave viewers their first glimpse of John Turturro, who is playing mob boss Carmine Falcone, as portrayed by Wilkinson in Batman Begins.
The photos were shot outside of Liverpool's St George's Hall, which is standing in for the Gotham City Hall. In one picture, we learn that the funeral is for the as-yet-unnamed character being played by The Strain's Rupert Penry-Jones. However, fan theories have suggested he is playing Don Mitchell, a victim of The Riddler (Paul Dano) seen with his face taped up in the FanDome trailer. These fans also think that the character is the deceased mayor of Gotham.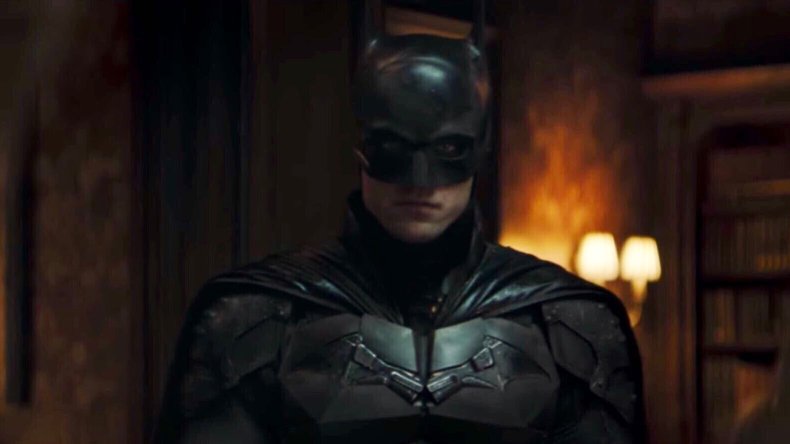 It seems it will not be an entirely civil affair. Some of the photos show protestors picketing the funeral with signs reading "our day of judgement" and "lies lies lies."
Also starring in The Batman but not appearing in these set photos are Andy Serkis, who is playing Bruce Wayne's legendary butler Alfred. Peter Sarsgaard of An Education and Westworld's Jeffrey Wright also star.
These set photos confirm that Pattinson is back on set, a month after he contracted the coronavirus. The movie, meanwhile, is not due out until March 2022, its third release date. COVID-19 pushed the Matt Reeves movie from June 2021 to October 2021, only for the film to move again when Dune moved into its slot.