'The Batman' Trailer Breakdown: Robert Pattinson and His Batmobile Battle the Riddler
The second full trailer of The Batman launched at the 2021 DC FanDome event, showcasing Robert Pattinson's version of the Dark Knight in all his glory.
Viewers got their first look at Paul Dano as the Riddler while we also got to see more of Zoë Kravitz as Selina Kyle (Catwoman) and the unrecognizable Colin Farrell as Oswald Cobblepot (Penguin).
The trailer clocks in at two minutes and forty-four seconds, making it the most extensive preview of Matt Reeves' The Batman that we've seen yet. This new trailer also ends with the confirmation that the movie will be released on March 4, 2022, in theaters only. This means there won't be the option to watch the movie from home like all of the other Warner Bros. films in 2021.
So much is shown but it may leave Batman fans with even more questions about the movie. Here's a breakdown of everything seen in the latest trailer of The Batman.
What happens in The Batman trailer?
The trailer opens outside a diner on a dark and rainy night (it is Gotham City after all), looking in at a figure sat at the counter. We see the unmistakable side profile of Dano, looking calm as the building is surrounded and then stormed by police. They arrest him, and the camera pans above the coffee he was stirring to reveal the Riddler's signature question mark expertly shaped in the drink – any barista would be proud of the artisan work.
Next, we see the Bat Signal shining into the Gotham sky. Showcasing his Batman voice, Pattinson's narration plays over and says, "Fear is a tool and when that light hits the sky, it's not just a call, it's a warning."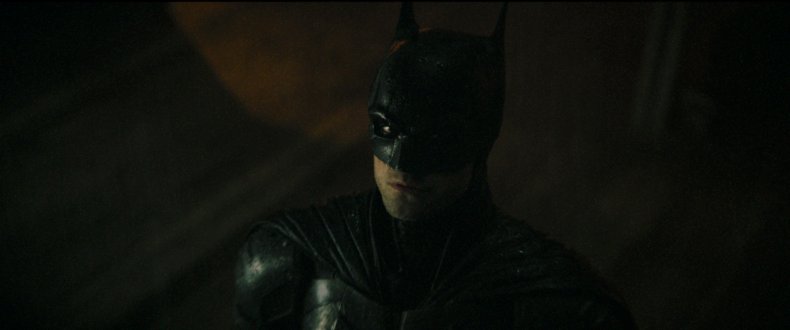 Similar to what we saw in the first trailer, Batman fights a group of henchmen with clown makeup. This time we see him use an electro grip to defeat his enemies. We see here and later on in the trailer that his Batsuit is also bulletproof.
Batman makes a visit to Arkham City Hospital to come face to face with a mysterious patient. We can see in a reflection it's someone with glasses, which could mean it's the Riddler as we saw in the opening scene.
Flashes of an explosion and a broody Bruce Wayne appear before Selena Kyle, aka Catwoman emerges from a car. We get a better look at Kravitz here as she gets close with Bruce Wayne and showcases her combat style during a fight with someone else.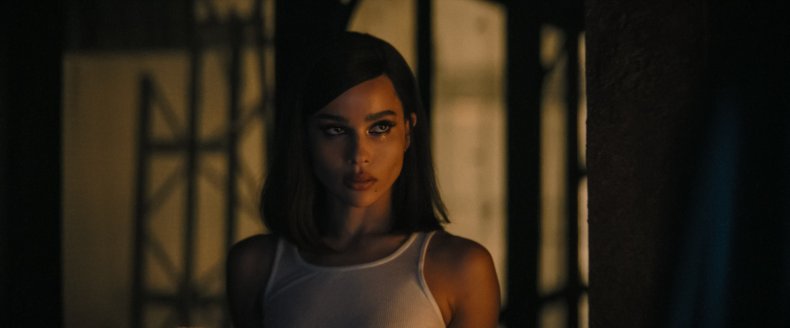 Via more voiceover, the story seems to be setting up Riddler as "the match" to light Gotham's "powder keg." We then see Bruce Wayne walking around what looks like a crime scene set up by the Riddler. He paces in the center of the floor while photographs and writing is sprawled in a circle around him. The phrases surrounding Wayne in this moment are, "No More Lies Colson," "The Sins of My Father??" "Mitchell," "Savage" and "Renewal Is A Lie."
From this moment on the action is ramped up and we see Batman in full gear fighting countless people. He comes face to face with Penguin who shouts at him "Woah, take it easy, sweetheart" in a thick New York accent. Andy Serkis as Alfred Pennyworth and Jeffrey Wright as James Gordon also make brief appearances within the trailer.
An intense fight scene is previewed in a hallway as bullets being fired at Batman create a strobe lighting effect. Batman doesn't wince as countless bullets bounce off of him.
We get a closer look at the muscle car-styled Batmobile; different from every iteration we've seen in Batman films before. Featured in a chase scene with Penguin, Batman drives what looks like a black Mustang car with the chassis raised on huge wheels.
A sinister, almost robotic voice then plays over many flashes of action. "What's black, and blue and dead? You." Since it's a riddle, we can assume this will be the voice given to Riddler. We see a mysterious man with thick glasses and a balaclava over his face, described on a news channel as a serial killer. Thanks to the DC Comics Instagram account, we know this mysterious figure has been confirmed as the Riddler.
The trailer ends with Penguin celebrating besting Batman in a car chase. Suddenly the Batmobile emerges from the flames and rams Penguin's car, flipping it in the process. While Penguin sits in his upturned car, we see his point of view as the caped crusader walks towards him as a silhouette against the fiery backdrop.
The titles slide into frame and the pictures fade to red -- "The Batman."
The end credit screen confirms the film will be "only in theaters March 4, 2022."