Battle in Chernobyl as Fears 'Radioactive Nuclear Dust' Could Be Unleashed
Fighting between Russian forces and Ukraine has now reached Chernobyl, as the country's president and interior minister have warned of the dangers of artillery fire striking nuclear waste storage facilities.
Ukrainian Interior Ministry adviser Anton Herashchenko took to social media to warn against fighting in the area and the dangers of artillery fire in the area where there is "unsafe nuclear radioactive waste."
"The invaders from the territory of Belarus have moved into the [Chernobyl exclusion] zone," he wrote on his Facebook page.
"The national guardsmen, who guard the collectors of unsafe nuclear radioactive waste, are fighting hard.
"If the invader's artillery hits and ruins/damages the collectors of nuclear waste, radioactive nuclear dust can be spread over the territory of Ukraine, Belarus and the [countries] of the EU."
Ukrainian President Volodymyr Zelenskyy also warned of the dangers of artillery fire near Chernobyl.
"Russian occupation forces are trying to seize the #Chornobyl_NPP. Our defenders are giving their lives so that the tragedy of 1986 will not be repeated," he wrote in a tweet. "Reported this to @SwedishPM. This is a declaration of war against the whole of Europe."
The Ukrainian president has continuously been tweeting updates on the ongoing invasion throughout the day.
"We have severed diplomatic relations with Russia. For all those who have not yet lost their conscience in Russia, it is time to go out and protest against the war with Ukraine," he wrote earlier in a tweet.
He also likened the invasion to that of the Nazis in World War II and highlighted what he and Ukraine's European ally's next moves would be.
"Russia treacherously attacked our state in the morning, as Nazi Germany did in [WW2] years," Zelenskyy wrote.
"As of today, our countries are on different sides of world history. [Russia] has embarked on a path of evil, but [Ukraine] is defending itself and won't give up its freedom no matter what Moscow thinks."
He also tweeted: "We are creating an anti-Putin coalition. I spoke with [Ursula Von der Leyen], Emmanuel Macron, Karl Nehammer and Recep Tayyip Erdoğan about concrete sanctions and concrete assistance for our military. We are waiting for decisive action."
The Ministry of Foreign Affairs (MFA) of Ukraine also issued a press release on Thursday about the developing military situation. In the statement, the MFA vowed to fight for the people of Ukraine both at home and abroad.
"We will continue to defend the rights and interests of Ukrainians in Russia, including Ukrainian political prisoners," it said in the statement.
"The Ministry of Foreign Affairs has also commenced the evacuation of Ukraine's Embassy in Moscow. Ukrainian Consulates on the territory of the Russian Federation are operating in their routine capacities for the time being."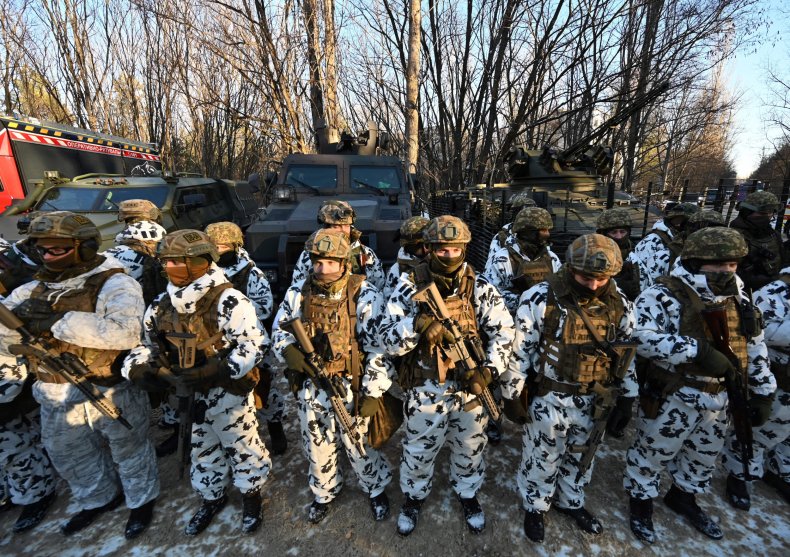 Update 2/24/22, 11:44 a.m. ET: This story has been updated with further details.
Correction 2/24/22, 11:44 a.m. ET: This story has been updated to correct Anton Herashchenko's title.