In the Battle for Control of the Democratic Party, Progressives Are Gaining Ground
The unified fight to oust President Donald Trump gave way to a battle between moderates and progressives over the fate of the Democratic Party, and former Vice President Joe Biden's victory likely will only delay the shift of the party further left.
Biden claimed victory days after the election, an achievement for the party that was four years in the making. Part of Biden's victory is credited to progressive members of the party casting ballots for a candidate that wasn't their first—or even second—choice, and now they're expecting something in return.
"Given the fact that younger progressives, in particular, Latinos and African Americans, will be responsible for a Biden election victory, he'll have no choice but to follow for their agendas," said Thomas Whalen, Boston University political historian and author. "The political momentum will be too great for him to ignore or he'll be a one-term president."
While Biden won the presidency, Democrats lost seven seats and are fighting in Georgia's Senate runoff elections to have a 50-50 split in the Senate, giving them control with Senator Kamala Harris, as vice president, casting the tie-breaking vote.
A loss in one of the Georgia races will keep control in the Republicans' hands, and in an election in which Democrats were expected to clean up, the party's underwhelming performance down the ballot fostered arguments over who was to blame.
Moderates blamed progressives for opening them up to Republican socialist attacks and promoting unpopular messaging about defunding the police. Progressives, such as Representative Alexandria Ocasio-Cortez, put the blame on Democrats for failing to campaign in the 21st century.
In her short time in office, Ocasio-Cortez has become one of the most well-known names on Capitol Hill. She has mastered the art of connecting with voters digitally and criticized members of her party for not capitalizing on Facebook's fundraising ability during an interview with the New York Times.
"Our party isn't even online, not in a real way that exhibits competence," Ocasio-Cortez said. "And so, yeah, they were vulnerable to these messages, because they weren't even on the mediums where these messages were most potent. Sure, you can point to the message, but they were also sitting ducks. They were sitting ducks."
She also rejected that progressive messaging was the problem, noting that "every single candidate that co-sponsored Medicare for All in a swing district kept their seat."
The pandemic thrust economic and health inequality into the spotlight and reignited talks about Medicare for All. A Kaiser Family Foundation poll in October found that 53 percent of people supported Medicare for All and 63 percent of people in a Pew Research poll from August believe the government has a responsibility to make sure all Americans have health care coverage.
Despite clashes on policies and the direction to take the party, House Democrats opted to stay with the old guard for another Congress. Representative Nancy Pelosi was nominated once again to serve as speaker of the House, and Democrats backed House Majority Leader Steny Hoyer and House Majority Whip James Clyburn to remain in their positions.
When asked if she accepted responsibility for the election losses, Pelosi told reporters, "I take credit for winning a majority and holding the House."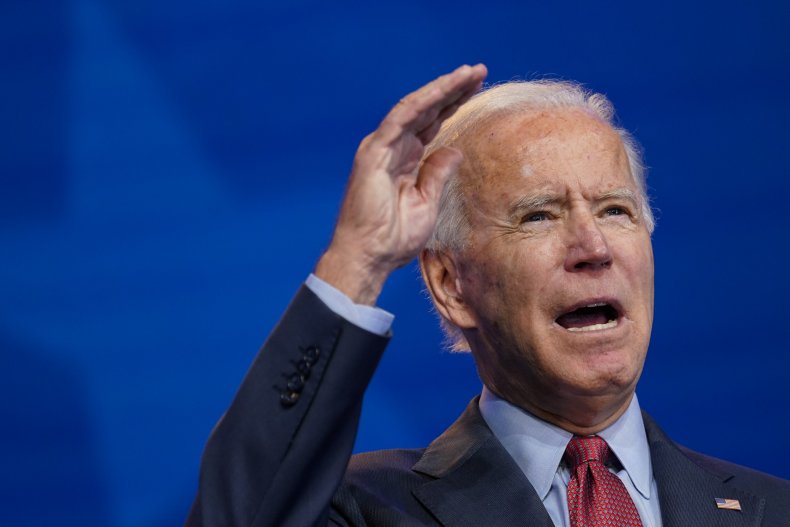 Throughout the campaign, Biden defended himself against Republican attacks labeling him as the leader of a party with socialistic ideals. He reminded voters that he beat Senator Bernie Sanders, a self-described Democratic Socialist, for the nomination, created a health care plan that stopped short of Medicare for All and released an economic recovery plan focusing on clean energy that utilized nationalist themes often associated with Trump's "America First" plan.
"Biden has been very effective at going back and forth between the center and the base, and I suspect that's what his presidency will entail, as well, but the pressure will be significantly more the day after the votes are cast," Democratic strategist Michael Gordon said.
House progressives warned Biden about who he chose to bring into the fold of his administration ahead of the election and the inclusion of Neil MacBride drew criticism from progressives outside Capitol Hill. Biden, who has signaled a willingness to reach across the aisle, also faced pushback from progressives over the potential appointment of a Republican to a cabinet position.
"It would indeed be quite divisive for Joe Biden, who along with Kamala Harris is nearly 5 million votes ahead of Donald Trump and Mike Pence, to revert to appointing Republicans in his Cabinet," Representative-elect Mondaire Jones told Politico.
"This isn't even just about Republicans versus Democrats. This is about getting the right kinds of Democrats in leadership."
The night before Biden was elected, Sanders, who endorsed Biden after ending his own presidential bid, reminded progressives of their impact on Biden's victory and said he would present to the Senate an agenda that he would like to see passed in the first 100 days.
To successfully move policies through Congress for a meaningful presidency, Whalen said Biden will have to pay "close attention to his left flank" and won't have a choice but to pursue progressive measures. Making the real question: How bold will they be?
Andrew Feldman, a Democratic strategist, said Biden shifted his stance on certain issues as the campaign moved toward Election Day. Policy proposals released in July that were crafted with the help of Sanders allies such as Ocasio-Cortez, showed a significant shift to the left from where Biden previously stood as the most moderate candidate.
Feldman foresaw Biden as becoming the "most transformative president" since Franklin D. Roosevelt and over time, policies would move closer to where "the far left progressives want to be." However, getting to that point requires the Democratic Party to address its branding problem, according to Gordon.
"Democrats will need to learn how to sell progressive policies that are good for the country, good for American citizens in a way that doesn't make the socialism tag stick," he said, noting that it makes them an "easy target" and a difficult sell.
Other experts agreed that Democrats need to improve their messaging and spend time convincing the American people to support their legislation but didn't see socialism as a major hurdle. Given the struggles Americans are facing to pay their bills and secure health care during a period of high unemployment, they expected the socialist tag to have less of an impact than it once did.
"We might have to shut down again so it's going to require trillions of federal stimulus to keep the country afloat and it's going to require progressive reforms to prevent the economy from going over the cliff just as FDR did in the 1930s," Whalen said. "Families and individuals will forget about ideology if they can't feed themselves."
If the economic fallout of the pandemic is one driver of the Democratic Party's push for progressive policies, Ocasio-Cortez is another. She's helping shape policy conversations and is representative of a rising generation of voters displeased with the political status quo. Her popularity and efficacy in advocating her viewpoints help drive support and attention, Kelly Dietrich, CEO of the National Democratic Training Committee said, and America as a whole has moved further to the left.
"Demographics changing in Texas and in Georgia are evidence of that. The youth of America always skew more liberal, but even more so recently," he said. "Their priorities are America's priorities."
Since critics are likely to paint any of Biden's policies as socialist, Dietrich said it is more reason for Democrats to be "bold" in their agenda. However, in moving in that direction, Gordon, who sees a need to take a more moderate approach, cautioned Democrats to not overplay their hand. If they fail to push legislation that effectively straddles the center and left that "Biden's danced between" and are seen as overreaching in one direction or the other, "they're going to pay a price for it in two years."
It's a concern shared by Representative Abigail Spanberger, a moderate Democrat who held on to her Virginia seat by less than two points. USA Today reported that she told colleagues on a call that Democrats "lost members who shouldn't have lost" and said it's necessary to never use the words "'socialist' or 'socialism' ever again."
The shift left and progressives taking control of the party, however, is inevitable, according to experts. While it might not be as distinct or fast as some Democrats want, Whalen said, moving further left is the long-term path of the party.
"It just depends how many election cycles it takes," he said.