Battle for Kharkiv as Videos Show Fierce Fighting Between Ukraine and Russia Forces
Ukrainian forces battled Russian troops on the streets of Kharkiv after they entered Ukraine's second-largest city on Sunday, according to local officials and videos circulating on social media.
Oleh Sinegubov, the regional governor of Kharkiv, said in a post on Facebook that light vehicles had entered the city and he urged the city's roughly 1.4 million residents to stay indoors.
"The Russian enemy's light vehicles have broken into Kharkiv, including the city center," Sinegubov said in the post. "Do not leave shelters! Ukraine's armed forces are destroying the enemy. We ask civilians not to go out."
A number of videos posted on social media showed Russian vehicles moving across the city and Russian troops roaming the city in small groups.
Other videos on social media showed gunfire erupting in the streets of Kharkiv and Ukrainian soldiers inspecting Russian light utility vehicles damaged by shelling and abandoned by Russian troops on a street.
Videos posted on Telegram by Anton Herashchenko, an adviser to the interior minister, also showed several light military vehicles traveling along a street while another video captured a burning tank.
A group of Russian soldiers reportedly surrendered to Ukrainian forces in Kharkiv, according to one of the videos posted by Herashchenko. "A smart Russian is a captive Russian," Herashchenko wrote in a caption.
The advance into Kharkiv came after missiles rained down on the city overnight.
Ukraine's State Emergency Service said a rocket had struck a nine-storey residential building in Kharkiv on Saturday night, killing an elderly woman who lived on the fifth floor.
About 60 people who had taken refuge in the building's basement manage to avoid injury, officials said.
Russian forces also blew up a gas pipeline in Kharkiv, Ukrainian President Volodymyr Zelenskyy's office said. The government warned residents to protect themselves from the smoke by covering their windows with damp cloth or gauze.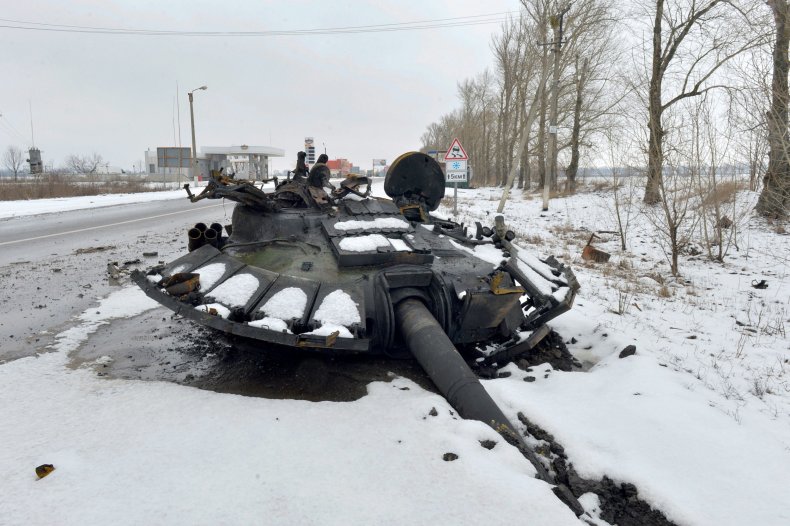 "Residents of Kharkiv survived a terrible night, but our soldiers are repelling the Russian invader," the Ukrainian National Guard said early Sunday. "The armed forces are working, the police are on the ground, and government agencies are performing their duties."
Meanwhile, Russia said it sent a delegation to Belarus for peace talks with Ukraine.
Zelenskyy rejected the officer. He suggested other locations, saying his country was not willing to meet in Minsk because Belarus had served as a staging ground for the Russian invasion.
Update 2/27/22, 5:20 a.m. ET: This article has been updated with additional information.