Battle Rages Between ISIS and Kurds for Control of Syrian Border Town Kobani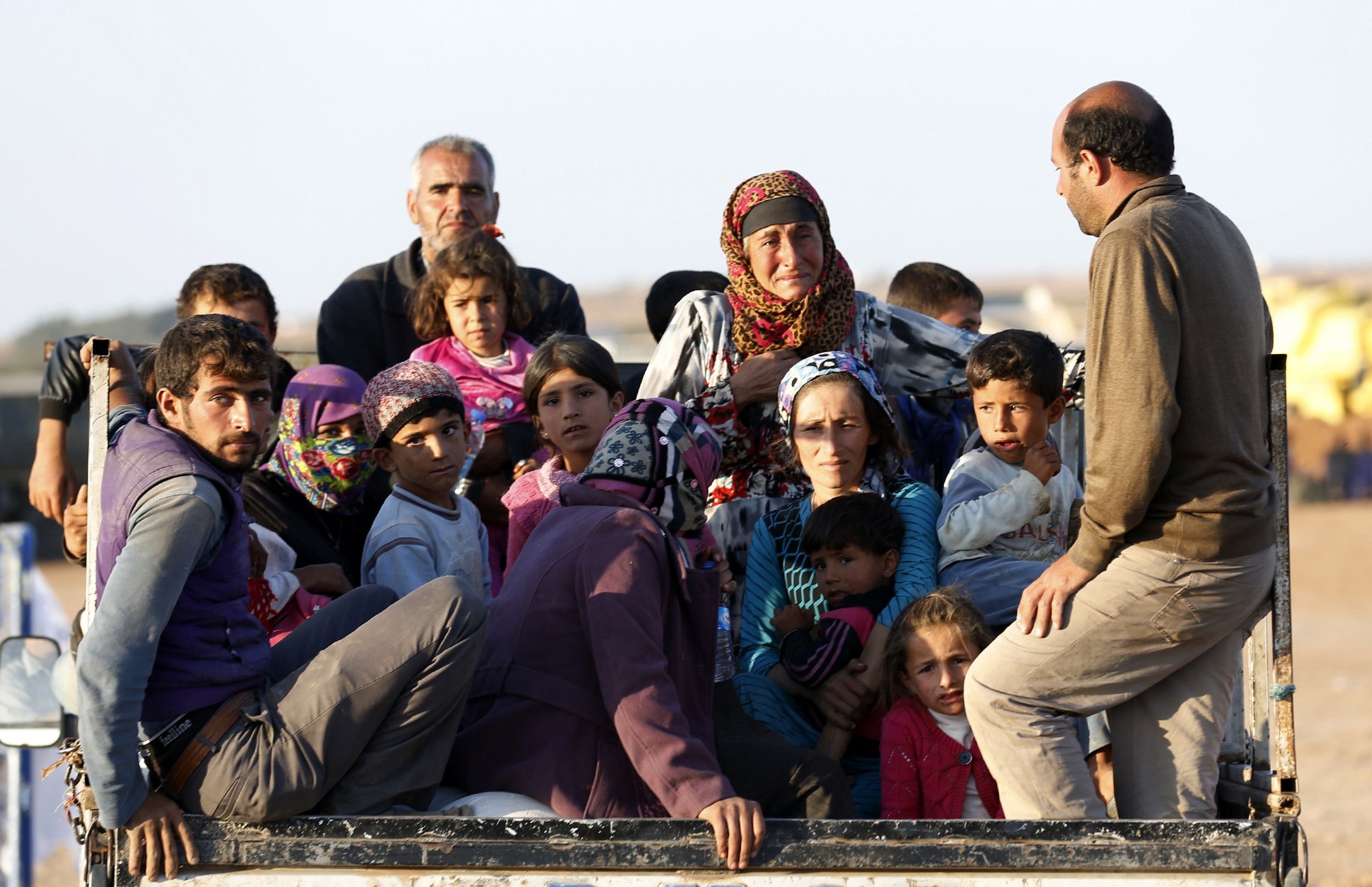 Dozens have been killed in recent days in an escalating battle between militants from Islamic State—the group more commonly known as ISIS—and Kurdish defenders in the Syrian border town of Kobani, including a female Kurdish fighter who reportedly carried out a suicide-bomb attack against ISIS militants on Sunday.
Kobani may fall into the hands of ISIS militants, an official from the town told the BBC Monday, as the group now appears to be in control of Mistanour, a strategic hill overlooking the town. Kurdish fighters have been aided by U.S.-led airstrikes, but Idris Nahsen, a local official, told the AFP airstrikes alone were not enough to stop ISIS from advancing.
The fighting is now taking place on the streets, Reuters reported Monday.
A Kurdish female fighter reportedly threw hand grenades in clashes with ISIS militants on the outskirts of Kobani before "[detonating] herself with a grenade," according to the Syrian Observatory for Human Rights, a U.K.-based monitoring group.
She was identified by the Kurdish People's Protection Units, known as the YPG, as Arîn Mirkan, also known by her Kurdish name, Dilar Gencxemis.
In a statement carried by the Kurdish Firat News Agency, the YPG described ISIS militants as "gangs" and said others should follow Mirkan's example of "self-sacrifice."
"Our comrade Arîn, one of the 15 of our comrades who fell, carried out an action against the gangs, sacrificing her own life in the process," the YPG said in the statement. "If necessary, all YPG and YPJ fighters will follow her example, and the gangs will not be allowed to achieve their aim of taking Kobanê." YPJ is the Women's Protection Unit associated with YPG.
The attack by Mirkan killed "dozens" of ISIS fighters, Mustafa Bali, a Kurdish official told the AFP Monday. This is believed to be the first case of a female Kurdish fighter using a suicide attack against the group, a tactic that the Syrian Observatory for Human Rights said is routinely used by the militants.
More than 45 fighters on both sides were killed in fighting Sunday, according to the Associated Press. The town has been the site of vicious battles between ISIS and YPG since ISIS began its advance on the town in mid-September. More than 144,000 Syrian refugees, the majority of them Kurds, have fled over the border to Turkey since fighting began, according to the U.N. Refugee Agency.
Turkey has been hesitant to become too involved with attacks against ISIS because Syrian Kurdish forces along the border have close ties with Kurdistan Worker's Party, a political group that has campaigned for years for an independent Kurdish state within Turkey. However, a parliamentary vote last week authorized Turkish military operations against ISIS in Iraq and Syria, meaning future action against jihadists by Turkey is possible.
Battle Rages Between ISIS and Kurds for Control of Syrian Border Town Kobani | World