Battle of the Sexes 45 Years on: Billie Jean King Continues the Battle Against Gender Inequality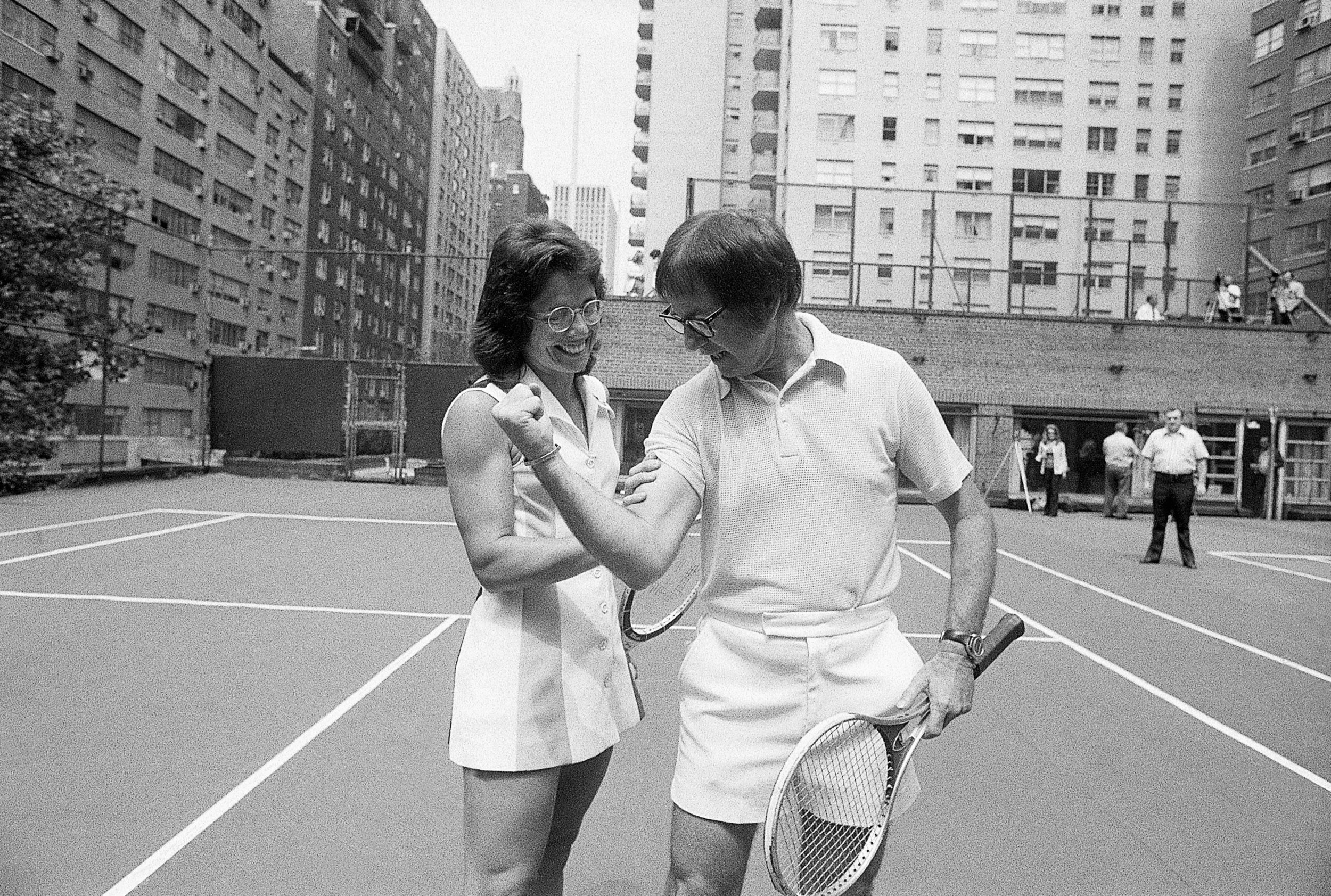 Forty-five years ago, a 55-year-old man lost a tennis match in Houston. That might seem unremarkable if it wasn't for the fact that the man in question was former World No. 1 player Bobby Riggs, and his opponent was Billie Jean King, a woman.
Unoriginally dubbed "The Battle of the Sexes"—which is also the title of the 2017 movie about the match—the event was a strange combination of sociological milestone and circus, with a tennis match in the background. It proved to be a gripping spectacle, played in front of 30,000 at Houston's Astrodome and a huge TV audience, which was estimated at 50 million worldwide.
The event also catapulted King to the kind of popularity she had rarely enjoyed outside tennis circles and came hot on the heels of her ongoing battle for gender equality, which had begun with the introduction of the Open Era in 1968.
But she found her newfound fame hard to take.
"I hate to think that I'm getting this much attention just because of a creep like Bobby Riggs," King told Newsweek's Pete Axthelm in a wide-ranging interview before the match in 1973.
"I think this match is good for tennis."
Three months before her showdown against Riggs, King had become the first president of the Women's Tennis Association. In August of the same year, the U.S. Open became the first major tournament in history to offer equal prizes for men and women.
Despite such a remarkable milestone, King believed her match against Riggs had an arguably bigger impact on the sport's collective conscience and society as a whole.
"I kept thinking this was not about a tennis match, this was about social change," King told Newsweek's Mark Starr on the 25th anniversary of the match.
"I had to win. It was life or death."
A self-proclaimed chauvinist, Riggs had boldly boasted women were inferior and that they couldn't handle the pressure that comes with playing in big events. Five months earlier, Riggs had beat Margaret Court, who would finish 1973 as the No. 1 female player, in straight sets, dropping only three games on the way.
His win over Court, Riggs claimed, proved that even at 55 he could beat any woman on the circuit.
"Don't get me wrong—I love women, in the bedroom and in the kitchen," he famously said during a press briefing while sitting alongside King.
In this day and age such an outburst would elicit outrage and round-the-clock coverage, but more than four decades ago they were part of the conventional wisdom.
Lest someone mistook him for misogynist, Riggs explained to Newsweek in 1973 that he had throngs of male fans.
"Men all over the world write me fan letters," he told Axthelm.
"They want me to put her in her place."
As it turned out, it was he who ended up being put firmly in his place, as King—who should have played instead of Court in the match in May but declined—won in straight sets 6-4, 6-3, 6-3 and pocketed the $100,000 winner-takes-all purse.
Four and a half decades later, the California native remains as central a figure to women's tennis and gender equality as ever.
Earlier this month, she was vocal in praising Serena Williams for calling out the "double standard" in the way reactions from male and female athletes are perceived and treated.
Williams was given three code violations during her straight-set loss to Naomi Osaka in the U.S. Open final and called umpire Carlos Ramos a "thief".
In a column for the Washington Post written after the final, King argued Ramos had in fact abused his power, something many women have experienced at their workplaces.
Women, and especially women of color, King wrote, are treated differently in most arenas of life.
It wasn't the first time the tournament had courted controversy. In the first round, Alize Cornet was handed a code violation for taking her shirt off after realizing she had put it on backward.
The decision to penalize Cornet was lambasted on social media. Judy Murray, the mother of former World No. 1 and two-time Wimbledon winner Andy Murray, tweeted a clip of the incident, highlighting the disparity in treatment between men and women.
In 2009, King was awarded the Medal of Freedom from President Barack Obama, who praised her for what she did "to broaden the reach of the game, to change how women athletes and women everywhere view themselves, and to give everyone, regardless of gender or sexual orientation—including my two daughters—a chance to compete both on the court and in life."
Yet, tellingly, King has always maintained that gender equality could have as big an impact on men as it has on women.
"That match wasn't just about women," she told Newsweek in 1998.
"It was about equal opportunity. A lot of young men who watched that match are today's decision makers. And they think it's normal for their daughters to have equal opportunities with boys. I think that match helped bring that about."