Why Battle for Vuhledar Is Crucial to Russia's Ukraine Efforts
The head of the Russian-controlled part of Ukraine's Donetsk region has said that the capture of the Vuhledar region will be a game-changer for Russia's war efforts.
Denis Pushilin, Russia's leader in the self-proclaimed Donetsk People's Republic, told state-run news agency RIA Novosti that the city's capture could radically change the balance of power on the Ukraine frontline.
Soon, Vuhledar "may become a new, very important success for us," he said in an interview published on Friday.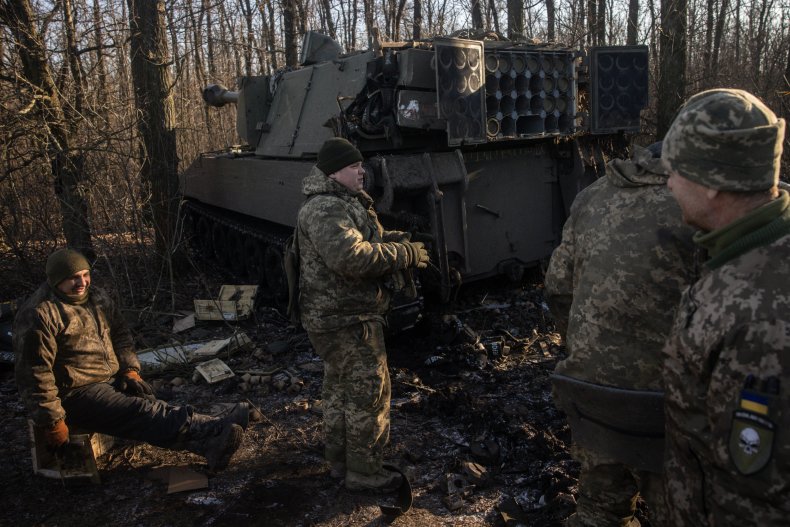 Russian milbloggers (military bloggers) have, in recent days, claimed Moscow's forces have made significant advances, breaking through Ukrainian defenses in the city of Vuhledar in western Donetsk Oblast.
Pushilin said Russia is "waiting for good news from Vuhledar," adding that the encirclement and "subsequent liberation" of the city "solves many problems."
"Taking control of this settlement will provide our troops with access to the Krasnoarmiysk (Pokrovsk) and Kurakhovskoye directions," he said.
The news outlet cited Igor Kimakovsky, Pushilin's adviser, as saying on Thursday that Russian troops had entered the city and entrenched themselves on its outskirts.
Kimakovsky said Russia's main task now is not to launch a frontal attack on the city, but to take it with a pincer movement—a military maneuver in which forces simultaneously attack both sides of an enemy formation.
Ukrainian military reporter Yuri Butusov said on his Telegram channel that the city of Vuhledar is of "key importance" to Russia.
"It is a strategically important point of communications in the south of Donbas, a border for the deployment of the future Ukrainian offensive on the Crimean Corridor," he wrote.
Its capture would "significantly improve the strategic position of the Russian army in the Donbas, and will allow the defense to be deepened," Butusov said, noting that Russia's war efforts in 2023 will be to capture the entire Donbas region or push Ukraine's army away from the Crimean corridor.
He added: "To capture Vuhledar, the Russians concentrated their best forces—brigades of marines and airborne troops, ammunition stocks."
The British defense ministry said in its assessment of the war on Friday that Russia is unlikely to have achieved any substantive advances near the city.
"Over the last six days, Russian online commentators have claimed Russian forces have made significant advances...," the update noted. "There is a realistic possibility that Russian military sources are deliberately spreading misinformation in an effort to imply that the Russian operation is sustaining momentum."
Do you have a tip on a world news story that Newsweek should be covering? Do you have a question about the Russia-Ukraine war? Let us know via worldnews@newsweek.com.