'Battlefield 5' DLC Roadmap Details Firestorm Release to Tides of War Chapter 5
Battlefield 5 finally has its 2019 DLC roadmap, which means fans can get a better idea of how DICE's Tides of War will unfold through the fall. Announced via a post on the game's subreddit Friday afternoon, here's a recap of what to expect in the coming months.
Battlefield 5 2019 DLC Roadmap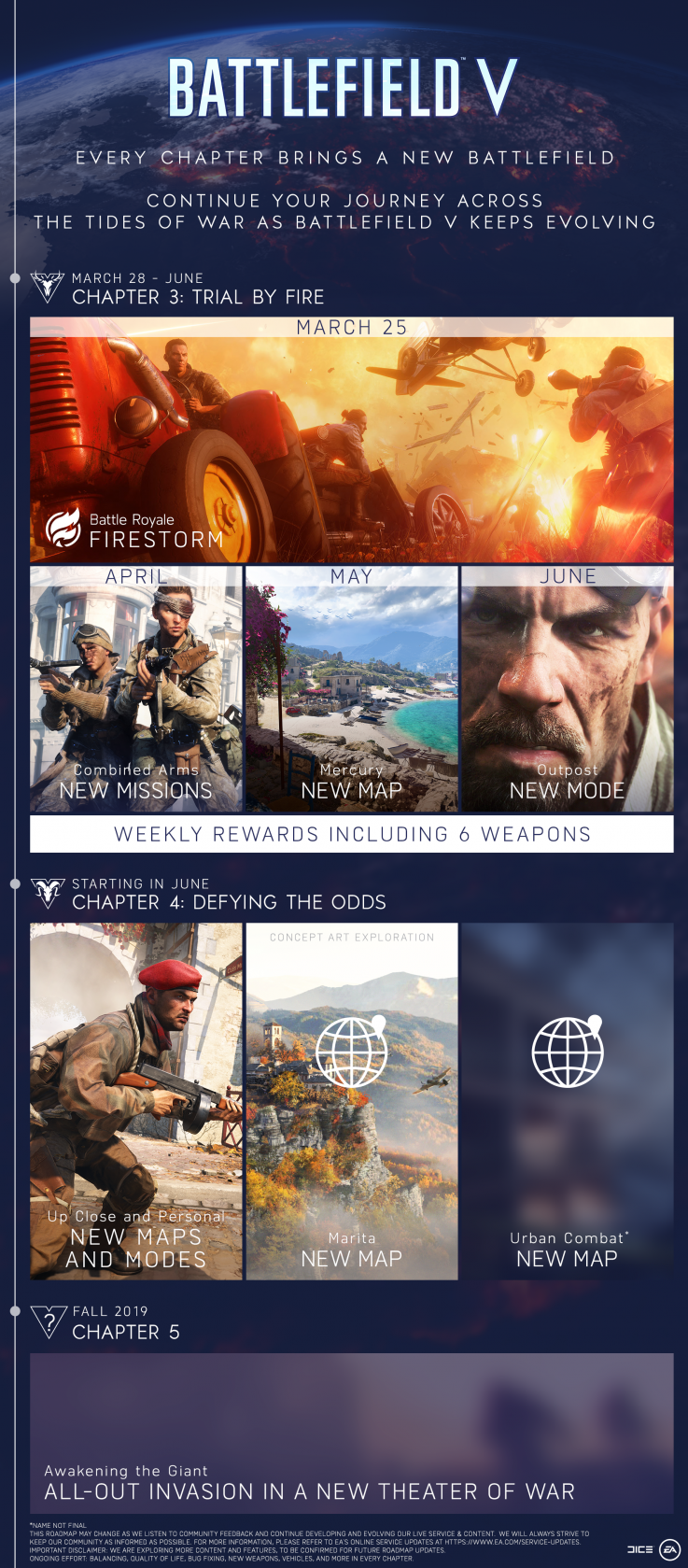 Chapter 3: Trial By Fire - March 28-June
March 25: Firestorm
April: 2 New Combined Arms missions plus new matchmaking and Hardcore mode
May: New Map - Mercury
June: New Mode - Outpost
Duos in Firestorm
Weekly Rewards include six new weapons
Chapter 4: Defying the Odds - June
New Maps and Modes - Up Close and Personal
CQC content and a 5v5 mode in specially designed arenas
New Map - Marita
New Map - Urban Combat
Chapter 5: Awakening the Giant - Fall
All-out invasion in a new theater of war
While this roadmap isn't as detailed as some Battlefield 5 fans hoped for, the above details illustrate DICE's commitment to ensuring the content base of its 2018 title continues to expand. At the very least, the imminent arrival of Firestorm should do enough to bring a handful of lapsed players back. Beyond that, though, the lack of concrete details is more than a little concerning. Especially when it comes to new modes like Outpost, fans should be told a bit more about what to expect. It's nice to see that DLC development is still very much underway, but it's hard to get excited about the future when so much of it remains undisclosed.
Perhaps the biggest detail on this roadmap, however, is what's implied to release this fall. With a totally new theater of war being teased, does that means fans will finally get the representation from Pacific locales they've been asking for? Such pivotal content would traditionally warrant the release of a new game, so it'd be awesome to see DICE deliver at least one piece of it for free. We'll likely learn more about these subjects in the coming months, but this current roadmap doesn't reveal much about where we'll actually be going.
Battlefield 5 is available on Xbox One, PS4 and PC.
What are your thoughts on this early DLC roadmap for Battlefield 5? Is there enough here to get you excited? Tell us in the comments section!
'Battlefield 5' DLC Roadmap Details Firestorm Release to Tides of War Chapter 5 | Gaming