'Battlefield V' 64-Player Firestorm Battle Royale & Multiplayer Detailed
A new in-depth video from DICE details the many ambitious features coming to Battlefield V. We now know the game's battle royale mode is called Firestorm, and features 64 players. Read a recap below after you watch the full clip above.
'Battlefield V' Multiplayer Maps & Modes Revealed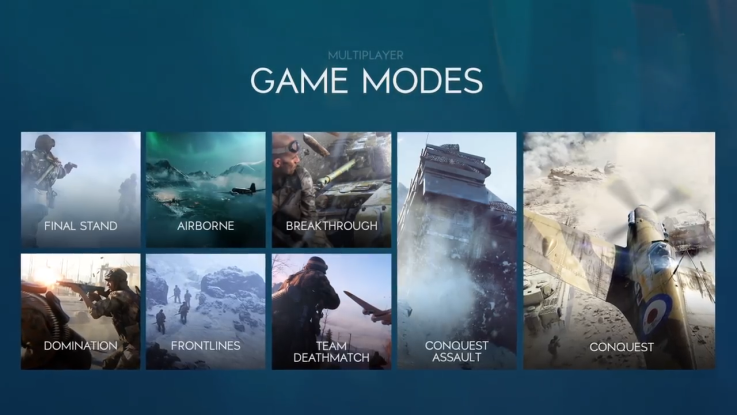 Multiplayer Modes

Final Stand
Airborne: Parachute in.
Breakthrough: Establish forward front.
TDM
Domination
Frontlines
Conquest Assault
Conquest
Grand Operations: A large mode set over several in-game days that blends multiple maps and modes. Operations include an Airborne phase, a Breakthrough phase and a Last Stand phase.

Maps feature eight different settings at launch including:

North Africa
Norway
Rotterdam
French Countryside
Firestorm Battle Royale in 'Battlefield V'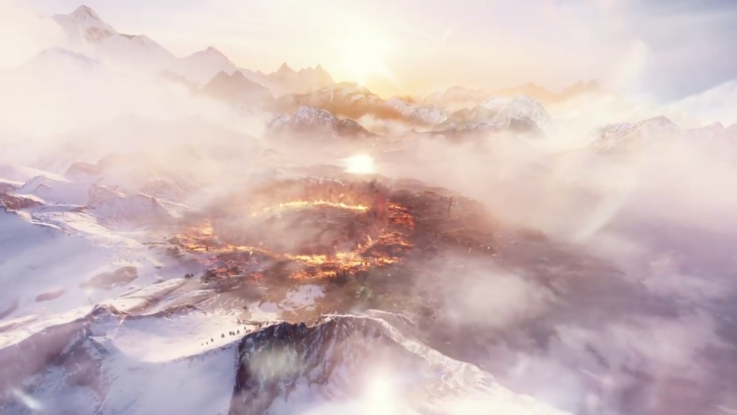 Sixteen teams of four players compete on the biggest map in Battlefield history.
Destructible buildings, weapons and vehicles.
Sweeping gameplay Tweaks
Deeper squad play
Fluid movement: Move backward while firing, sprint while crouching and slide.
Better gun mechanics: Predictable recoil and bullet spread.
Destroy and build: Destroy buildings and construct fortification similar to Rainbow Six Siege.
Reinforcements: Have planes fly in for cover.
Single-Player War Stories
The campaign includes five chapters:

Prologue
Nordly's
Tirailleur
Under No Flag
Last Tiger
What is Tides of War in 'Battlefield V?'
Tides of War is the name for Battlefield V's service-based elements.
All content is free with no Premium Pass.
It offers weekly and daily content for players to engage with.
The first chapter, which goes live shortly after launch, focuses on the fall of Europe.
The second chapter, which begins early next year, is about resistance armies in Greece.
This refresher of Battlefield V's main contents arrives days after news of the game's delay to Nov. 20 and days before its open multiplayer beta. Since being revealed in May, Battlefield V has been beset by controversies surrounding historical accuracy and the depiction of female soldiers in World War II. After several EA execs said those who dislike like game's design decisions shouldn't buy it, a report from Cowen Group was published suggesting pre-order sales were "weak" compared to other fall game releases like Red Dead Redemption 2 and Call of Duty: Black Ops 4.
With a final release date now established, this in-depth clip largely serves to remind gamers about the many innovations Battlefield V intends to offer its audience. It remains to be seen just how well these changes will be received, but there's no doubt that EA has taken an ambitious track in its most recent portrayal of the Second World War.
Battlefield V comes to Xbox One, PS4 and PC Nov. 20. Firestorm battle royale is expected to arrive after launch.
What are your thoughts on EA's offering for Battlefield V? Can Firestorm battle royale compete with PUBG and Fortnite? Tell us in the comments section!
'Battlefield V' 64-Player Firestorm Battle Royale & Multiplayer Detailed | Tech & Science