'Battlefield V' Roadmap Reveals Release Window For Battle Royale & Map DLC
Thanks to a recent EA blog post, we know what the first few months of content drops look like for Battlefield V's Tides of War post-release DLC plan. The festivities begin with Overture in early December, culminating with the arrival of Firestorm battle royale in March. Here's a quick recap of what we know.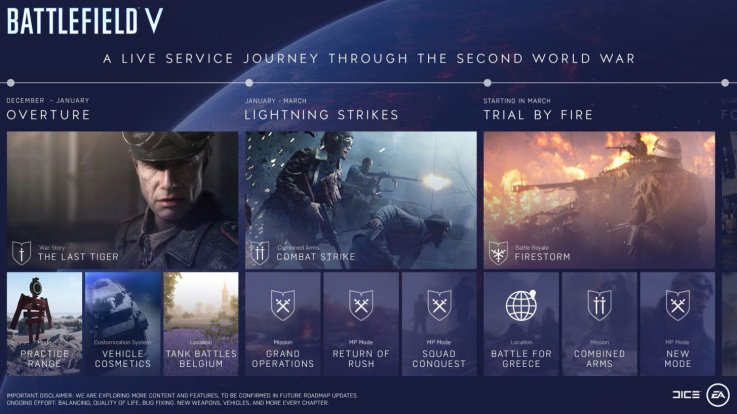 Battlefield V DLC Roadmap Oct. 24
Chapter 1: Overture [Early December - January]
Panzerstorm map: A tank-focused arena set in the Belgium countryside.
Last Tiger War Story: A single-player mission in which a Tiger Tank crew begins to question the ideologies that sparked the war.
A combat and vehicle practice map based on the Hamada map.
Vehicle customization
Chapter 2: Lightning Strikes [January-March]
Emphasis on vehicles
Combined arms: groups of four players work together in PvE missions across several maps.
A revamped Rush limited-time mode with bombs instead of MCOM stations.
Squad Contest: A smaller version of Conquest where 16 players compete with two four-person Squads on each side.
Chapter 3: Trial By Fire [March]
Firestorm battle royale
Greece map: Set during a massive invasion on the Cretan coast.
While there's plenty of content on this list, Tides of War won't end here. In fact, EA intends to flesh out this current roadmap soon with finer details regarding weapon and vehicle release dates as well. As these windows get closer, players will be offered a clearer picture of the specific DLC included in each update.
Fans have wondered about the nature of Tides of War since the concept was first revealed in May, and this roadmap serves up a much better idea of what it contains. Tides of War has the same post-launch trappings of most service-based games, but this particular content plan rolls out new locales, weapons and gadgets based on when they existed during the war. In other words, Tides of War is a traditional season-based multiplayer offering with a historical twist. It's a bit frustrating to know players will have to wait until March to learn what Firestorm is all about, but, especially given the recent competition offered by Blackout, we hope it's worth the wait.
Battlefield V comes to Xbox One, PS4 and PC Nov. 20.
What's your take on the latest roadmap for Battlefield V? Were you expecting battle royale to release as late as March? Tell us in the comments section!
'Battlefield V' Roadmap Reveals Release Window For Battle Royale & Map DLC | Tech & Science