'Battlefield V' Rotterdam Gamescom Trailer Teases Royale, Shifts Marketing
Battlefield V got a brand-new trailer ahead of Gamescom next week. The two-minute clip features the German bombing on Rotterdam, and presumably teases the game's battle royale mode.
One thing that's very apparent as soon as the trailer begins is that this Battlefield V trailer intends to establish a different tone than the game's controversial reveal trailer that debuted in May. In contrast to the Hollywood-style explosions, bright colors and robotic arms fans saw this past spring, this Gamescom preview features a much more grounded look at the site of a heinous conflict from a gruesome war. The action is dark, gritty and full of blood.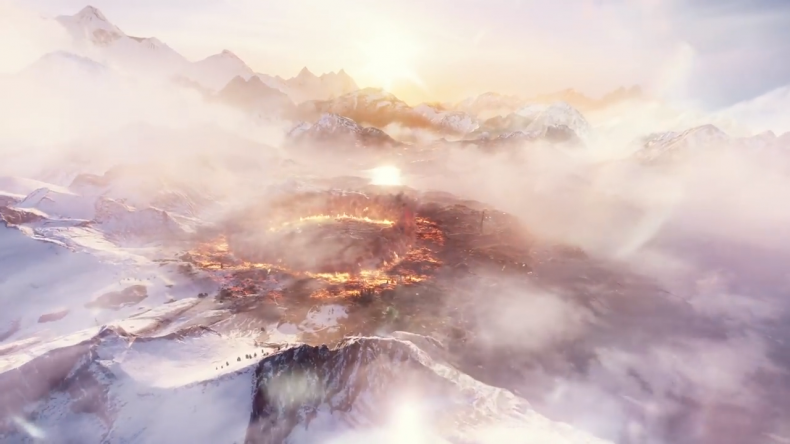 While much of the Rotterdam trailer emphasizes the realistic atmosphere many fans had been asking for, not everything is true to historical events. British soldiers are shown fighting during Rotterdam despite not being present at the actual bombardment. This is a detail the game's developers at DICE were likely aware of, but they may have deliberately disobeyed it to imply that accuracy will be bent in this portrayal of the war. Speaking of which, regardless of how you feel about the debate surrounding character gender portrayals in Battlefield V, it's also worth noting that no female character avatars are present in the latest gameplay footage.
The trailer focuses primarily on Rotterdam, but also features quick glimpses of other maps set in deserts, lush green fields and snow-capped mountains. It's what happens after those brief cuts, though, that's perhaps most interesting. The closing moments show players and tanks running from a slowly closing circle of fire, heavily implying a first look at Battlefield Royale, Battlefield V's Battle Royale mode first announced at E3 in June. Unfortunately, beyond that single image, there's not much more to analyze.
This major marketing beat arrives mere hours after a report tweeted by Wall Street Journal reporter Sarah E. Needleman suggested Battlefield V's pre-order numbers have been "weak" compared to those for other October releases like Call of Duty: Black Ops 4 and Red Dead Redemption 2. The report posits that Battlefield V's sales may be lower than expected because its arrival is sandwiched between these two juggernaut titles. Titanfall 2 faced similar shortcomings when it released between Call of Duty: Infinite Warfare and EA's own Battlefield 1 in 2016.
Battlefield V comes to Xbox One, PS4 and PC Oct. 19.
Has your perspective on Battlefield V changed after watching the Rotterdam trailer? Tell us in the comments section!