Battlefield V was revealed during a live event Wednesday afternoon, and the British woman featured in its reveal trailer has lots of fans talking. With the hashtag #notmybattlefield taking over Twitter and more than 157,000 dislikes on the clip's YouTube page, there's clearly a segment of the audience that doesn't appreciate the choice. To quiet some of the hate storm, let's unpack the history and truths to see where the outrage comes from.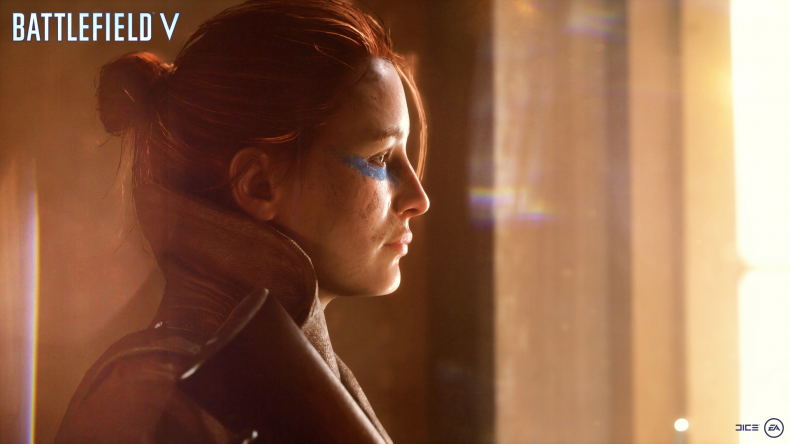 DID WOMEN FIGHT IN WORLD WAR II?
Without getting too bogged down in the specifics, the short answer is that the role of women in World War II varies heavily from nation to nation. For example, Soviet Union and Nazi forces placed large numbers of women in combat situations and other dangerous roles. As depicted in games like Call of Duty: WWII, female French resistance fighters often went behind enemy lines to accomplish critical covert tasks. Without their help, the 1944 Liberation of Paris may never have happened.
Speaking to the role of British women specifically, however, the depiction in Battlefield V's trailer isn't exactly accurate. Similar to the policies adopted by the United States, British women did not have combat roles in World War II. While many did serve critical support roles in organizations like the Women's Voluntary Services it was mandated that British women would not fire guns in combat. .
UNPACKING THE OUTRAGE
Yes, the criticism of a British woman in Battlefield V's trailer does have roots in actual history.. Battlefield 1 only featured French and Soviet female fighters when it made historical sense to do so. This trailer seems to imply Battlefield V is playing things a bit more loosely this time, and fans who want something 100 percent authentic aren't getting what they want..
There's still a lot we still don't know about Battlefield V, it would appear DICE has adopted a mindset similar to that of Sledgehammer Games when they launched Call of Duty last year. While WWII's single-player campaign was very much rooted in true depictions of the war, multiplayer was more about hanging with friends, expressing yourself and customizing your soldier any way you like.
"Multiplayer is this gritty, immersive experience, but it's also about putting you - this is about you - in World War II," Sledgehammer Studio Head Michael Condrey explained to Eurogamer last fall. "If you're a female, or you want to play as a female, if you want to be any one of the multinational cast of characters to represent who you are, to look up to and respect as your avatar, we want to give you that opportunity."
While we're talking about competing games here, that message espouses the exact same sentiment of "empower[ing] player choice, diversity and inclusion," expressed by the Battlefield Twitter account Wednesday afternoon. In simple terms, EA has opted to make Battlefield V multiplayer non-canon, while presumably keeping the War Stories campaign more grounded to history.
DON'T GIVE UP HOPE YET
That's a noteworthy shift for the series, but it's worth remembering that cosmetic design is just one small part of a much larger project. Iconic World War II guns like the MG42 were mentioned during the stream, and those weapons will be playable across historical battles in service-based Tides of War seasonal events.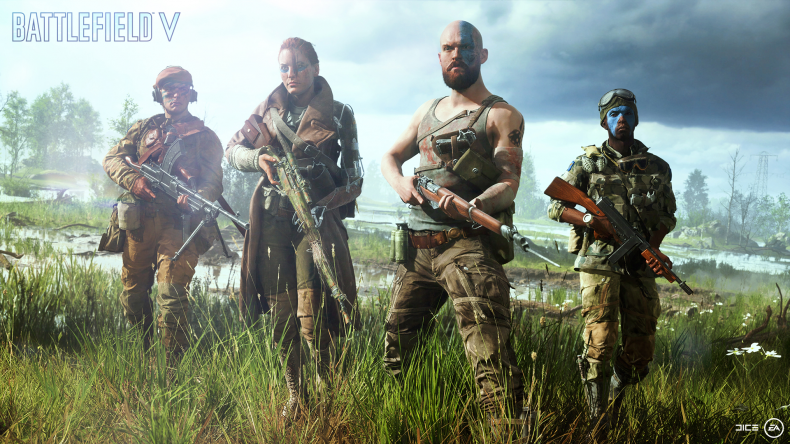 The cosmetics and skins may be anachronistic, but that doesn't necessarily mean the gameplay and maps will suddenly go off the rails. DICE has clarified that it still intends to "treat history with great respect," and there are plenty of ways to accomplish that mission. Given the present backlash and barebones reveal, we'll almost certainly learn more about Battlefield V during EA Play next month. If the gunplay feels right and the maps are fun, does it really matter what your teammates look like?
Battlefield V comes to Xbox One, PS4 and PC Oct. 19.
What are your thoughts on the Battlefield V reveal trailer? Are you OK with women being featured in all manners of World War II combat? Tell us in the comments section!