'Star Wars Battlefront 2' Update 1.46 Fixes BB-8 & Balances Heroes - Patch Notes
Star Wars Battlefront 2 update 1.46 just went live on PS4 to fix lingering issues with last week's BB-8 and BB-9E update. Glitches have been resolved, cooldowns have been adjusted and a few Heroes got a slight balance pass. Read the full patch notes below courtesy of a post on the game's official forums.
Star Wars Battlefront 2 Update 1.46 Patch Notes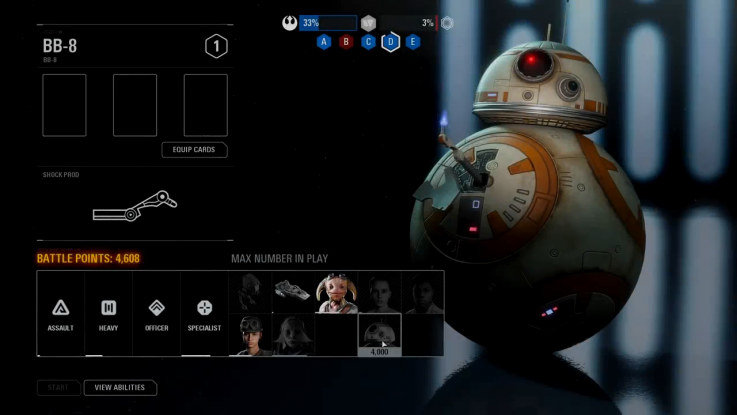 Fixed an issue where the boarding cinematic would be visible when completing the final objective on any of the Capital Ships on Jakku.
Fixed an issue that would allow the First Order Jet Trooper to dash more than two times.
Fixed an issue where spamming both the main fire and secondary fire keys for BB-8 would drain the stamina quickly, without dealing the appropriate amount of damage
Fixed an issue where BB-8's Spinner Star Card would grant 20 seconds of cooldown reduction, instead of 10, on Epic rarity.
Fixed an issue where there would be no audio playing when inspecting the BB-8 and BB-9E Voice Lines in the Front End menu.
Fixed an issue where BB-8 and BB-9E would eventually play the wrong VO lines when they were disrupted.
Various collision, VFX and lighting improvements on the MC85 Star Cruiser and Resurgent-class Star Destroyer.
Lowered the heat cost for the spool-up functionality on the Heavy Trooper's Sentry abilities.
Fixed an issue where General Grievous' Claw Rush could completely drain the stamina of an opponent.
Reduced the gain in Battle Points by 50 percent for the Ovissian Gunner, Caphex Spy, Sith Trooper and First Order Jet Trooper, to be consistent with the other Reinforcements.
Made improvements to resolve issues with hit registration, despite dodging Lightsaber and melee attacks
Fixed an issue that would block the VO from the emotes of the Republic Officer on Kamino or Geonosis.
Fixed a localization issue with the message "First Order Jet Trooper Available" being too long for the kill screen in Japanese.
Made improvements to resolve visual issues with textures popping-in, when transporting to the capital ships on Jakku, Takodana and Ajan Kloss.
Lowered the damage reduction on Darth Vader while using Choke from 75 percent to 20 percent.
Updated the mode description for Ewok Hunt.
The main reason for Battlefront 2 update 1.46 is the bug fixes for new additions to the game introduced in update 1.45. With this patch installed, BB-8, BB-9E, the MC85 and Resurgent Star Destroyer should operate the way their developers intended. There are, however, some points of confusion that fans still don't understand. After reading these notes, it would appear that alternating between BB-8's main and secondary fire rates may do more damage than the original build. On the quality-of-life side, our new Droid Heroes will also use voice lines and function in menus without issue.
With regard to Battlefront 2's longtime cast, though, there are both hits and misses. Fans have long asked for Vader's Force Choke damage reduction to be removed entirely, but this patch only nerfs it slightly. While the numbers listed above suggest a huge dropoff, the actual stats only equate to a decrease of about 5 percent. On the bright side, resolutions for hit detection have been greatly needed since the last patch. Hopefully these fixes also decrease instances of lag during Ability use as well. While the 1.46 update for Star Wars Battlefront 2 is far from flashy, it's got lots of necessary fixes that help improve the game.
Star Wars Battlefront 2 is available now on PS4, Xbox One and PC. The 1.46 update is live now.
What are your thoughts on this new update for Star Wars Battlefront 2? Are you happy with the changes made to BB-8? Tell us in the comments section!
'Star Wars Battlefront 2' Update 1.46 Fixes BB-8 & Balances Heroes - Patch Notes | Newsgeek