Battleground State Voters Had 'Very Positive' Reaction to Biden DNC Speech: Poll
Former Vice President Joe Biden's speech at the Democratic National Convention won a "very positive" reaction from a majority of voters in six key battleground states, new polling data shows.
The latest survey from CNBC and Change Research found that 60 percent of voters in the six swing states who tuned into the DNC had a "very positive" opinion of Biden's address, while a further 11 percent said they had a "somewhat positive" reaction.
Battleground state voters who took a poor view of the Democratic presidential nominee's speech were in the minority, with a combined 29 percent taking a very or somewhat negative view of Biden's 24-minute keynote.
When asked if they took a favorable or unfavorable view of the former vice president overall, 45 percent said they liked Biden while 49 percent said they had an unfavorable view of him.
By comparison, President Donald Trump was viewed unfavorably by 51 percent of battleground state voters, and backed by 46 percent—putting his net unfavorable rating at -5 percentage points.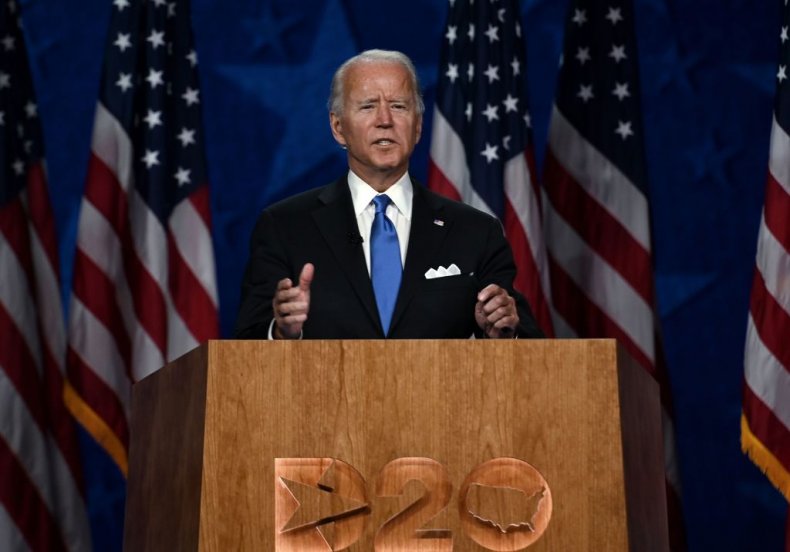 Change Research and CNBC surveyed more than 4,900 likely voters in Arizona, Florida, Michigan, North Carolina, Pennsylvania, and Wisconsin between August 21 and August 23 for their latest battleground state poll. Its margin of error for battleground polling stands at 1.4 percentage points.
Accepting the Democratic nomination on the fourth day of the DNC last Thursday, Biden promised to protect America and pitched himself as the candidate best suited to tackle racial inequality in the U.S. and the ongoing COVID-19 pandemic.
"May history be able to say that the end of this chapter of American darkness began here tonight," he said. "As love and hope and light join in the battle for the soul of the nation."
Earlier in the speech, Biden said he would distance the U.S. from dictators whom he implied Trump had been "cozying up" to during his four years in the White House.
"I'll be a president who will stand with our allies and friends and make it clear to our adversaries the days of cozying up to dictators is over," Biden said.
The Democratic nominee alluded to the president on several occasions throughout the speech, but avoided mentioning him by name, contrasting his keynote speech with that of his predecessor Hillary Clinton.
According to the Hollywood Reporter, the former vice president's 10 p.m. slot on the final night of the convention bagged more than 21 million viewers from coverage across the major networks.
At the time of writing, the FiveThirtyEight 2020 election forecast estimates that Biden has a "slightly favored" chance of winning the contest, with 69 percent of 40,000 election simulation favoring the Democratic candidate.