CW Television Network President Mark Pedowitz doesn't plan on cancelling long-running DC Comics TV shows such as Arrow anytime soon, even with a potential sixth comic book series (Batwoman) coming next year.
"Shows do eventually end, we have no plans yet to end one of or any of them. We'll see where we come out as the season goes on," Pedowitz said at the Television Critics Association summer tour, according to Deadline.
Arrow, starring Stephen Amell, is the series DC Comics fans are most worried about as it heads into its seventh season this fall. However, with the network adding Sunday night primetime to the DCTV schedule, there's more leeway to have so many shows at once.
"We have to see how Sunday works. If it does work out and there is support, I'm sure it's a conversation with our board," he said. "I know both parent Warner Bros. and CBS are very happy with The CW's business model. They allowed us to grow into a sixth night and hopefully a seventh. They're happy with how we're growing and I expect with the new ownership that that will continue."
Pedowitz also elaborated on the status of Batwoman, which he says is still in the early stages of development. He estimates a pilot episode could be ready by mid-season. "We'll do a pilot for mid-season, whether it goes to series, I cannot tell you," Pedowitz said.
Greg Berlanti, the brains behind every DC Comics show on The CW, is developing Batwoman with longtime creative partners Sarah Schechter and Geoff Johns. Caroline Dries, of Vampire Diaries, will executive produce. If picked up, the series is expected to air in the 2019 television season.
First, though, Batwoman will appear in this fall's annual crossover event between The Flash, Arrow, Supergirl and Legends. Reporters at TCA asked if Batwoman could be showing up as a villain in the crossover, and Pedowitz wouldn't confirm nor deny, "I can't even answer that question."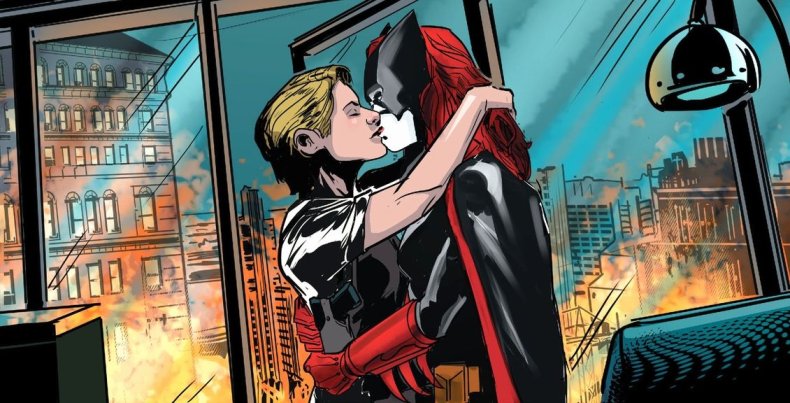 Pedowitz was also asked about whether Batman (confirmed to exist in the Arrowverse last season, but never seen) would show up in the Batwoman TV series, to which he responded: "Batwoman, if the series goes forward, lives in Gotham. But there's no plans at this point for the character to appear."
Batwoman's first introduction in DC Comics dates back to the 1950s when she was introduced as a vigilante and love interest for Batman in Gotham City. The character gained a huge following when she was rebooted in the early 2000s as a Jewish lesbian, Kate Kane.
It's unclear who will play Batwoman in the crossover event, but that same actress will play the character in the TV series as well. TV Line reports The CW is planning on casting a lesbian actress for the role, which will also be the first live-action superhero TV series to feature a gay character as a lead.
Check out the logline for the series below and let us know what you think in the comments.
Armed with a passion for social justice and a flair for speaking her mind, Kate Kane soars onto the streets of Gotham as Batwoman, an out lesbian and highly trained street fighter primed to snuff out the failing city's criminal resurgence. But don't call her a hero yet. In a city desperate for a savior, Kate must overcome her own demons before embracing the call to be Gotham's symbol of hope.