Batwoman may have had to end its current season early, but The CW series still managed to end on a fairly big cliffhanger. In Season 1, Episode 20, of the show, Alice (played Rachel Skarsten) gave Tommy Elliot/Hush (Gabriel Mann) a new face that is very familiar to the people of Gotham. His new visage is that of Bruce Wayne (Warren Christie), who in Batwoman has been missing for several years.
According to showrunner Caroline Dries, this cliffhanger sets up a big part of what was meant to be the final episodes of Season 1 but will now be part of Season 2.
Dries told TVLine: "There couldn't have been a better person to impersonate Bruce. He's going to have 'the Bruce Wayne experience'—he's not going to waste a moment of his new lifestyle. But he will face obvious obstacles because the people Bruce surrounds himself with are cunning and wise, and they've seen antics like this before. Their guards will be up."
Although we now have someone with the face of Bruce Wayne on The CW show, fans should not expect the real billionaire to turn up any time soon. Dries told Culturess: "We're not allowed to have Batman or Bruce Wayne on our show, so that was not an easy conversation [with DC Comics].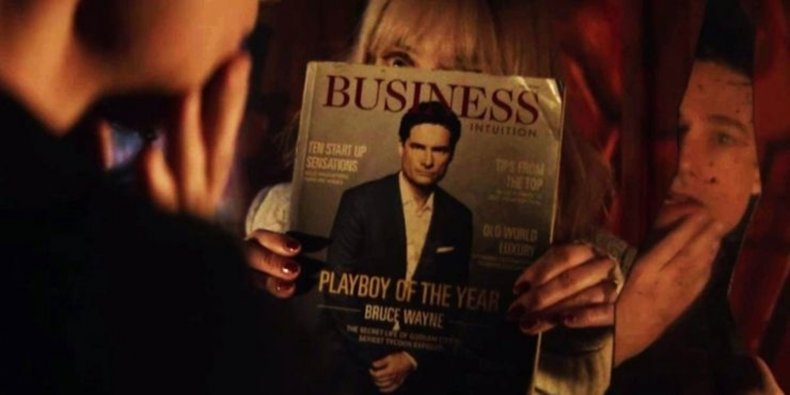 "We said to them, what if we play it open, and instead of introducing Bruce Wayne and then surprise, it's Tommy Elliot, we play it for the suspense, so we're in on it as well and now it's just a waiting game for when our heroes figure it out."
Playing Bruce Wayne/Tommy is Warren Christie, previously seen in shows like Chicago Fire, Alphas and The Village. This is not the actor's first appearance in the Arrowverse, however. Christie also appeared in an episode of Arrow back in 2012.
Asked what she was looking for in an actor to play Bruce Wayne, Dries told Decider: "First and foremost, it's like: well, who's Bruce Wayne? Because he has to look exactly like him. So we needed to cast a Bruce Wayne.
"Then, the sort of secondary requirement, apart from obviously being a great actor, is: does he sort of physically resemble what Tommy Elliot's body would look like? And so we needed to find somebody who was the same size, height-wise and body-wise. So, that's sort of like a secondary thing, but it worked out with Warren, too."
Christie's next appearance on the show will be in Batwoman, Season 2, Episode 1, which has now been revealed to be airing in January 2021. Exactly what Bruce/Tommy will be doing in that episode, however, is up in the air.
Asked by TVLine whether the two missing Season 1 episodes will air at the start of Season 2, the showrunner said, "When you are a writer and you have time on your hands, you start tinkering and tinkering."
However, Dries later added, "We are still going to use a lot of [the original Season 1 cliffhanger ending], because it's also a great launch for the season. It works either way."
Batwoman Season 2 airs in January 2021 on The CW. Season 1 is streaming now on The CW website and app and is expected to premiere on HBO Max in December 2020.