Bautista Flips Off Rangers: Blue Jays Advance on Surreal Seventh Inning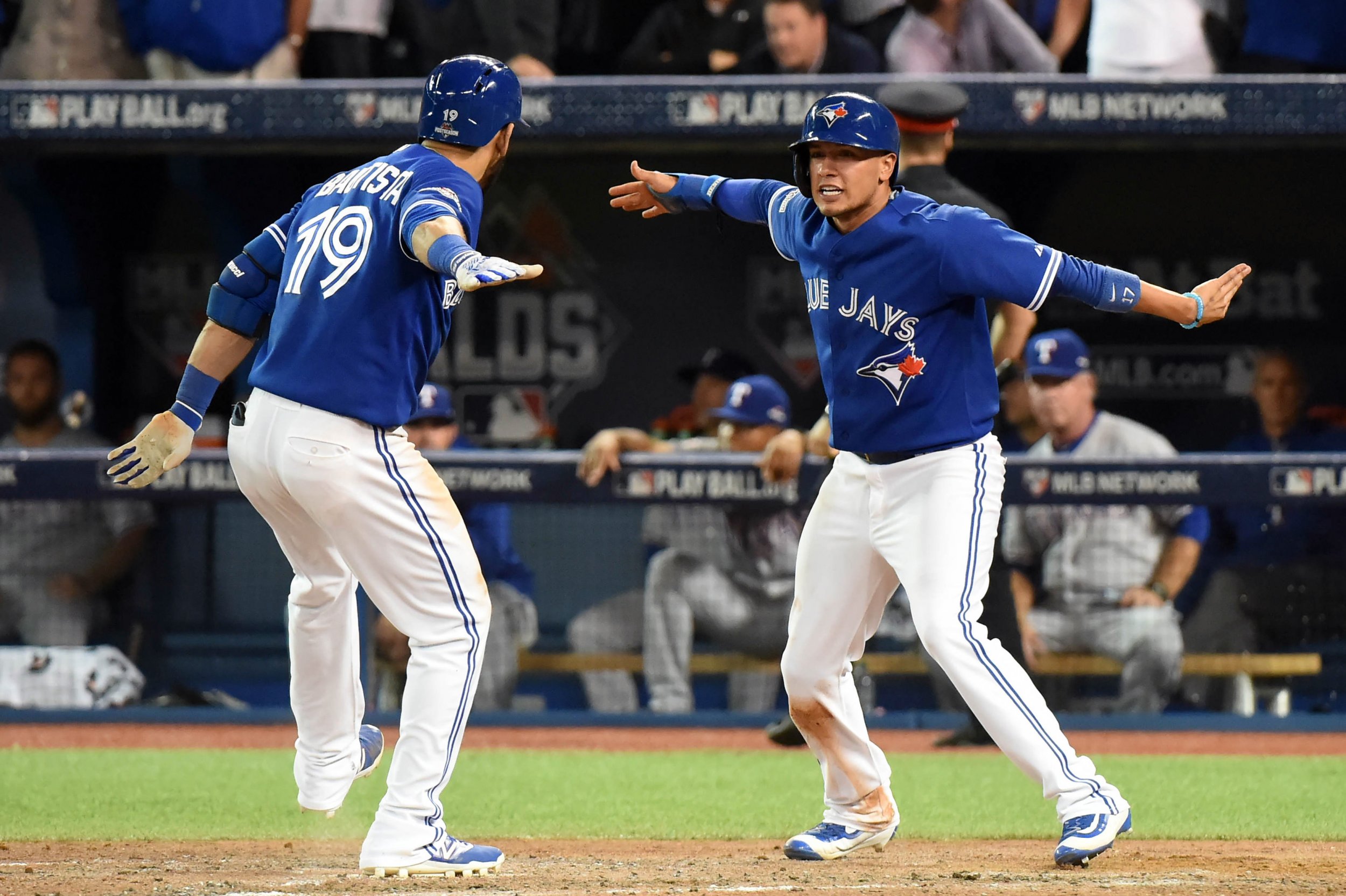 Perhaps we should dub it the Seventh Inning Stretch of the Imagination. Here, beneath the closed dome of the Rogers Centre in Toronto, were 53 minutes of baseball madness. Here was a concatenation of events unlike anything the national pastime—the international pastime?—has ever witnessed, a journey from happenstance to confusion to furor to frenzy to at last, ecstasy.
It is a maxim of baseball that every time you visit the ballpark you have a chance to witness something that has never before occurred between the perpendicular white lines, and that maxim has never been more oft-repeated than in the past 24 hours. There have been more infamous postseason moments in Major League Baseball than yesterday, from Merkle's Boner (1908 ) to Mickey Owens's dropped third strike (1941) to Bucky "(Bleepin')" Dent (1978) to Bill Buckner (1986) to Jeffrey Maier (1996), but there has never been a more bizarre inning.
Let us retrace it.
This was Game 5, the elimination game of the American League Divisional Series between the A.L. East champion Toronto Blue Jays and A.L. West champion Texas Rangers. Through four games, the home team had yet to win a contest, including a Game 2 in which the Blue Jays succumbed at home in 14 innings.
Now it was the seventh inning of Game 5, with the score knotted at 2-2. Aaron Sanchez was on the mound for Toronto, facing Shin-Soo Choo of the Rangers. There were two outs, Rougned Odor of Texas was standing on third base, and Sanchez stared into the plate toward catcher Russell Martin, a Canadian native, for the sign. The count was 1-2: A strike here would end the top half of the inning.
Related: Baseball's 2015 Postseason Is an Arms Race
Instead, Sanchez's pitch crossed the strike zone high. Ball 2. Choo, batting left-handed, adjusted his undershirt by lifting his left arm, at the end of which was his bat, which he held aloft as if he were part of a signal corps. Martin, a righty, released the ball back to Sanchez from his crouch, a toss he routinely makes approximately 100 times per outing.
This one time, it was not routine. As the ball left Martin's fingers, it struck Choo's bat and ricocheted lazily into the infield. Odor, displaying an awareness that belies his 21 years, wasted not a second in sprinting home. As he was halfway down the third base line, home plate umpire Dale Scott waved his arms to signal that the play was dead, but Odor ran through the signal and crossed home plate.
Confusion, and murmurs, swept into the stadium. The 49,742 in attendance did not fully understand what they had just seen. Nor did the announcers. Nor, for the moment, did Scott and his umpiring crew. Had Odor scored? Or had the play been blown dead when the ball touched Choo's bat. Blue Jays manager John Gibbons and Rangers Jeff Banister, both former catchers, were aware that the ball was live. Banister, who had actually been a victim of a similar play as a minor league backstop, sprinted from the Rangers dugout to remind Scott of the rule.
"I mixed up two rules and called time," Scott would say later. "Then it started clicking. I went 'Wait a minute. Wait a minute.' ... Even if I had not called time, [Odor] was on his way, so we scored the run."
The rule governing this play, for the sake of posterity, is 6.03 (a) (3) in your rule book.
As Scott signaled home the run—Odor had returned to third base, so he was compelled to reprise his scoring trot, only this time more casually—the Rogers Centre erupted. Gibbons rushed to home plate to inform Scott that the game was now being played under protest. Litres of LaBatt's were hurled from the stands toward the field, with the contents of one beer splashing onto a baby (you may inquire later as to why an infant was taken to a win-or-go-home professional sporting event).
The insanity was only just beginning. After a strikeout, the Blue Jays headed into the home half of the seventh trailing 3-2. Martin, the goat of the previous half inning, hit a sharp grounder to the left of Ranger shortstop Elvis Andrus, who bobbled it. While not a routine play, it was certainly one within the capabilities of the six-year veteran from Venezuela.
That was error number one.
Center fielder Kevin Pillar followed Martin, hitting a high hopper to Rangers first baseman Mitch Moreland. A double-play ball. Moreland, however, threw a one-hopper to second base that Andrus was again unable to field cleanly. Both runners were safe.
Error number two.
Inside Rogers Centre, outrage was beginning to transform into hope. Still, the decibel-level was at a peak usually reserved for Kansas City Chief home games or funny car duels. Johnny Goins, Toronto's No. 9 hitter, stepped to the plate to face the Rangers' ace, Cole Hamels, who less than three months earlier had tossed a no-hitter. Goins bunted. Third baseman Adrian Beltre scooped up the ball, wheeled and fired a strike to third where Andrus was standing. Andrus dropped it.
That was error number three, on three consecutive at-bats in the seventh inning of a deciding playoff game. That had never before happened.
The score remained 3-2, however, in favor of Texas. After a force-out at home, there was one out and the bases remained loaded. Sam Dyson relieved Hamels as Toronto's fans, who had not seen their club win a postseason series since 1993, were standing and roaring.
The next Blue Jay batter, Josh Donaldson, hit a short blooper just beyond the infielders—in baseball vernacular, coincidentally, it is known as a Texas Leaguer—that dropped just beyond the grasp of second baseman Odor. In almost any other game, one in which 50,000 or so crazed Canadians were not bellowing at him, Odor would have made the catch easily. Not this time. Now the score was even, and now the stage was set.
There is no more popular player in Toronto, not even someone in a Maple Leafs uniform, than Blue Jays slugger Jose Bautista. Affectionately known as "Joey Bats," the 34 year-old native of the Dominican Republic, now in his seventh season in Ontario, clouted 40 home runs this season. Bautista promptly tracked a Dyson fast ball that roamed too far out over the plate and sent it on a trajectory toward the top of the CN Tower. The ball landed in the second deck of left-center field, flying only slightly farther than Bautista's bat did as he triumphantly flipped his bat.
Oh, the bat flip. Did you not see it? After crushing his three-run, go-ahead homer, the right-handed Bautista, clutching the bat in his left hand, tossed it as a neanderthal might have tossed the final bone from his dinner (indeed, the bat floated through space for a surreal amount of time, not unlike that bone in the opening scene of 2001: A Space Odyssey). This was Drake, a Toronto native, dropping the mic. This was Maximus inquiring, "Are you not entertained?" Bautista's bat flip, in one spectacular gesture, rewrote the unwritten rules of baseball.
"Honestly, I don't remember doing that," Bautista would later say, but baseball will remember it as long as baseball is around.
There was more. A bench-clearing kerfuffle, as Dyson misinterpreted the following hitter's (Edwin Encarnacion's) attempts to quell the crowd. And two more innings for the Rangers to attempt to close the three-run gap, which they failed to do.
The Blue Jays won, 6-3, and will advance to the American League Championship Series, which begin Friday, to face the reigning A.L. champions, the Kansas City Royals. You will hear critics of baseball complain, often rightly so, that the game drags on too long. Certainly a 53-minute inning would in almost every circumstance be considered a nightmare. But not on Wednesday. Not inside the Rogers Centre. The seventh inning stretch of the imagination was pure magic.