Bay Area Air Quality Map, Update As Wildfires Increase Air Pollution Levels
As wildfires burn throughout Northern California, the Bay Area is experiencing elevated levels of pollution. The air quality is expected to be unhealthy across the region, with the Peninsula, Santa Clara Valley and Livermore Valley being the most heavily impacted.
On Wednesday, the Bay Area Air Quality Management District said that it would extend the Spare the Air Alert—which bans burning wood, manufactured fire logs, or any other solid fuel, both indoors and outdoors—through Sunday, August 23.
In a press release issued Wednesday, Jack Broadbent, executive officer of the Air District, said: "Unfortunately, wildfires continue to burn throughout the Bay Area and we expect several days of smoky conditions.
"As respiratory health is top of mind for all of us during the pandemic, it's crucial that residents take steps to avoid exposure to unhealthy air."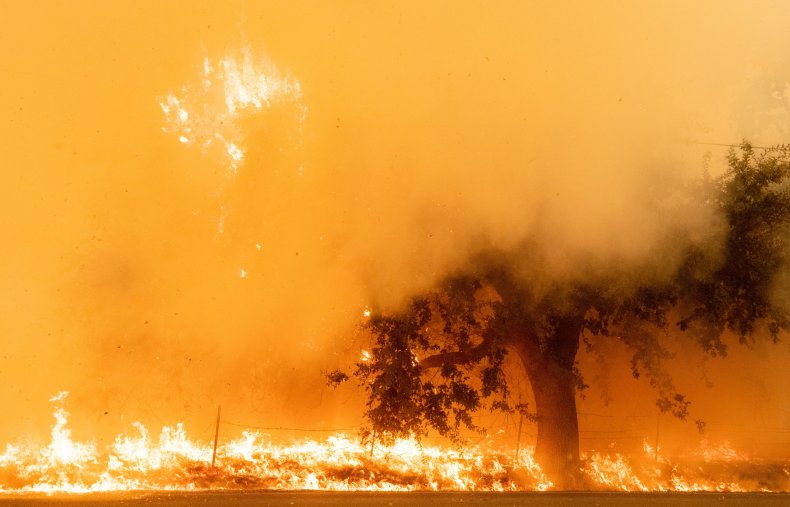 The San Francisco Department of Emergency Management said Wednesday: "Air Quality is currently RED—Unhealthy: Older adults, people with respiratory diseases should avoid prolonged outdoor exertion.
"Everyone else, especially children, should limit outdoor exertion. If outside make sure to wear a face covering."
Mayor London Breed said in a press conference: "Please continue to stay home as much as possible. It is important both for the slowing of the spread of COVID-19 and for minimizing your exposure to poor air quality."
The Bay Area Air Quality Management District released a map that shows the levels of air pollution according to an Air Quality Index Levels of Health Concern in the Bay Area as of 7 a.m. local time on Thursday, August 20.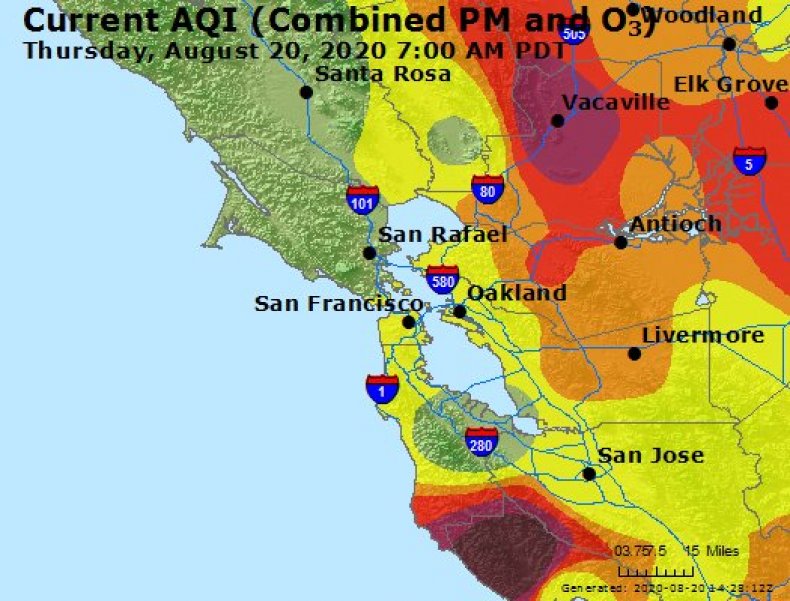 The map shows that in areas including Livermore and Woodland, the air levels are unhealthy for sensitive groups.
Vacaville is experiencing very unhealthy levels and its surrounding areas, like Antioch and Elk Grove, face unhealthy levels.
Cities including San Francisco, San Jose, and Oakland are facing moderate levels of poor air quality.
Smoke can irritate the eyes and airways, and cause coughing, a dry scratchy throat, and irritated sinuses, while elevated levels of pollution can trigger wheezing in those who suffer from asthma, emphysema, or COPD.
Elderly people, pregnant women, children, outdoor workers, people who have lower socioeconomic status—such as homeless individuals—people who are immunocompromised, and individuals with respiratory illnesses are particularly susceptible and should take extra precautions to avoid exposure.
The Centers for Disease Control and Prevention (CDC) has said that people with COVID-19 are at increased risk from wildfire smoke.
Exposure to wildfire smoke could impact those who currently have or who are recovering from COVID-19, as they could be at increased risk of health effects due to compromised heart and/or lung function.