Some residents in California's Bay Area communities have begun leaving their parked vehicles with the trunks left open in the hope of discouraging auto break-ins.
Photos posted on social media and shared by the San Francisco-based news station KGO-TV showed two SUVs parked side by side along an Oakland street. The trunk doors of both vehicles were open, and the vehicle owners could not be seen in the immediate vicinity.
The person who posted the photo on social media watched the vehicle owners leave their trunk doors open and walk away, the station reported. The person added a caption to the photo that read, "Imagine having to clean out your car and leaving it open in public, just so people won't break your windows."
Residents in both Oakland and San Francisco have been spotted leaving their vehicles with the trunks left open in recent days, dismaying local authorities who have discouraged the strategy.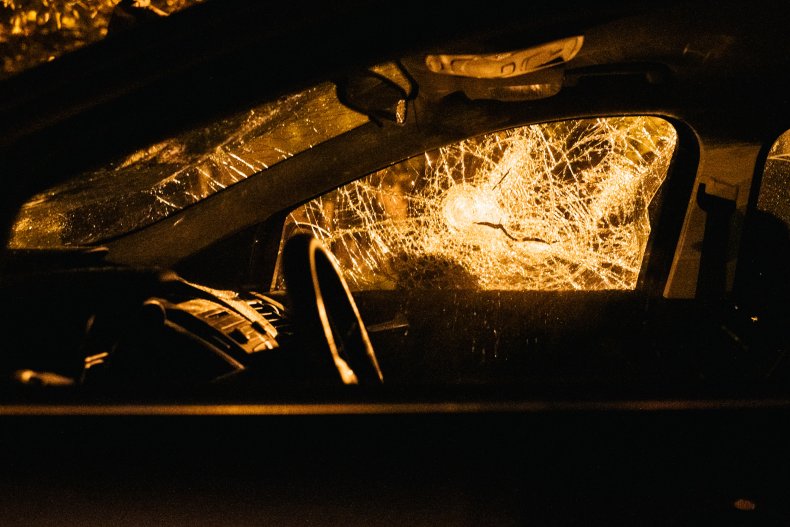 Significant attention has been paid to local crime over the last several weeks amid a rise in smash-and-grab retail robberies. While industry leaders have said these kinds of robberies are happening around the U.S., California became a focus for reporting on the trend after several high-profile incidents occurred in the Los Angeles and Bay Area communities.
Though data from the San Francisco Police Department (SFPD) shows a decline in robberies this year compared with reported robberies in 2020, thefts from vehicles increased by about 32 percent in 2021, according to department data last updated in October. Vehicle thefts increased by 25 percent between September and October of this year, the data shows.
In Oakland, there has been a 27 percent increase in both vehicle break-ins and vehicle burglaries this year, according to department data reviewed by KGO-TV.
Former SFPD Deputy Chief Garret Tom told the station he was "shocked" to see photos of open vehicle trunks left unattended. "There's so much that can go wrong here," he said.
Tom warned that some people may be able to gain access to the front of the vehicle when its trunk is left open, which would allow thieves to access the glove compartment and locate identifying information about the vehicle's owner. Thieves could also steal the vehicle's battery, tires and more, he added.
Oakland Deputy Chief of Police Drennon Lindsey told the station that residents should be aware that some thieves have technology that enables them to locate items like laptops if left hidden in an unattended vehicle.
"Don't leave valuables in the car, don't even tuck things under your seat," she said.
When reached for comment on Thursday, SFPD Public Information Officer Adam Lobsinger told Newsweek the department does not have specific data regarding the extent to which residents are leaving their open vehicles unattended but said police encourage residents to "protect themselves, their vehicles and their homes as they see fit."
Lobsinger said residents whose vehicles are burglarized are encouraged to file police reports so officers can identify the individuals responsible and heighten patrols in areas where auto burglaries are reported often.
"With this data, we can identify crime hotspots, which allows us to be more strategic with our staffing and patrols as well as conduct more effective operations, respond more rapidly to crimes in progress and serve as a visual deterrent to would-be criminals," Lobsinger said. "The community is likely to see increased patrols, foot beats and officers on fixed post in identified crime hot spots."
Newsweek reached out to the Oakland Police Department for further comment.
Update 12/16/21, 1:33 p.m. ET: This article has been updated to include comments from the San Francisco Police Department.