Baylor Men's Basketball Makes Final Four for First Time in 71 Years
The Baylor men's basketball team hasn't made the Final Four since 1951. That changed Monday night when the Bears knocked off Arkansas, 81-72, in the Elite 8. Baylor (26-2) advances to face former Southwest Conference rival Houston in the national semifinal this weekend.
Houston defeated Oregon State, 67-61, in the other regional final on Monday.
Baylor streaked out to a big first-half, double-digit lead, only to lead by eight points at the half, 46-38. The Bears staved off a Razorbacks comeback and then pulled away for their first Final Four appearance in 71 years.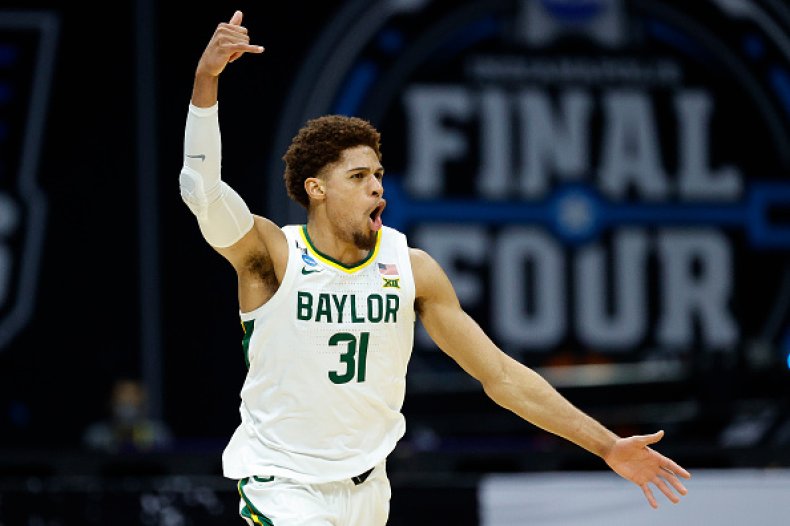 Arkansas cut Baylor's lead to 10 or less points multiple times in the second half, including a 4-point Baylor lead. Baylor kept using its fast breaks and inside scoring scoring—with the occasional 3-point shots—to keep extending the lead. Baylor took an 11-point lead (72-61) at the under-4 media timeout (a timeout with less than four minutes remaining in a half), and then held off for the win.
MaCio Teague led Baylor with 22 points. Jared Butler added 14 points for Baylor while Davion Mitchell scored 12.
The Final Four will tip off this Saturday, and the only known semifinal matchup so far is the Baylor-Houston game. The other will be decided on Tuesday in the remaining Elite 8 games between USC and Gonzaga in the first game and UCLA vs Michigan in the nightcap.
Baylor has not made the Final Four of the men's tournament since 1950, when they lost to Bradley, 68-66, in the semifinals. Baylor then lost to North Carolina State in the third-place game.
The Bears then had a 38-year tournament absence before making the tournament in 1988, only to get bounced by Memphis in the first round. It would be another 10 years before the Bears made it back to the big dance, only to lose in the first round, again, this time to Purdue. Since that loss to the Boilermakers in 2008 the Baylor Bears have gone 15-7 in the NCAA tournament, including the win over Arkansas on Monday.
The other two Elite 8 games will be held Tuesday night as No. 1 Gonzaga plays No. 6 USC in the West regional final (7:15 p.m. ET on TBS) and No. 1 Michigan plays No. 11 UCLA in the East regional final (9:57 p.m., ET on TBS).
All NCAA men's tournament games this season have been played entirely in the state of Indiana, with the vast majority of them in Indianapolis. The women's tournament is being played entirely in the greater San Antonio area. The NCAA created these bubble scenarios as the COVID-19 global pandemic continues. Last year's tournaments were cancelled because of the pandemic.