Is 'Baymax!' A Prequel or Sequel to 'Big Hero 6'?
Baymax! has landed on Disney+ and introduces a new chapter in the Big Hero 6 franchise.
The six-episode series follows the titular robot health care companion as he assists a number of residents in San Fransokyo.
But what viewers might be wondering is where in the Big Hero 6 franchise the new show fits in. Here is everything we know.
Is 'Baymax!' a Prequel or Sequel to 'Big Hero 6'?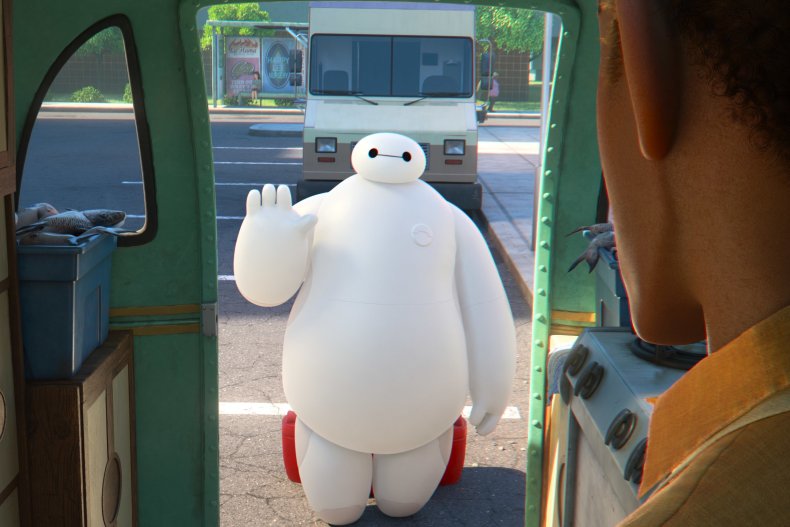 Baymax! is a sequel to the original Big Hero 6 film as the robot is already well established in the Hamada household, particularly with Hiro (Ryan Potter), who helped give the robot several upgrades following the loss of his brother Tadashi (Daniel Henney).
The Disney+ show is the second TV series set within the Big Hero 6 universe as the action film previously inspired a spin-off aptly titled Big Hero 6: The Series.
Big Hero 6: The Series aired between 2017 and 2021 on the Disney channel and it followed Hiro and Baymax as they fought crime alongside Go Go Tamago (Jamie Chung), Honey Lemon (Genesis Rodriguez), Wasabi (Khary Payton), and Fred (Brooks Wheelan).
While it's clear that Baymax! is set after the events of the original film, it is not as clear where it stands in comparison to its TV predecessor as it is focused solely on the loveable robot and Hiro is only ever seen at home.
The 14-year-old robotics genius appears to still be studying at the San Fransokyo Institute of Technology, so Baymax! is likely set during the same period as the Big Hero 6 TV series.
Scott Adsit, who voices Baymax, has weighed in on where the new show fits in the franchise timeline, claiming that it's likely set at the same time as the previous TV show, it's just focused on what his character does when he's not busy helping to save the day with Hiro and his superhero pals.
Speaking to SlashFilm, Adsit said: "It's certainly after the movie. It could be within the timeline of the other series because that series primarily focused on superheroes, then this is what Baymax does in his off hours as a superhero when he goes out and is just a nurse superhero.
"So I would say it's taking place now. And maybe the other series is taking place now as well. I would say whenever you're watching, it is taking place right now."
While it is not a definitive answer, per say, it at least suggests a potential timeline for the new series.
All six episodes of Baymax! are available to watch on Disney+ now.