Bazinga! 'Big Bang Theory' Creator Chuck Lorre Takes a Shot at Donald Trump in Latest Episode
Thursday's episode of The Big Bang Theory on CBS concluded with a not-so-subtle shot at President Donald Trump, courtesy of show creator Chuck Lorre.
Lorre is famed for his ever-changing anecdotal and punny vanity cards —the production company logo screens that appear in the end-credits of television shows—tagged to the end of his various sitcoms, past and present, including Big Bang and Two and a Half Men .
Thursday's vanity card featured a graphic of the network television ratings for March 6, 2006, when Two and a Half Men , then at its peak, aired in the 9 p.m. slot on CBS opposite NBC's The Apprentice , which Trump used to host.
Lorre's comedy logged a 5.0 rating in the adults 18-49 demographic, trumping Apprentice 's 4.0.
Lorre captioned the graphic: "Defeat terrorism and crazy dictators? He couldn't even defeat Two and a Half Men ."
See the card below: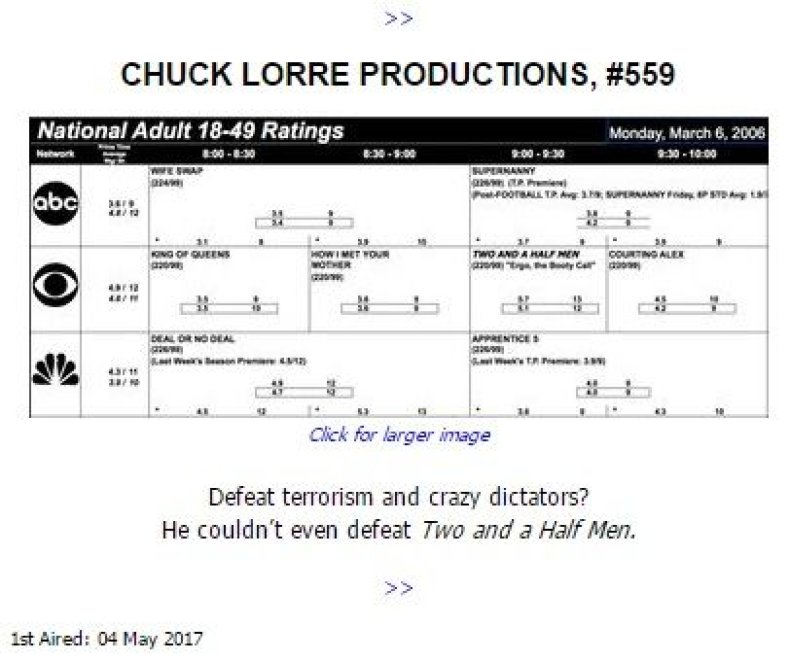 In the words of Big Bang 's Sheldon Cooper: "Bazinga."
It's not the first time the television producer has used his trademark vanity cards to take aim at Trump. Prior to the U.S. election in November, he tagged the November 3 episode of Big Bang with a missive telling viewers not to "be fooled. Big Daddy can't save us. Our salvation lies within ourselves."
"'Make America great again' is a bumper sticker for victimhood. But we are not victims. We are the creators of opportunity. Sure the system's rigged. It always has been. So what?! We are a nation of immigrants who have consistently ignored the rigging," Lorre continued. "You won't let us join your club? %#&@ you, we'll start our own club. You won't let us go to your school? %#&@ you, we'll start our own school. You won't let us earn money your way? %#&@ you, we'll earn it our way. You won't give us a chance here? %#&@ you, we will go elsewhere. You want to know what makes America great? I got two words for you."
Two days after the election, Lorre tagged the November 10 episode of Big Bang with a card that simply read: "Uh-oh."
Lorre's ratings boast is particularly opportune because Trump spent some of his early weeks in office mocking his Apprentice successor Arnold Schwarzenegger for the show's decline in ratings for its 14th season.
"They hired a big, big movie star, Arnold Schwarzenegger, to take my place. And we know how that turned out. The ratings went right down the tubes," he said in February.
"I want to just pray for Arnold, if we can, for those ratings," Trump added.
In March, the president, who remains an executive producer on the NBC reality competition, continued to go after Schwarzenegger, claiming he had been fired from the show. But Schwarzenegger said he would decline a return if asked.