The Wrong George Floyd—News Channel Mistakenly Shows Picture of Ex-New York Jets Star While Covering Funeral
A picture of former New York Jets defensive back George Floyd was mistakenly used at the Tuesday funeral of George Floyd, the man who died while in custody of the Minneapolis Police Department on May 25.
Hundreds of mourners gathered at the Fountain of Praise Church in Houston, Texas, to pay their respects to the latter of the two Floyds. The 46-year-old's death has sparked worldwide demonstrations against racial discrimination and police brutality.
A montage celebrating his life was projected onto a big screen set up inside the church during the service. However, one of the photos that featured in the montage was of the former Jets defensive back, who is now 59 years old.
The BBC, Britain's national broadcaster, used the incorrect photo in a segment about the funeral, which aired on BBC News at Ten and also featured a picture of the right Floyd.
"During our report on George Floyd's funeral last night, we showed images from a montage of still photographs which had been played as part of his funeral service," the BBC said in a statement.
"One of the photos we used, which we had taken directly from this montage, depicted the New York Jets player George Floyd.
"We don't know why that particular image was used in the service, but we subsequently used it as part of our own coverage of the service. [...] We're still looking into exactly what happened. The BBC would never seek to cause any offence."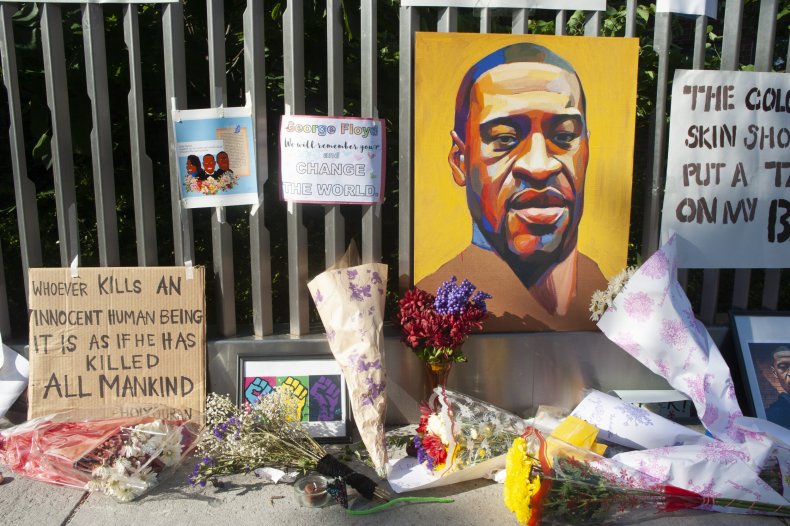 Born in Florida, George Floyd the football player spent his collegiate career at Eastern Kentucky University, winning the national championship in the old I-AA division in 1979 and then earning All-American honors in 1980 and 1981, before being selected by the Jets in the fourth round of the 1982 NFL Draft.
He played seven games in 1982 when the regular season was cut down from 16 games per team to nine because of a 57-day-long players's strike and played in each of the Jets' three playoff games, as the franchise defeated the Cincinnati Bengals and the then-Los Angeles Raiders, before losing the AFC Championship Game to the Miami Dolphins.
After not playing in 1983, Floyd played eight games in 1984 as the Jets missed out on the playoffs for the second consecutive season after registering their second straight 7-9 campaign.
His second season with the Jets was also his last in the NFL, but Floyd's outstanding collegiate career was recognized in 1999 when he was inducted in the College Football Hall of Fame.