BBC Websites End 2015 With an Outage From Cyberattack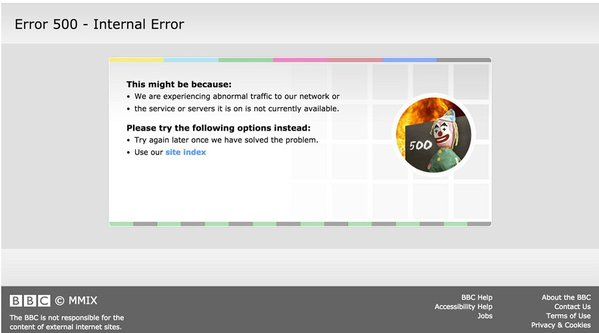 BBC digital operations were taken down temporarily on Thursday due to a cyberattack, the media company told The New York Times.
The BBC's network of websites and its popular iPlayer streaming player was down for over three hours. The BBC initially said the outage was a "technical issue" but was later found to be a distributed denial-of-service (DDoS) attack. Such attacks flood their target with numerous requests from compromised computer systems, overwhelming the target's servers and taking them offline.
"The BBC website is now back up and operating normally. We apologise for any inconvenience you may have experienced," the BBC's press office tweeted after the recovery.
Media websites are often the target of such attacks. In 2013, The New York Times also went offline due to a DDoS attack. The Syrian Electronic Army, a group of hackers who support embattled Syrian president Bashar Al-Assad, claimed credit for the outage.
Newsweek reached out to the BBC for comment, to find, among other things, if they know the country from where the hackers came from, and will update the article once we hear back from them.
During the downtime, many BBC fans—whether be fans of its journalism or Doctor Who—turned to social media to cope for the loss of "the Beeb":