A U.K.-based journalist visiting the U.S. drew mockery on Twitter after appearing to conflate toy guns with real ones at Walmart.
The reporter, Pádraig Belton, was on a trip to the U.S. on Tuesday and tweeted about needing a plug adapter to charge his laptop, as his cable was made for U.K.-style outlets. Belton's Twitter bio states that he has written for the BBC and several other publications.
In a later tweet, Belton lamented his inability to find the adapter he needed at a nearby Walmart. To contrast the lack of such adapters, he shared a photo which he claimed showed "a rifle and ammunition" for sale.
"Hi from America," he wrote in the post with the photo. "Where Walmart doesn't have a plug adapter for my UK laptop. But on the other hand, I can buy a rifle and ammunition."
The products glimpsed in the photo, however, were not real firearms. Two were products produced by Daisy — a Red Ryder Carbine and Powerline Model 880. The third item on the bottom was a Crosman 760 Pumpmaster. Daisy and Crosman are known for producing BB guns and pellet guns. Neither company produces real firearms.
Twitter users swiftly inundated the mixed-up tweet with responses mocking the notion that the products were real guns. Most took the form of sharing a photo of another toy based on real weaponry.
"Sir, it gets worse," user Gian B wrote. "You can literally walk into Walmart and leave with a M1 Abrams tank."
"Sir it's even worse than you think," wrote Matt Walsh. "They also sell GRENADES at the dollar store."
Another user, responding to Walsh, took the joke to an extreme, sharing a Barbie doll photo and claiming that people can "buy a person."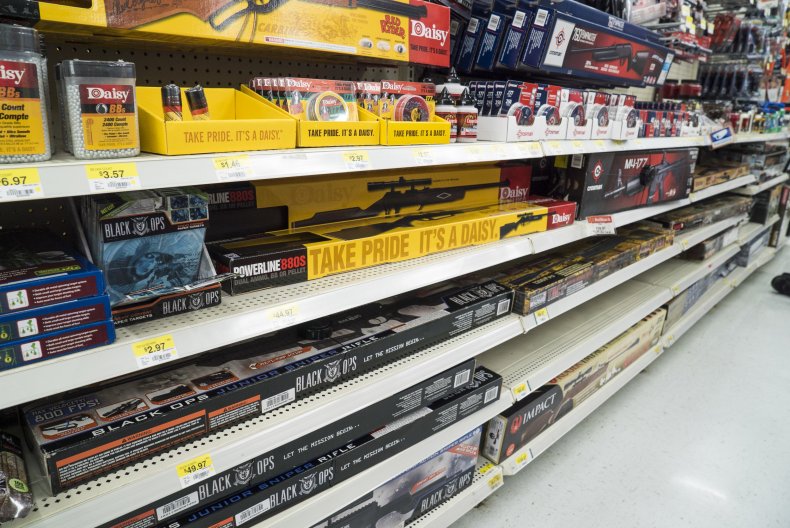 Belton, for his part, has not seemed openly bothered by the situation and has not responded to any of the joke responses. His only response as of Tuesday afternoon was to Daily Wire's Ian Haworth, who shared a link claiming to show that Walmart sold the adapter he needed, though Belton said he was told they are only sold online. He also praised a Walmart employee who directed him to a nearby Apple Store for his needs.
Walmart's continued sale of real firearms and ammunition has generated controversy in recent years, owing to the ever-present specter of mass shootings and concerns about civil unrest in response to election results. The company briefly removed the products from shelves in the lead-up to the 2020 general election. In response to the 2018 Marjorie Stoneman Douglas High School shooting, Walmart raised the age limit for firearm sales to 21. It also suspended AR-15 sales in 2015.