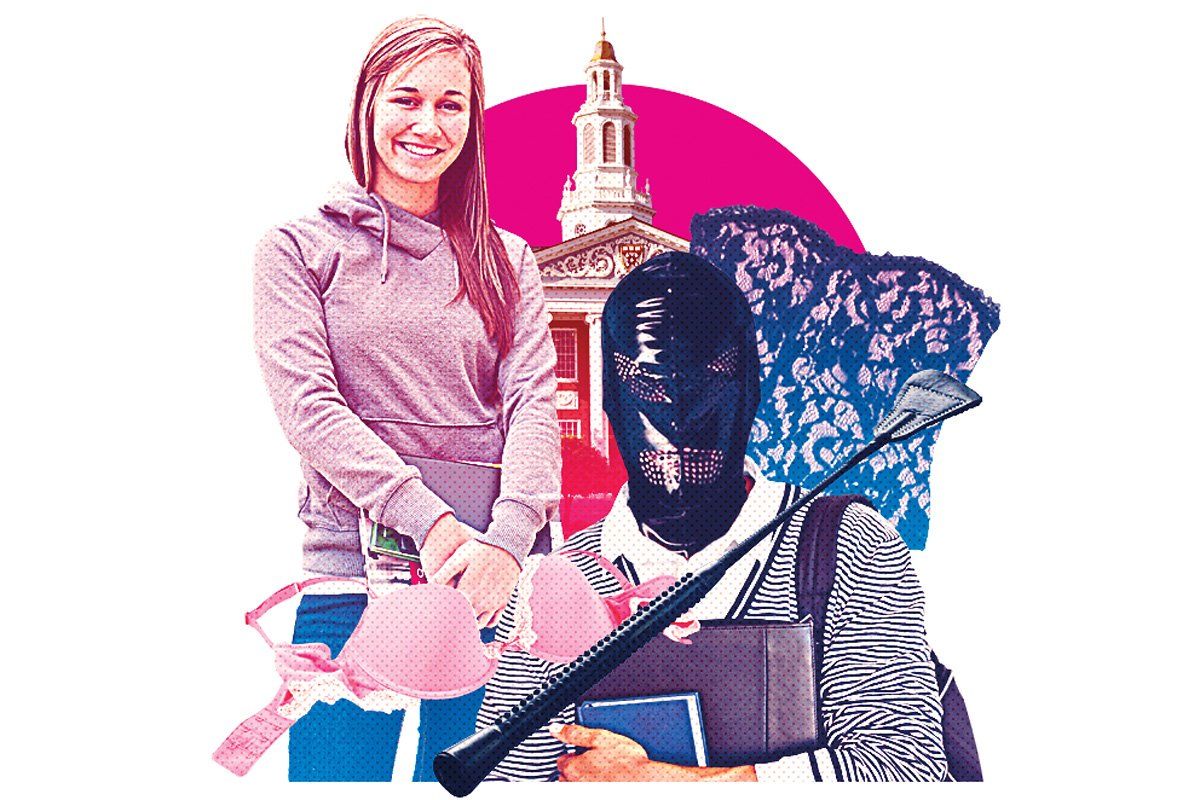 Last week, national media outlets were titillated by the news that Harvard University had formally recognized a ­student-run BDSM group (short for bondage, domination, and sado­maso­chism). The idea of buttoned-up Crimson coeds discussing their fondness for fetish challenged the conventional image of the Ivy League university, home to the best, the brightest—and now, the kinkiest.
Joining the Composers Association, the Mathematica Club, and about 400 other student organizations, the Harvard Munch will now get money to host gatherings and guest speakers. While conservative pundits on Fox roasted the school for giving money to this "marginal" group, the larger BDSM world welcomed the news. "Within the next decade, I think we'll see a huge number of colleges and universities providing safe spaces for their students to explore alternative sexuality, just as they have done for LGBT groups," said Mollena Williams, an educator in the kink community.
Harvard is hardly the first university to have sanctioned such a group. Columbia University's Conversio Virium (that's Latin for "exchange of forces") became the first university-recognized sado­maso­chism club in the country in 1992. Iowa State University has its long-running, student-funded bondage club, Cuffs; Vassar College has the Sex Avengers, which holds an annual "Masturbate-a-thon"; and the University of Chicago has RACK (Risk-Aware Consensual Kink).
"Munch" isn't as much of a non sequitur in this list as it sounds. The term goes back to the 1980s, when a small group of bondage enthusiasts began meeting at a restaurant in Palo Alto to casually discuss spanking, flogging, and the like. Despite the connotations it might have, the term "munch" in this context is simply an amalgamation of "lunch" and "meeting."
Munching isn't exclusive to cities and college campuses either. One of the ­longest-running munches is based in Louisville, Ky. Many members of the Harvard Munch were introduced to the BDSM community through the Cambridgeside Galleria Munch, according to a former member. Anschel ­Schaffer-­Cohen, a founder of Tufts Kink, encourages members to check out Cambridgeside's Munch. "It's the textbook introduction to the community," he said. "I went to munches and made friends. It's a safe venue to meet people with similar interests."
And anyone concerned that the munch is a sign of rampant campus promiscuity can rest easy. In an informal video survey by The Harvard Crimson asking students whether they would rather join Munch or the pro-abstinence Harvard College Anscombe Society, support was surprisingly evenly split between the two.
—Lizzie Crocker