Beabadobee Talks About Her New Music Video, Shrooming at Coachella
Beabadobee is fresh off a Coachella debut, but that's just one of the many highlights 21-year old Beatrice Laus should be expecting this year. She'll be starting the summer off opening for Halsey on the Love and Power tour, then she's releasing her second album Beatopia on July 15 before hitting the road in support of Jack Antonoff's Bleachers.
Newsweek sat down with Bea to talk about how she's feeling after performing, and what it was like creating Beatopia — particularly the latest song from the album, "See You Soon," released this past Monday.
Weekend 1 was a few days back now we're coming up on weekend 2. How are you feeling?
I feel pretty good. The Coachella set was really fun. I've never been before, and it's a very different festival to the festivals I'm used to. So it was really interesting just attending. Not even playing, but just being there.
And playing was super overwhelming. I didn't think a lot of people would come to watch me. But I looked out in the crowd and it was a good amount and I was like, "What the hell?" I would have never thought this would happen.
And obviously, like how all shows go and how all festival sets go, you don't really get a soundcheck and you don't have much time to prepare. So a few little things f***ed up, but it wasn't majorly, and the bands and I were so distracted about how cool the whole thing was. So we didn't really care. But yeah, it was very, very fun.
When you say it's not like the festivals that you're used to playing, what do you mean? What was different about it?
It's way more, I guess, clean and less grim, basically.
I just remember, and I don't know if I should say this but, after the festival I did shrooms, and there's a whole thing going around with people saying they saw Beabadobee lying on the grass, looking at the stars, which is true.
I was just doing all sorts of weird s***, but I think the shrooms experience really made me look at the festival. Like the lights are incredible, like, everything's crazy, but also I've never seen festival toilets that clean before, because usually festival toilets are really gross.
They take care of you really well, but that's with all the festivals.
The people [at Coachella] are very different. I feel like they've planned their outfits for years, the people that come to the festival.
Did you get the chance to see any of the any sets, or was it a lot of just stargazing?
It was a shame because I did want to see a lot of sets, but I missed them because I had some press stuff to do. I really wanted to see Crumb, but all the people I wanted to see were on the day before I arrived.
I really wanted to see Phoebe (Bridgers) and Current Joys. Basically, it was a palaver, because it was between Doja Cat and Fatboy Slim. And we were like, "F***, what do we watch?" Then the band and I, we agreed, because Matty was there, "Let's go watch Doja Cat this week because Matty wants to, and then Weekend 2 we watch Fatboy Slim."
So I'm watching Doja and I don't consider myself a fan of her. But I have an utter amount of respect for her as an artist and as a woman in the industry. And I just remember like coming off on shrooms during her set and being like absolutely gobsmacked and being like this is the best thing I've ever witnessed in my whole entire life. It was incredible. She was incredible.
I became a Doja Cat stan after her Coachella set. So that was like, really fun.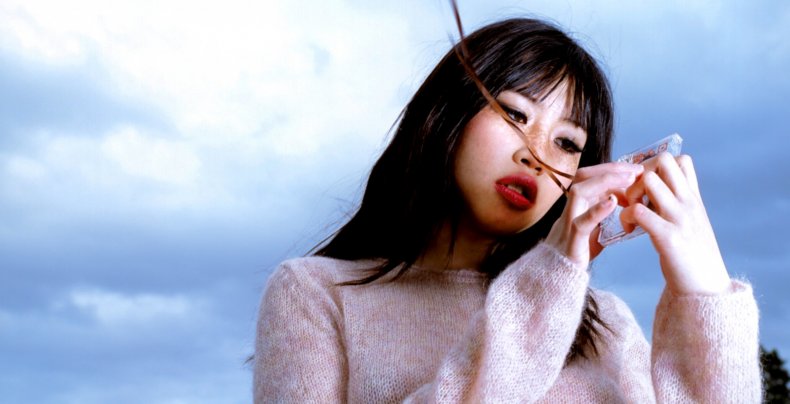 You're in kind of an interesting situation with a lot of your popularity, both with the feature in the Powfu song and Fake It Flowers coming out in 2020. This stuff that happened when you couldn't play live. How does it feel playing the new songs for people after almost two years of waiting?
It's actually a really overwhelming feeling, because before I toured and before Fake It Flowers came out, I was playing small shows, and not a lot of people listened to a lot of my music.
And then obviously, lockdown happened. And a lot of things happened with my music over lockdown. So I kind of missed the transitional step a bit. And just jumped straight into, like crowds this size. And it's definitely overwhelming.
But it almost feels like, I don't know, really rewarding. I can generally feel it live. I can see the crowd, how they react to it in person. I just find it really strange that people all the way in America listen to my music, or know the words to my songs off Fake It Flowers. So yeah, it's very overwhelming.
And now you've got another album coming up, and the lead single is out for that now, "Talk." Do you mind telling me a little bit about that song and how it came to be?
"Talk" I wrote just after Fake It Flowers. I was sitting on that song for ages. And I think that's why it almost sounds like a cousin to Fake It Flowers.
The whole premise behind "Talk" was I wanted to make a really fun song about going out and just stupid s*** that you do on a Tuesday night with your mates. They're not necessarily quite healthy, but you do it anyways, because you're young, and it's like, whatever, who cares.
But sonically, I wanted it to feel like Fake It Flowers, but a much more mature version. And our main reference was the Yeah Yeah Yeah's "Maps", but the demo version on their album. They've got this amazing four-track demo and I just fell in love with it.
And I was like, "Look Jacob," who I made the song with and who made Beatopia with me, "We have to make 'Talk' like that." So that's what we did.
It was really fun making ["Talk"], and I just thought it would be the best decision to make that the first single. It almost feels like it's a good transition from my last album to this new one.
For the songs that are going to be on Beatopia did you write them all post-Fake It Flowers? Now you have a lot more people with ears on what you're doing, did that affect your writing at all?
Not at all. Some of the songs were songs that I had kept from Patched Up, my first EP, but most of the songs were made in this tiny room in Wandsworth. Me and Jacob were like, "Let's just write loads of songs and if it's for an album, it's for an album. But it's gonna be for something called Beatopia, that's all I know."
So we just wrote all these songs. I didn't really have the idea of all the ears listening to me in mind, because I don't like to think about those things, in terms of music and my career. I feel like that's when you get really freaked out, and I hate looking at numbers. I hate looking at the amount of people who listen to my music. It's great, but it does make me quite uncomfortable.
If I don't think about those things, I can just write whatever I want. And that was like the most free I felt with my music, because it was during lockdown. It was a really weird time where it felt like I had no eyes watching me. I was just in this room with my best friend, just really stoned and just making loads of music, and it was one of the best times of my life.
Do you mind telling me a little bit about the process behind your new single "See You Soon"? Was that another song that came out of that joy of being stoned and getting to write music with your friends?
Yeah, no, it literally was. So "See You Soon" was one of the songs off Beatopia that was perfect from the get go. Well, me and Jacob's version of perfect. You know when you start a song, and you just know exactly what to do with it? And then, everything fits perfectly. Everything you add, everything we sing, it just makes sense. It just made sense from the get go.
I'd written "See You Soon" after a time in my life where I spent a lot of time by myself. It was just after lockdown finished, I was seeing my friends at their uni houses and had a lot of fun times.
It was the first time I ever did shrooms. I felt like it really made me realize a lot of things. It made me realize that being by myself wasn't all that scary. That sometimes I just have to spend time with my own thoughts, to just reflect on everything that has happened in my life. Not look at past things so negatively, but almost look at them in a much more positive light, and in a way where it helps me become the person I am today.
It's one of the most personal songs off Beatopia and one of my favorite songs too. I feel like it's the best song. Like if someone were to ask like, "Which one song do you have to listen to to understand the record," I would say listen to "See You Soon."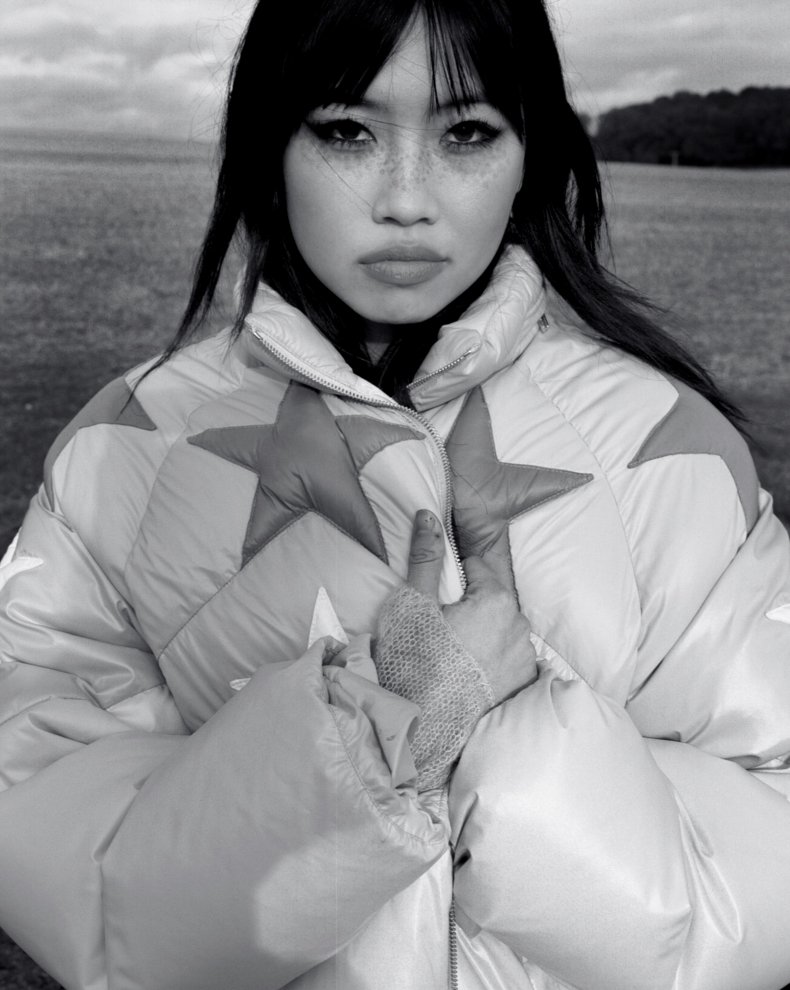 If that was the easiest one to write, the one that felt perfect right off the jump, was there any song on the record that you felt like you had to fight with in order to get perfect, or to a place where you want it to be?
There were a few. There is this song called "Ripples," and it's very personal to me, so mentally, that was really hard to write. I had to be honest, and it felt so good to write, but it was just really hard to find the perfect words to sing.
I think one of the most challenging songs to write was probably "Fairy Song" because the whole idea behind ["Fairy Song"] was almost like my own 10 commandments. It's me saying rules and things I believe in, [things] I think I should do for the rest of my life. This is the way I should live my life. And this is what I have to keep reminding myself. So that was quite challenging.
I had to go on a lot of walks for that song. I remember Jacob being like—I just remember telling him that I just can't think of anything. And he was like, "Just go on loads of walks. Go on so many walks and don't think about this f***ing song."
Did it work?
Yeah, it definitely worked. It definitely, definitely worked, and spending a lot of time with my family and my friends works. But overall, I think Beatopia wouldn't have been the same without my friends. And even though, you know, it's not like my friends are singing on it—well, okay my friends are singing on it—it's not like they wrote the songs with me, but you know, they definitely inspired a lot of music.
I got one last question for you—and this is a question that we've asked all the artists we've talked to so far, and it's a tough one, so get ready: What is the last song that was stuck in your head?
The last song that stuck in my head? I've been listening to a lot of Autolux because I've been flying a lot, and I've got one album downloaded on my phone. It's the Autolux album Future Perfect and it was "Plantlife" that's been stuck in my head, because I've been falling asleep on flights with the song playing on repeat. So I think it's almost, like, built into my conscious. I wake up and it's still playing, I fall asleep, it's playing. So yeah, it's just been stuck in my head for ages.
Newsweek's continuing Coachella coverage can be found online at newsweek.com and on On Beat, available wherever you get your podcasts.