The beach made famous by a hit film starring Leonardo DiCaprio has been closed because it has been destroyed by swarms of tourists.
Millions of people have been drawn to the azure waters of Maya Bay on Ko Phi Phi Leh island in Thailand since the release of The Beach film in 2000, which was adapted from a novel by Alex Garland.
But the litter, pollution and detritus caused by the more than 5,000 people and 200 boats which descend on the island daily has destroyed four-fifths of the coral that surrounds it.
Authorities temporarily closed the beach on June 1 to give it a chance to recover but it will now be closed indefinitely.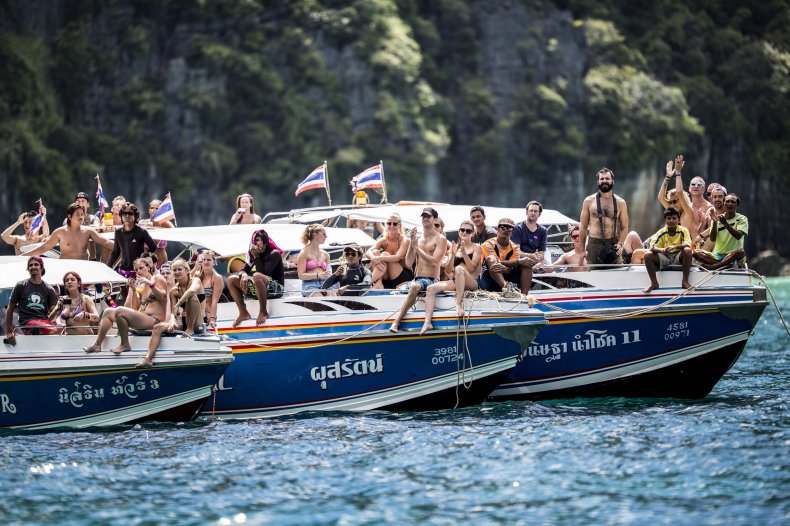 Songtam Suksawang, the director of the national parks department, said four months' closure was not enough. Coral grows about half a centimetre a year, meaning it could take much longer to recover fully.
"We need at least a year or even up to two years or maybe more for the environment to recover. This includes the coral reefs, mangrove, and the beach," he said.
"It's very difficult to remedy and rehabilitate because its beach was completely destroyed as well the plants which cover it," he said, according to The Guardian.
Marine scientist and member of Thailand's national strategy committee on environment development, Thon Thamrongnawasawat told the Associated Press: "Overworked and tired, all the beauty of the beach is gone. We need a time-out for the beach."
Local authorities had been reluctant to close Maya Bay which generates around 400 million baht (£9.5m) in revenue a year. In 2016, authorities issued a ban for the islands of Koh Khai Nok, Koh Khai Nui and Koh Khai Nai.
Wattrapol Chanthararo, chairman of the Koh Phi Phi Tourism Business Club, told the Bangkok Post that no local residents were consulted before the closure was announced and was concerned that the closure would hurt the tourism sector on both the island and the province of Krabi. Tourism comprises around 12 percent of Thailand's economy, Reuters reported.
There has been a reassessment globally about the environmental impact of unfettered tourism with the Philippines this year closing Boracay Island, whose waters President Rodrigo Duterte described as a "cesspool."
Indonesia has tackled pollution on Bali, declaring a "garbage emergency," after a diver filmed the extent of plastic rubbish off the island's coast and uploaded the footage to YouTube.