Beached Whales Found Dead On Hawaii Beach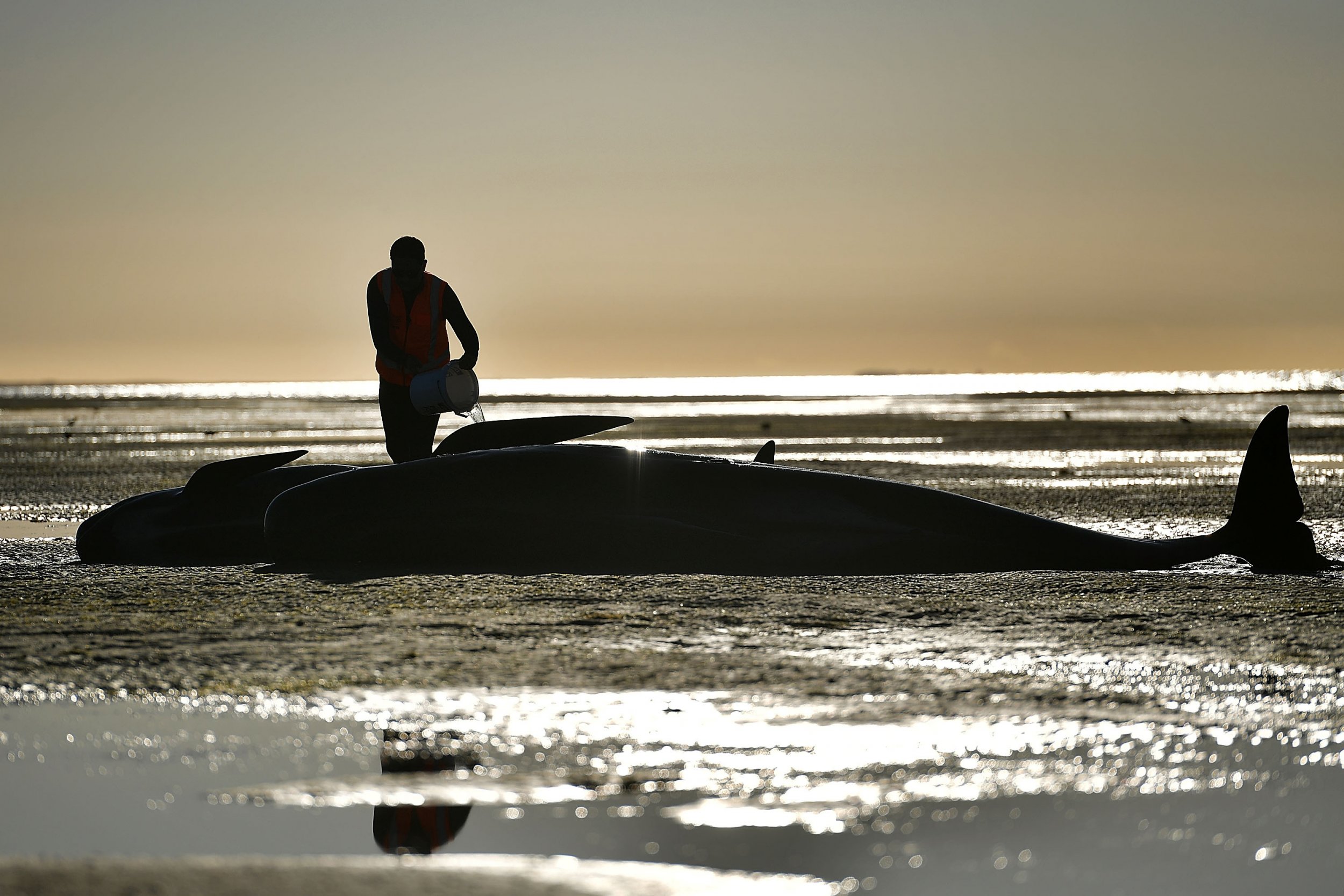 At least five pilot whales died after being washed up on a Hawaii beach early Friday morning. Some of the whales beached themselves, while others struggled to stay alive in the shallow waters off Kaui's south shore, CBS-affiliate Hawaii News Now reports.
After a U.S. Coast Guard station received reports of the whales, visitors at Kalapaki Beach tried to push them back to safety, according to the Associated Press. Two of the deaths came in the early morning, followed by three more reported later Friday evening. Sadly, mass strandings, which is when two or more whales (except a mom/calf pair) are found on the beach within the same area and tidal cycle, are fairly common.
"Pilot whales are known to be very social animals... We often find that when they strand, they strand in groups, so there might just be one or two animals that are affected, but being such a tight ohana they'll follow ashore," David Schofield, a marine mammal response coordinator for the National Oceanic and Atmospheric Association (NOAA), says in the video below.
"There were some of these animals that were pushed off the beach that were reluctant to go back out to sea," he said.
In addition to NOAA, the Coast Guard, Kauai County Fire and Police Departments, the DLNR Divisions of Aquatic Resources (DAR) and Conservation and Resources Enforcement (DOCARE) all responded to the incident.
Residents also gathered, as the 15-foot, 5,000 pound animals were removed from the beach using heavy construction equipment. Among the bystanders, was the island's mayor, Bernard Carvalho Jr. He joined the community to help say a final goodbye to the beloved creatures.
"It's terrible. It's emotional," Carvalho told local news outlet, KOHN2. "We did our special oli, our blessing for the whales. It's important to me that we stay connected culturally."
The mammals are now at an undisclosed location where they will receive autopsies.
"We have no indication of a cause of death at this time. Disease and old age are common causes of death for whales, but it's too soon to know," Schofield told KOHN2. "Postmortem exams occasionally reveal a likely cause, but more often they are inconclusive, and we must then wait for lab test results. Working with the UH Hawaii Institute of Marine Biology, our stranding response partner, we will ensure the postmortem exam and lab tests are thorough and comprehensive."
There's a number of reasons whales will strand, including pollution and injury. But, it's most often due to poor health from various types of parasitic, viral, and bacterial infections, Schofield notes.