Beaches in Long Beach Closed After Millions of Gallons of Sewage Spilled
Officials in the city of Long Beach, California have temporarily closed beaches for swimming after receiving a report of a sewage spill.
On Friday, the city said that according to a December 30 report from the California Office of Emergency Services, "approximately two to four million gallons of untreated sewage was discharged into the Dominguez Channel," which "terminates into the Los Angeles Harbor at the Port of Los Angeles."
The sewage spill occurred in the city of Carson, California following the failure of a 48-inch sewer mainline.
"State law requires temporary closure and posting at beaches in these situations, out of an abundance of caution, until the water quality meets State requirements," the city said in a press release Friday.
City health officials are currently monitoring the water quality on affected beaches, and the monitoring will "continue until results comply with State water quality standards." Long Beach has roughly seven miles of public beaches.
In a statement on Thursday, the Los Angeles County Sanitation Districts stated that they had become aware of the spill in Carson.
"Our crews are onsite working to contain the spill," the districts wrote on Twitter.
"Currently, there is no threat to public health and property aside from the spilled sewage," they added.
In a later update, the sanitation districts said they had "multiple crews on-site with specialty contractors."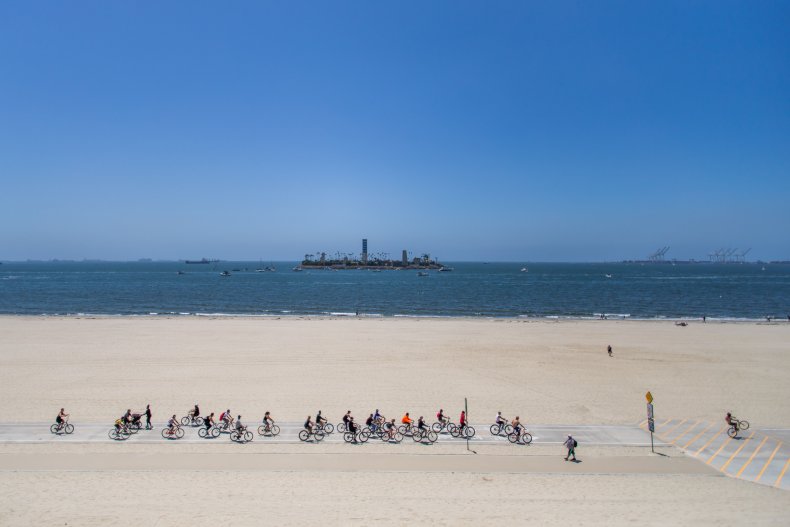 "Our first priority is to stop the spill by pumping the flow to an undamaged section of sewer. Crews will be working through the night," they said.
Newsweek reached out to the City of Long Beach for additional comment and updates.
In a separate incident in July, miles of beaches in Los Angeles were closed for swimming after 17 million gallons of untreated sewage spilled into the ocean.
At the time, the City of Los Angeles, Bureau of Sanitation and Environment stated that the city's Hyperion Water Reclamation Plant "became inundated with overwhelming quantities of debris, causing backup of the headworks facilities."
"The plant's relief system was triggered and wastewater overflows were controlled through use of the plant's one-mile outfall system at 7 pm which resulted in the discharge of untreated wastewater into Santa Monica Bay," the bureau said in a news release, referring to the spill that occurred on July 11.