Beaches Reopen in Parts of California as State Begins to Loosen Coronavirus Restrictions
Beaches and parks in Santa Cruz County reopened Thursday as California and other states across the country began discussing plans to lift stay-at-home orders. Public spaces in California counties that have been harder hit by the coronavirus pandemic remain closed.
"We are, please, asking you not to congregate into groups, because that's going to force us to probably shut this down again," Santa Cruz Chief of Police Andrew Mills warned residents Thursday.
Santa Cruz issued a one-week order before the Easter holiday to close county beaches, parks and other recreational spaces on April 8. The order expired after Wednesday, though the county's stay-at-home order remains in effect through May 3. Residents were encouraged to continue practicing social distancing and wear masks while in public, and spaces where maintaining six feet of distance between people is difficult—including basketball courts, skate parks and playgrounds—are still closed.
Ralph Dimarucut, principal management analyst with the City of Santa Cruz, said residents' ability to abide by social distancing guidelines would factor into the county's decision to keep beaches open. "If our community is able to follow shelter-in-place orders, we don't have to take that route" of reinstating closures, Dimarucut said. "We really don't want to. We understand how important exercise is to everyone's mental health, but we have to protect the health of our community. If people are gathering at a park or beach to a point where they can't practice social distancing, we may have to take those measures."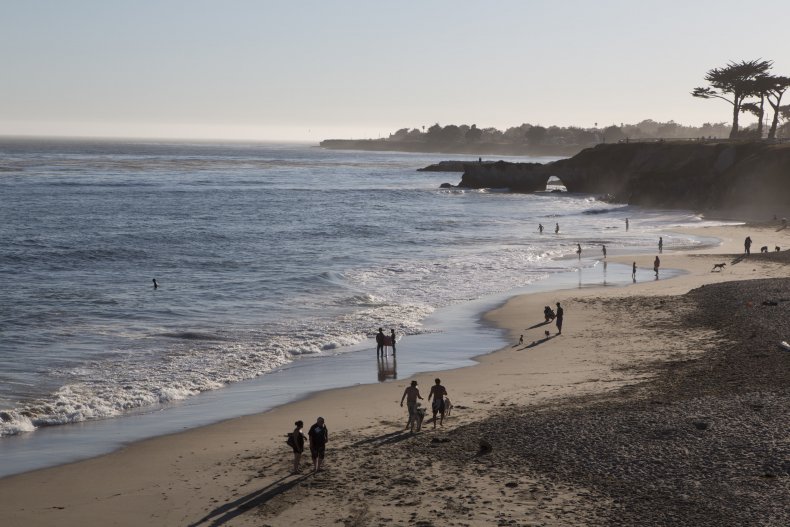 California—which the Centers for Disease Control and Prevention said was first to report a case of community transmission—became the first state to issue a stay-at-home order on March 19. The order came shortly after Governor Gavin Newsom sent a letter to President Donald Trump projecting 56 percent of California residents would contract the virus within an eight-week period if quick action was not taken.
Public health officials throughout the state began closing open public spaces within the next couple of weeks as beaches, trails and parks continued to see heavy foot traffic. In Santa Cruz, Health Officer Gail Newel said in a public health order the county was issuing beach closures due to "an unusually high volume of use of beaches, trails, parks and other recreation areas, which is impeding the practice of safe and necessary social distancing."
Crowds at beaches in Southern California necessitated earlier closures, which remain in effect. In Los Angeles County—where the coronavirus has hit hardest in the state with 10,854 confirmed cases and 455 deaths as of April 16—beaches closed on March 27.
San Diego County—which has the state's second largest number of cases with 2,087 confirmed and 63 deaths reported as of April 15—also issued its beach closures last month. In comparison, Santa Cruz had confirmed 96 COVID-19 cases and two deaths by April 15.
Newsom began discussing the state's options for lifting stay-at-home orders earlier this week. His plan thus far does not specify a timeline for returning the state to business as usual; instead, he said progress will depend on six key indicators, which include the state's testing capacity and ability to enforce social distancing.
Across the country, Governor Andrew Cuomo of New York led a small coalition of state leaders who engaged in similar discussions about how best to reopen their state economies. Though state and local leaders will ultimately decide when and how to reopen, Trump and the White House Coronavirus Task Force shared national guidelines for lifting stay-at-home orders on Thursday.