Beagle 2 Found On Mars, More Than A Decade After It Went Missing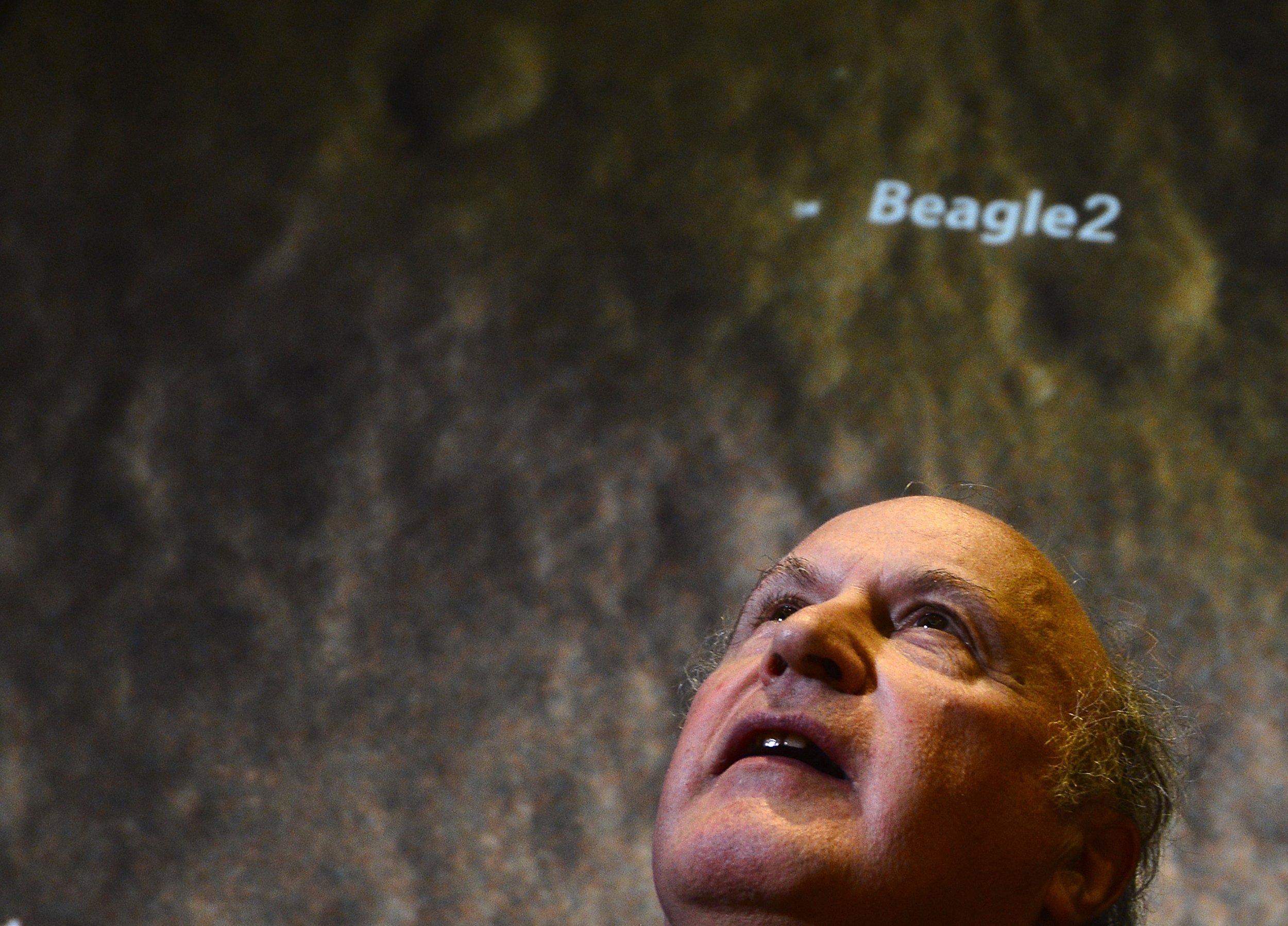 Britain's long lost spacecraft Beagle 2 has miraculously been found, having been stranded on Mars for over a decade, the United Kingdom Space Agency announced today. The lander was meant to study life on the Red Planet but vanished in 2003, and has not be seen or heard of again until this week.
Scientists operating the HiRISE camera aboard NASA's Mars Reconnaissance Orbiter (MRO) spotted remains of what they recognized as Beagle 2 on 12th January, just 6km from where it was originally supposed to touch down on Christmas Day 2003.
After successfully being launched into space on 19th December 2003, Beagle 2 went off the radar six days later. Named after Charles' Darwin's expedition ship HMS Beagle, Beagle 2 was Britain's first mission to Mars, and the spacecraft was designed to study rocks and soil for carbon signatures over the course of 180 days.
Scientists speculate that Beagle 2 broke upon landing, and that a motor which was supposed to open solar panels didn't work, preventing the spacecraft from being able to make a connection with Earth.
"We were always pretty sure that we didn't miss the planet, but there was no knowledge of where it was because there was no signal at all" Professor Mark McCaughrean, senior science advisor at the European Space Agency (ESA) said at the press conference held by the UK Space Agency today to officially announce the discovery of Beagle 2.
Professor Mark Sims from the University of Leicester, who was the mission's manager said that the "bad luck scenario" means that no data could be collected from the mission. "Beagle 2 had to fully deploy all of its solar panels for the data to be collected, but imaging is showing that only two or three panels deployed." He added that: "There's a share of frustration that we got so close to getting science on the surface of Mars."
However, Professor Sims still sees the project as a success, saying: "Beagle 2 shows that the UK can do innovative science and engineering, and will do so in the future."
Friday's announcement comes just one year after the death of the mission's leading Cambridge scientist, Professor Colin Pillinger, who was the founding member of the Planetary and Space Science Institute at the Open University. Professor Pillinger had hoped that Beagle 2 would shed light on life on Mars in the same way that Darwin did about life on Earth. He died of a brain hemorrhage at the age of 70.
In 2005, convinced that a speck on a photo of the surface of Mars was Beagle 2, Professor Pillinger called a press conference. However, high-resolution imagery from Nasa later showed that it was not. He continued to defend the mission against critics who blamed poor management for its failure.
Attending the conference today, Professor Pillinger's daughter Shusanah said that, despite the incredible discovery: "There is a tinge of sadness that [my father] can't be here. You can see that in the room where all his colleagues, all the people he worked with, everybody is gutted he cannot be here." She added that her father would have been happy to "defy the critics who want to say that Beagle 2 is a failure", according to The Telegraph.
With the recovery of Beagle 2's remains, scientists are now in the process of collecting imaging data from the MRO. "We have quite good imaging data today," Professor Sims said: "Now we have to try to put together a story of what went wrong."