Beagle and Cat Caught Cuddling Before 'Hitting Snooze' in Adorable Clip
A cat and a beagle named Chlea and Chloe are melting hearts all over the internet thanks to a collection of videos that show them cuddling each other.
In one of the viral clips posted by their owner, who uses the handle Thebeagleandthebun, Chlea and Chloe can be seen snuggling in bed and stretching out on a white comforter, apparently reluctant to get up.
The adorable TikTok video is captioned: "Hitting snooze on today."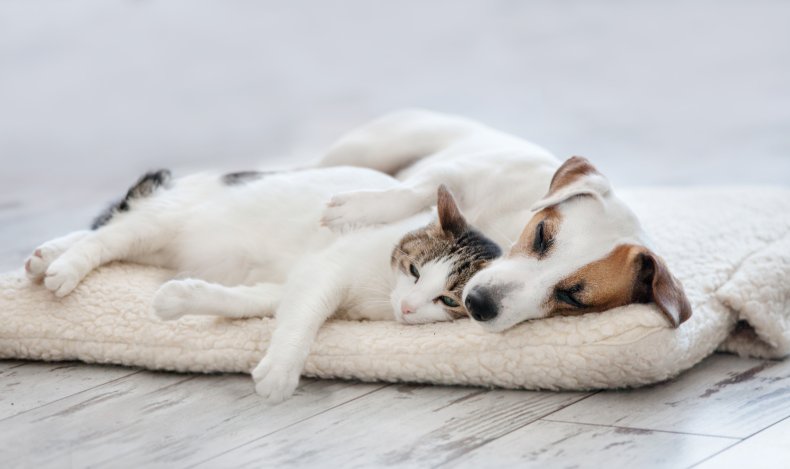 A study by Italian scientists, published in the journal PLoS ONE in 2020, has demonstrated that cats and dogs can cohabit peacefully and even become firm friends. Researchers from Perugia and Pisa universities surveyed 1,270 people who own at least one dog and one cat, to find out about their pets' "sibling relationship."
About 64 percent of the dogs and cats played together at least sometimes, according to their owners, while 58 percent chased each other. Only about 41 percent fought.
The cats were more likely to start a fight, the survey found. More than 24 percent of the owners said their cat had attacked their dog at least once, but only 22 percent said their dog had launched an assault on the cat.
About 58 percent of the cats and dogs slept next to each other at least sometimes, while 11 percent of them always slept side by side.
Chlea and Chloe's affectionate relationship has attracted 16.6 million likes for the Thebeagleandthebun account on TikTok. The nine-second "Hitting snooze" clip, which was posted on February 7, has been watched more than 182,000 times and racked up 18,400 likes.
One user, Jacqueline Robins393, commented: "Aww Absolutely gorgeous." Beatrice Stoler said: "What adorable babies." Adamsdiana38 added: "Aw so precious."
Toddkoniezhny wrote: "Such a sweet and pure love, clearly BFF's! Love seeing stuff like this, thanks for sharing."
Dogs4Eva added: "So sweet. I love it when my dog and cat snuggle."
Another user, superstevereno, commented: "Just 10 More Minutes Then I'll Get Up..." Luvduwey wrote: "I wish just once I could be that comfy too!!!"
Donna Gullickson said: "I absolutely love these two snuggle buddies! They warm my heart."
Newsweek has reached out to Chlea and Chloe's owner for comment.
Do you have funny and adorable videos or pictures of your pet you want to share? Send them to life@newsweek.com with some details about your best friend and they could appear in our Pet of the Week lineup.