Beagle Saved From Animal Testing Facility Set for Thanksgiving in New Home
A Beagle who spent the first eight years of his life inside a cage at a facility that supplies laboratories with dogs for use in animal testing is free and looking forward to Thanksgiving with his new family.
From the moment he was born, Samson lived within the concrete, steel and noise of some 5,000 beagles residing in cages at Envigo, a massive international distributor of dogs used in experiments.
According to PETA, Samson sired hundreds of puppies during his time there and, like all the dogs there, suffered a miserable, lonely existence.
His plight and the plight of all the canines at the facility has been documented in an undercover PETA investigation into the treatment of dogs at Envigo.
The investigation detailed how dogs like Samson were never given names, just a six-letter tattoo on one ear, while human contact often amounted to little more than being sprayed through the bars of their cage with a high pressure hose by a worker before they were experimented on.
Samson escaped when, after several pleas, the undercover investigator was able to adopt him.
When he was first released, he was in bad shape. He shied away from human contact, had infections in both ears while vets found blood in his urine and that 15 to 20 of his teeth were diseased and in need of extraction as a result.
Even as he has begun to settle into life in his new surroundings and the comfort of a warm, loving home and his first ever actual dog's bed full of his very first toys, Samson has remained traumatized and will often wake up barking as a result of all-too-vivid dreams.
However, slowly but surely, he is adapting to his new surroundings, learning how to play with other dogs, exploring new sights, sounds and smells, observing never before seen animals like squirrels and birds and enjoying cuddles on the couch with his new family.
"Samson got away from Envigo's barren cages and experiments and will finally enjoy a happy Thanksgiving, but thousands of other dogs are still held captive inside that hideous beagle prison," PETA Senior Vice President Daphna Nachminovitch said.
"Every one of these wonderful dogs feels fear, pain, and loneliness just like the dogs who share our homes can, and none of them should suffer in the experimentation business."
PETA has called on President Joe Biden to think carefully about who he appoints to replace Francis Collins as the National Institutes of Health Director when he steps down from the role at the end of the year.
The plea comes amid criticism over what they view as the waste of tax dollars spent on "cruel and useless experiments on Animals" instead of focusing on modern, non-animal research methods.
In a statement issued to Newsweek, Envigo confirmed that PETA has issued several communications claiming to have "an infiltrator" at its canine breeding facility in Cumberland, Virginia.
"PETA has made several accusations regarding our canine breeding facility and some of our staff. Many of these allegations we know to be misleading and lacking important context," the statement said. "However, any allegations towards our staff or our company are taken seriously, and we have launched an investigation to assess whether any improper actions occurred within the facility.
"Envigo has recently participated in two separate USDA inspections at our Cumberland site. We are incorporating the feedback from these visits into operational enhancements already underway."
Envigo said that the company has invested "more than $3 million over the past five years in extensive upgrades and facility improvements to our Cumberland location, which include a new outdoor play area, a new heating system, upgrading enclosure panels, new digital radiography equipment, and upgrades to whelping (birthing) enclosures.
"Our mission at Envigo is to help our customers realize the full potential of their scientific and medical research, which ultimately contributes to significant improvements in the lives of both humans and animals," they added.
"The use of animals in this critical research is essential for developing lifesaving medicines, medical devices and biologics, such as vaccines."
Samson's story follows on from a recent story about a one-eyed rescue dog and her joyous reaction to learning she had been adopted.
Prior to that another animal lover got a bit of a surprise after learning the stray puppy she took in was actually a rare wolfdog.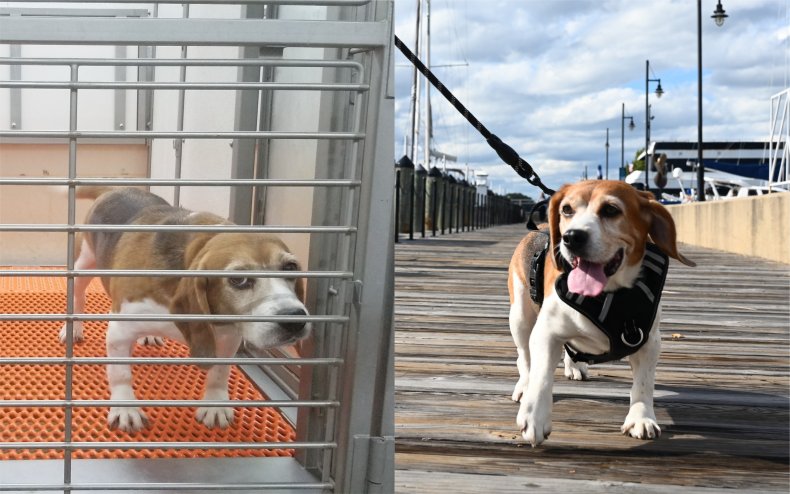 UPDATE 11/15/21, 11:25 a.m. ET: This article was updated to include comment from Envigo.