Bear Bryant: Celebrating The Life And Legacy Of An Alabama Coaching Legend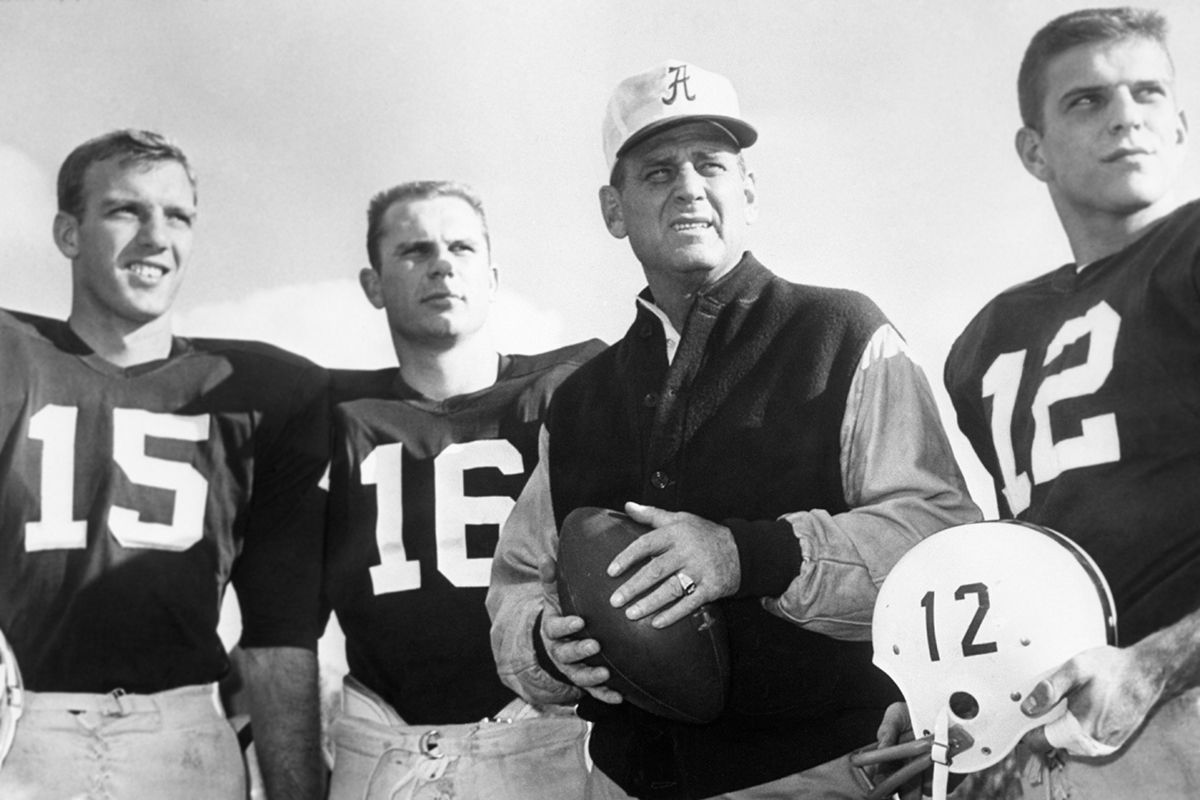 In an episode of "Law and Order," the late actor and U.S. Senator Fred Thompson let his fellow New York prosecutors know that if it weren't for Osama bin Laden, September 11 would properly be remembered as this iconic southerner's birthday.
On the day of his funeral, the state of Alabama came to a complete stop. Three churches in Tuscaloosa filled to capacity for the services. Thousands of cars and trucks pulled to the side of I-20/59 as the funeral procession moved to its final destination in Birmingham: Elmwood Cemetery.
News accounts estimated that nearly 250,000 Alabama residents lined roads and overpasses along the 55-mile route—approximately 12 percent of Alabama's total state population—to pay their final respects.
Was it a former president they were honoring? A movie star? It was someone far more important.
Paul "Bear" Bryant led Alabama's Crimson Tide football team to six national championships, and six of his Alabama teams were ranked number one.
"He wasn't just a coach," former USC coach John McKay said of Bryant, who was born on Sept. 11, 1913. "He was the coach."
As another college football season begins, it is worth a look back at the life of this larger than life coach.
"His nickname was 'Bear,'" said Joe Namath, who played at Alabama for Bryant. "Now imagine a guy that can carry the nickname Bear."
Carry it, he did. The craggy-faced coach roamed the Alabama sidelines in his houndstooth hat for 25 years, but his legacy wasn't just about wins: it was the impact he had on the thousands of athletes he coached.
Bryant was born in Moro Bottom Arkansas, a town so small that the town a few miles down the road—Fordyce—was considered big with a population of 3,200.
He was the 11th of 12 children, three of whom died as infants. His family was poor. Bryant's father was a farmer while his mother, Ida Mae, tended to the family. His dad became ill when Paul was a toddler, forcing his wife to run the farm. Work became a fact of life for the children.
Bryant was big, eventually growing to 6 feet 4 inches. He later recalled acquiring his nickname as a teenager in high school when he accepted a dare to wrestle a bear. He also remembered having an inferiority complex when he was young from growing up so poor, and in such an isolated place.
As a tackle on the Fordyce High School football team, Bryant walked away with all-state honors, and a scholarship to play at—of all places—his home state's arch rival: the University of Alabama. It was there that Bryant developed his appetite for winning.
His team won 23 games and lost only three when he was a starter. Alabama won a national championship in 1934 and beat Stanford in the 1935 Rose Bowl.
Luckily, for college football fans everywhere, Bryant didn't have the talent to play in the NFL. He joined the Navy after Pearl Harbor, and after completing his service in 1945, did what God created him to do: lead boys in battle on the gridiron. And turn them into men.
After bouncing around the south for a dozen years as a coach with three football programs—Maryland, Kentucky, and Texas A&M—Bryant got the call he'd dreamed of, and returned to his alma mater.
"It was like when you were out in the field, and you heard your mama calling you to dinner," he said, explaining his joy at returning to Alabama. "Mama called."
Alabama won just four games in three years prior to Bryant's arrival. But in his first full season in 1958, Alabama won five games and lost four. By 1961, he received his first number-one ranking nationally, going undefeated and beating Arkansas in the Sugar Bowl.
What was the key to his success? It was his fierce work habits, and the mental toughness he instilled in his players. And his motivational skills.
What Bryant was, more than a coach, was a teacher. And he wasn't afraid to teach his boys hard lessons about life.
One of those lessons: Winning isn't as important as respecting the team, and the rules of the coach.
He benched future Hall of Famer Joe Namath for a minor rules infraction, and even kept him on the sidelines during a Sugar Bowl game. Can you imagine an NCAA coach doing that today?
He also disciplined NFL Hall of Famers John Hannah and Ken Stabler. He benched Ray Perkins, too, the man who succeeded him as head coach at Alabama.
"I was very capable of throwing away what turns out to be a fairly good career because of not conforming to Coach Bryant's rules," Kenny Stabler told ESPN. "I was injured my junior year and not practicing and was bored, and broke some training rules, and Coach Bryant suspended me."
Stabler continued.
Then came the toughest thing I ever had to do, which was go and sit down with Coach Bryant. I walked into his office. He looked like a gorilla sitting there, smoking his Chesterfields and growling at me in that low voice of his, and he said 'Stabler, you don't deserve to be on this team.' And I said, 'Well, I'm coming back anyway.' And he said, 'We'll see about that.' He put me in my place and didn't start me right away because he was going to show me. And I'm glad he did."
Bob Baumhower, a five-time NFL Pro Bowl player, told a story about how he'd lost his starting position on the team because he'd blown off summer training. He thought about quitting the team in protest. Bryant, a master psychologist, called for a meeting with Baumhower and his father.
"He was very gracious to my dad, and then he looked at me and said. 'What the hell are you doing here?'" Baumhower recalled. "I really didn't know what to say, but he basically put me on my heels. And I said, 'Well, I heard you wanted to talk to me.' And he said, 'I don't like talkin' to quitters but since you're here, come on and sit your butt down.'"
Baumhower continued.
"But what happened in that meeting changed my life. Because before I came to the University of Alabama, I didn't care about being the best, I didn't care about being part of a team, there was no commitment from me to be the best I could be for my teammates. And what Coach Bryant did in that meeting was he went down that list of 22 starters and what they had done to make themselves better from spring to fall, and pretty much told me that's why I didn't deserve to be a starter."
Baumhower begged for a chance—and Bryant gave it to him.
"Everything I do today, every success that I have, every win that I have, in my opinion, came from that meeting, and the fact that Coach Bryant cared enough about me, first of all, to talk to me, and, second of all, to turn the light on, so after that meeting I could think like a man instead of a punk boy."
Bryant, his players recalled, always put effort above talent. And he led by example. He was a tireless worker who rose at 5 a.m. and didn't stop until late at night.
"It's not the will to win that matters—everybody has that. It's the will to prepare to win that matters," Bryant told people.
His players remember being afraid of him, too.
"You never respect something until you first fear it, and the respect he had was because we feared him, and I believe great leadership has that characteristic," John Croyle, who played for Bryant in the early 1970s, once said. "Not fear of him being physical or hitting you, but the fear that you never want to disappoint the person you respect.
Of the many books written about Bryant, one of the best is Bear Bryant on Leadership by Pat Williams, co-founder of the Orlando Magic.
Of the many insights in the book, the most surprising was left for last. It was a story by coaching legend Grant Teaff about one regret his friend had towards the end of his life.
"I would let everybody know that I am a Christian," Bryant told Taeff. " I am one, and I didn't tell them."
Three weeks later, Coach Bryant died.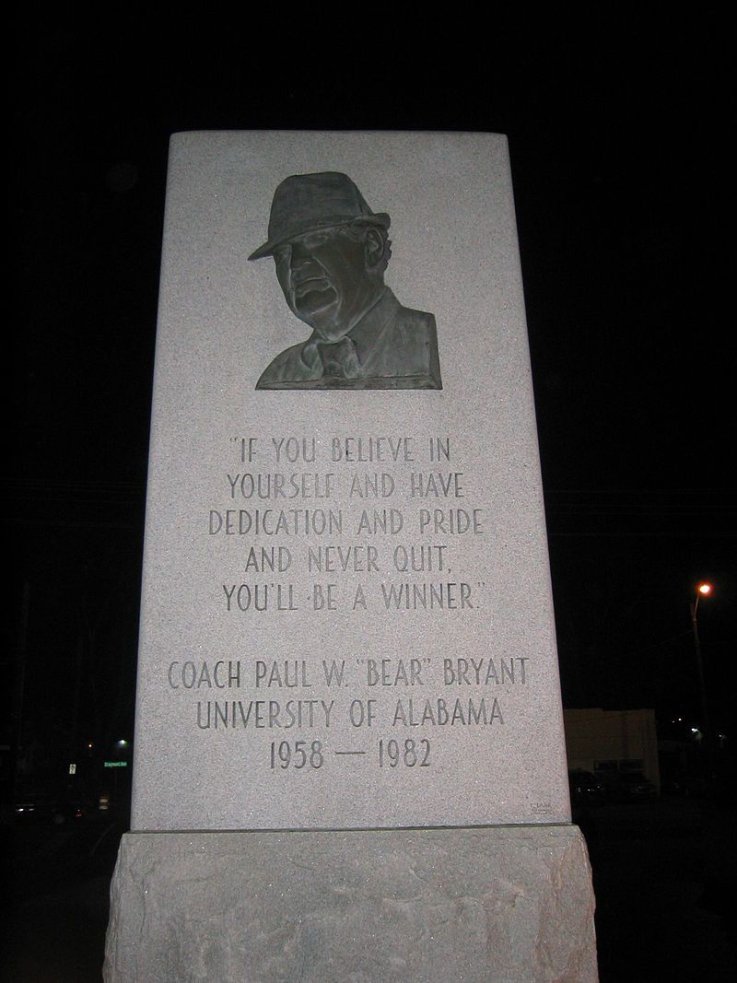 Bryant was married to his college sweetheart, Mary. They had two children and four grandchildren.
He died of a heart attack only 37 days after retiring. But his legacy lives on—and not just in the stadium that bears his name in Tuscaloosa, or the statue that stands in front of that stadium.
He lives on in the hearts of the young men he coached who are now grown men. He changed their lives because he challenged them to be the best players they could be. To be the best men they could be.
Lee Habeeb is a Vice President of Content at Salem Media Group, and is host of Our American Stories, a nationally syndicated radio show and podcast.
A version of this article first appeared on LifeZette.
The views expressed in this article are the author's own.
Bear Bryant: Celebrating The Life And Legacy Of An Alabama Coaching Legend | Opinion