Endangered Moon Bear Photographed in Korean Border Zone Peppered With Landmines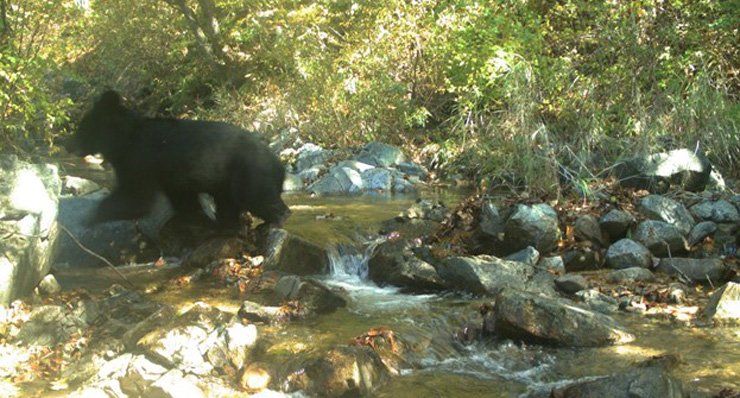 An Asiatic black bear has been spotted in the demilitarized zone that separates North and South Korea, authorities have confirmed.
Conservationists believe the bear may be the child of a mating couple, The Korea Times reported Wednesday.
This heavily mined no man's land is 150 miles long and 2.5 miles wide. It acts as a buffer zone between the two nations, and its borders are heavily militarized.
South Korea's Ministry of Environment and the National Institute of Ecology installed cameras in 2014 to investigate wildlife in the area. They snapped the bear back in October, but the image wasn't shared until the military cleared its release in March.
The photograph aligns with previous, unconfirmed sightings of an Asiatic black bear in the DMZ. "So far, there had only been an eyewitness account from a soldier that he saw the animal and unclear footage of what seemed to be an Asiatic black bear," a ministry spokesperson told The Times. "But this is the first time we have got confirmation." The ministry did not immediately respond to Newsweek's request for comment.
Also known as a "moon bear" or "white-chested bear," the mid-size bears are black except for a white patch on their torso, a white chin and a brown muzzle.
Officials believe the bear spotted in the demilitarized zone was roughly 9 months old and weighed between 55 and 77 pounds. Full-grown males weigh about 300 pounds on average, while females usually reach about 275 pounds. The creatures mostly eat plants.
Asiatic black bears are found across Asia, from the Middle East to China and even in Russia. They are found in North Korea, and in a small isolated population to the south of South Korea, according to the International Union for Conservation of Nature. The conservation group, which compiles a "red list" of endangered species, classifies the Asiatic black bear as "vulnerable" overall.
The South Korean Ministry of Environment listed the bears as "endangered" in 1998. The bears' numbers have dropped because of poaching, habitat loss and other factors, the Ministry explained in a statement on Thursday.
Mostly empty of humans since it was created in 1953, the demilitarized zone is home to numerous species of birds and animals. Some 5,000 animal and plant species have been found in the region, with more than 100 protected, NPR previously reported. The zone is an unintended wildlife sanctuary, and some conservationists believe it should be protected, even if North and South Korea's relationship improves enough to shed the buffer zone.