Bear Escapes St. Louis Zoo for Second Time This Month
A bear housed at the Saint Louis Zoo has escaped from his enclosure for the second time this month, according to local media reports.
The Andean bear named Ben got loose Thursday afternoon before being tranquilized and returned to his habitat. According to KMOV, a CBS news affiliate in St. Louis, Missouri, Ben was out of his enclosure for around 50 minutes, and zoo visitors were asked to remain inside on lockdown until crews had located the animal.
The same bear also got loose prior to the zoo's opening hours on February 7 as well. A Facebook post from the St. Louis Zoo at the time reports that Ben was first discovered out of his habitat around 8 a.m., and was later tranquilized and returned safely to his habitat around 9:40 a.m.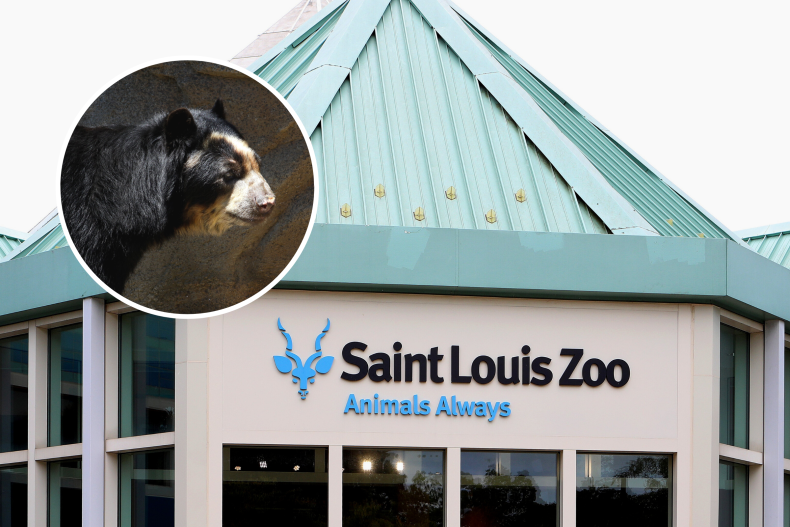 "It's important that we let you know that we have reviewed the evidence available from yesterday morning and we have no reason to believe that there was any human fault or tampering that led to the bear's escape out of its outdoor habitat," read the post, which was published a day after the bear's first escape.
"Instead, it would appear that the very curious bear meddled with the steel mesh in just the right spot of the outdoor habitat, causing a cable to give way, which then allowed the bear to work his way out," it continued.
Michael Macek, the zoo's director, told Newsweek on Thursday that Ben had managed to escape his enclosure the first time by tearing at the clips that attach a stainless-steel mesh to his enclosure's door.
After the first escape, zoo employees then attached nearly 1000 metal twist tie-like clips to the enclosure instead, which Macek said are often used on cargo ships and can withstand up to 450 pounds.
However, Ben, who Macek described as a young and "adventurous" bear, managed to break two of the clips Thursday in about a 30-minute time period while his zoo keeper was taking a lunch break.
"The opening he created was probably only about 13 inches or so maybe 15 inches in diameter, but it was enough for him to squeeze through," he said.
Ben, who is 4 years old, weighs about 280 pounds, Macek added.
The zoo plans on consulting with other accredited parks a part of the Association of Zoos and Aquariums to come up with new ways to keep the bear inside its enclosure.
Last month, the Dallas Zoo made national headlines after a series of animals escaped or went missing from their enclosures, including a clouded leopard, two emperor tamarin monkeys and an endangered vulture that was found dead by zookeepers.
The Dallas Police Department later arrested 24-year-old Davion Irvin in connection to the missing monkeys, which were found a day after their disappearance at a residence in Lancaster, Texas, reported CBS News.