Bear Rescued in War-Torn Ukraine and Taken to Sanctuary
A male brown bear, 20-year-old Vova, was rescued by animal-rights organization Four Paws, headquartered in Vienna, Austria. The bear used to perform at a recently burned-down restaurant in the Khmelnytskyi region of Ukraine.
The bear is believed to have spent its life in a tiny, concrete cage near the restaurant. Vova was rescued March 23, when its former owner handed the animal over to the authorities.
Four Paws said the animal was taken to the Bear Sanctuary in Domazhyr, a village near Lviv, Ukraine. The sanctuary is operated by Four Paws, and the bear was monitored by a veterinarian during the trip.
Despite ongoing Russian attacks, support for animals remains. Four Paws said: "The Bear Sanctuary continues to provide a safe place for bears in need."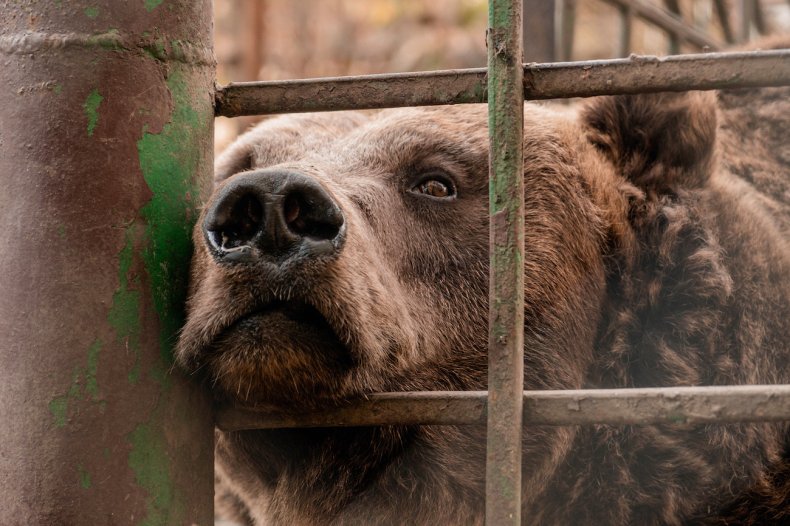 Magdalena Scherk-Trettin, who is responsible for the project, said: "Vova has arrived safely in our bear sanctuary. We are grateful the authorities finally made his rescue possible. Bears need to roam, dig and swim, not pace back and forth in a few square feet their entire lives. Vova's stereotypical behavior shows he was bored and unable to act out his natural behavior."
The sanctuary will ensure Vova "can recover and lead a species-appropriate, bear-friendly life."
Four Paws said private ownership of bears is still legal in Ukraine, "but legislative changes in November 2021 made keeping bears and big cats for recreational and entertainment purposes illegal."
Despite the change in the law, "the court that was supposed to decide his fate twice dismissed the case."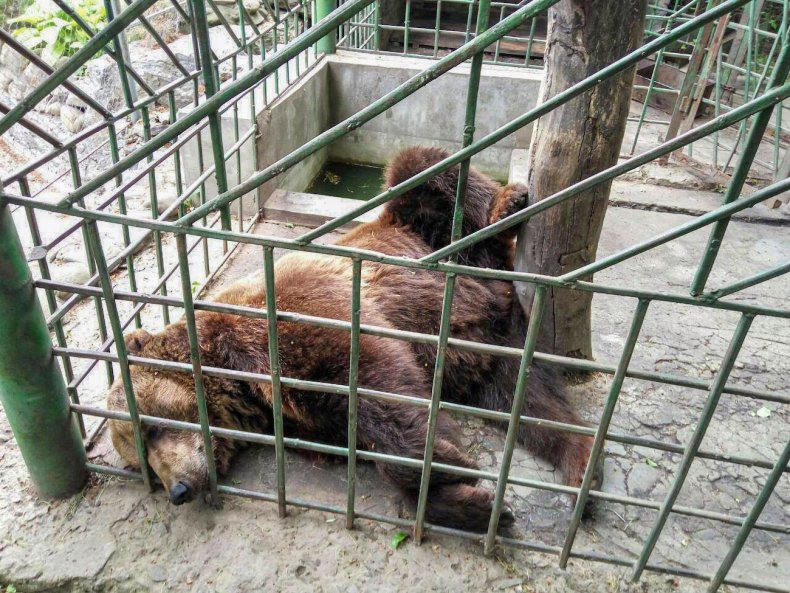 Vova's destiny changed when Russia invaded the country on February 24. Four Paws was asked by authorities to take the 20-year-old bear "into their care as soon as possible."
Four Paws has already rescued seven bears from the White Rock Bear Shelter near Kyiv. The shelter was operated by a partner organization called Save Wild Fund. "With Kyiv badly affected by the war, a local transport company brought the bears to the bear sanctuary in the safer western part of the country," it said.
Four of the bears remain at the Bear Sanctuary, while three of them have been taken to bear sanctuaries in Germany.
Bear Sanctuary Domazhyr officially opened to visitors in 2017. It created a species-appropriate home for bears rescued from cruel and catastrophic husbandry conditions. Thirty-four bears, including Vova and the four bears recently transferred from the White Rock Bear Shelter, now live on the 20-acre site.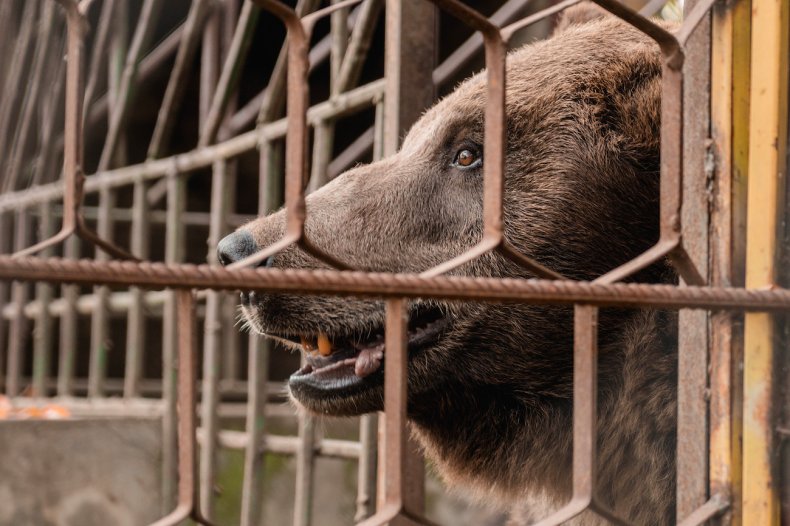 This story was provided to Newsweek by Zenger News.