Bear That Tried to Break Into Home for Brownies Returns With Cubs Years Later
This bear thought a home she dropped in on years ago was so nice she had to visit it a second time.
After a hungry bear went viral in 2017 while begging for fresh-baked brownies outside of a Connecticut home, the same wild animal returned once again on Thursday—this time, bringing her baby cubs for backup.
The new video shows the bold bear and her yearlings going for a walk on an Avon property right across the street from the original "brownie house" the mom targeted four years ago.
Megan Witcoskie wrote into her local WTNH news outlet with photographic evidence that the bear had returned to the neighborhood for a visit.
"My daughter and I spotted [the bear] and her family yesterday!" Witcoskie said. "Her Cubs got spooked by a little barking dog and ran up the tree!"
Back in 2017, the mama bear gained internet notoriety when she attempted to break into a home after smelling brownies the homeowner was preparing.
"My neighbor across the street just came over in a panic," one frantic 911 caller said according to WFSB. "She's a little old lady, screaming that a bear got on the back porch and is slamming on her glass door."
Resident Bob Belfiore noted that the bear became increasingly agitated after she managed to open a screen door but failed to open the glass slider. "[She's] not afraid of noise, screaming or yelling or pounding," he said at the time. "Though it looks cute on the railing, this bear was angry about not being able to get at the food."
The local Department of Energy and Environmental Protection (DEEP) confirmed it was the same bear thanks to its ear tag. Formally known as Bear 016, DEEP estimates her to be about 6 years old and said she and her little ones likely just spent the winter under a suburban house in the Hartford area.
DEEP Commissioner Katie Dykes advised that should you find yourself in a similar situation that you remain "bear aware."
"The most important thing is to never feed bears," she told WTNH. "We live in bear country because this population has been expanding."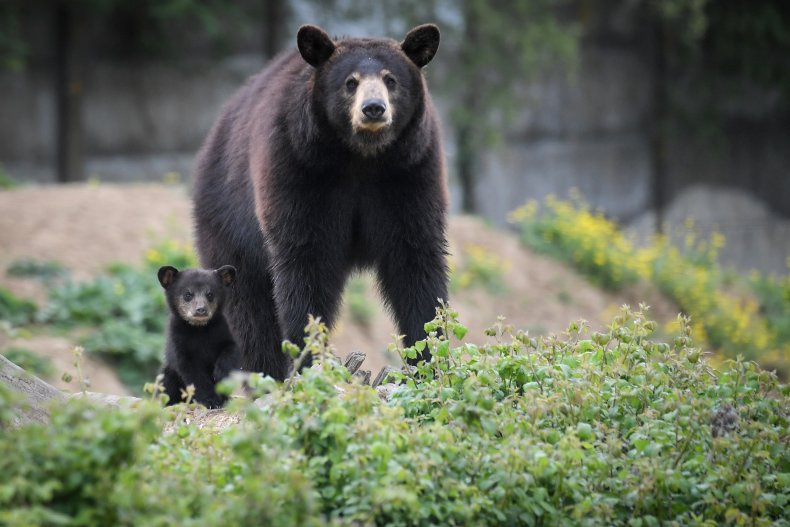 These residents got lucky that the mama bear and her cubs showed little to no aggression in her latest sighting. Just last month, a California home was savaged by a family of bears hungry after a long winter hibernation.
To keep yourself and your community safe, Dykes specifically recommended keeping bird feeders, pet food and garbage indoors and out of a bear's reach. Looks like Bear 016 won't be getting that plate of brownies after all.