What Makes Men Hot? Consider Their Facial Hair, Research Says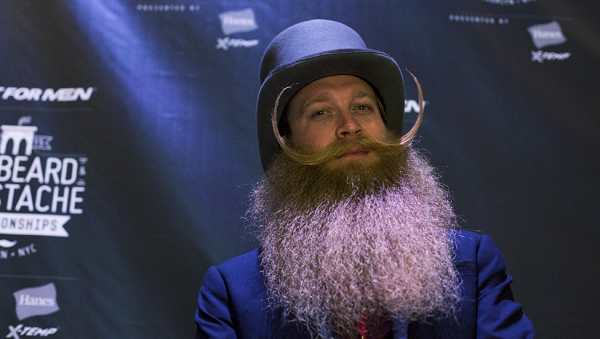 Facial hair preferences and styles change and vary over time, but the general consensus remains true: Men with facial hair are more attractive than men without—at least, that's what a new study published in the May issue of Journal of Evolutionary Biology found.
Researchers from the University of Queensland in Australia surveyed 8,520 women broken into three different groups and rated their level of attraction toward men with beards. The women reviewed photos of men with different degrees of facial hair, from completely clean faces and light stubble to heavy stubble and a thick, full beard. After analyzing the photos, each of the three groups were asked to rate the men based on a set of specific questions.
Overall, women displayed a higher level of attraction to men with facial hair compared to the images of clean-shaven faces, but the women's attraction to a man's appearance during certain stages of his beard growth surprisingly depended completely on what that woman was looking for.
For instance, the first group of women surveyed were asked to rate photos of bearded faces based on overall sexual attractiveness, which found men with some sort of facial hair to be more attractive to those without. Women in this group found men with no facial hair or full-bearded men to be the least attractive.
However, the second group was asked to rate their level of attraction to the photos based on images of men they found more appealing for a one-night stand, which the women said guys with light stubble were best suited for. The third group, on the other hand, was asked to determine which of the images of the men could suggest he'd make a quality long-term partner or even husband, to which the majority of the women found men with heavy stubble to full beards to be the best candidates.
Given the time, dedication and effort it takes for some men to fully grow out their facial hair, Barnaby Dixson, one of the study's co-authors and human behavioral ecologist at the University of Queensland, told The New York Times Wednesday that men with heavier stubble or full beards could appear to be ready for commitment, which may be one of the reasons women in the third group found men with beards were more attractive in regards to settling down.
However, Dixson noted that a woman's attraction to a bearded man could decrease if she's constantly surrounded by men with beards.
"When beardedness becomes too common, it is less attractive than when it is rare," Dixson said. "This may explain why fashions and trends in beardedness fluctuate over time."
A separate study Dixson published in the Journal of Evolutional Biology in 2016 found similar results of more women being inclined to choose bearded men for long-term relationships and found women considered men with facial hair to be more masculine, confident, industrious, generous and sincere.