Bears vs. Packers: Davante Adams Injury Reminds Goodell, and Trump, of NFL's Great Problem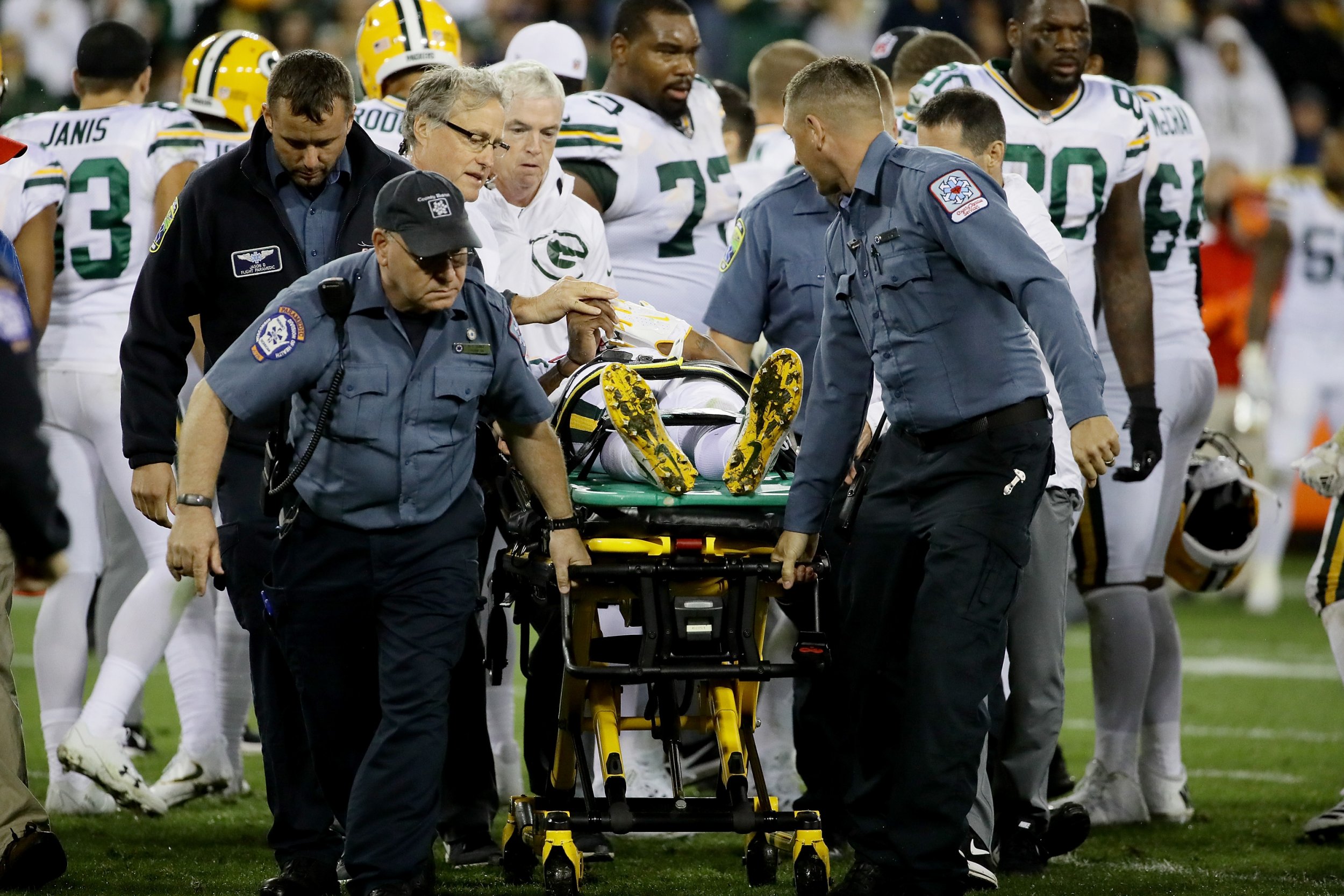 In the third quarter of the Chicago Bears' blowout loss to the Green Bay Packers at Lambeau Field on Thursday night, linebacker Danny Trevathan put Packers wide receiver Davante Adams in the hospital.
The hit may not have been malicious, but Trevathan's reaction did not endear him to the Packers. The 27-year-old former Denver Bronco celebrated as Adams was being carted off. The Packers' Martellus Bennett said in quotes reported by ESPN, "What we thought was f***** up was that he was celebrating that play. You get your ass kicked, you took a cheap shot and you celebrate when a guy goes down. That's what really pissed us off."
Trevathan said after the game that he would try to speak to Adams for what he claimed was unintentional contact with the wideout's head. "I regret the level I hit him at," Trevathan said. "But you got to understand, I had momentum, and I was just trying to make a play."
Trevathan was penalized for the hit but not ejected from the game. He can, however, expect at least a fine from the league. In this instance, Adams appeared to have been held up before Trevathan launched himself helmet-first into the pile, knocking his target's mouthguard loose. Adams was taken to a hospital in Green Bay to be evaluated for head and neck injuries and a possible concussion, NFL.com reported.
On ESPN, Kevin Seifert pointed out that new rules approved by NFL owners before the start of the season allow suspensions for "egregious" hits, even those that occur as a first offense. Trevathan "will almost certainly be suspended," Seifert said. The Packers, three-and-one but already ravaged by injuries, will take little comfort in that.
Neither, perhaps, will Commissioner Roger Goodell. Goodell has spent the past week siding with the NFL's players in their show of unity against the comment made by President Donald Trump, last Friday in Alabama, that club owners should fire them for taking a knee during the playing of the national anthem. Trump, Goodell said, had been "divisive." The Packers and Bears linked arms on Thursday, ensuring that one boiling issue mostly passed without note at least for one night. And then, on national television, came a reminder of football's brutality and a violent statement that the problem Goodell has tried to eradicate still exists and maybe always will.
And wasn't it Trump, during that same rally in Alabama a week ago, who laughed at what he perceives as the NFL's soft-handed attitude to head injuries? "You know today, if you hit too hard—15 yards! Throw him out of the game!" Trump said. "They had that last week. I watched for a couple of minutes. Two guys, just really beautiful tackle. Boom, 15 yards! The referee gets on television, his wife is sitting at home, she's so proud of him. They're ruining the game! They're ruining the game. That's what they want to do. They want to hit! It is hurting the game."
Trevathan and the Bears were penalized 15 yards, but the hit wasn't "really beautiful." Nor, of course, was the result. Trump is extraordinarily mistaken about concussions in football, while Goodell still wrestles with a problem he recognizes but cannot fully cure. After Trevathan lowered his helmet into Adams's head on Thursday night, both might have cause to pause and think.