I Beat Cancer While Pregnant: 'Being Misdiagnosed Saved My Baby'
Most people would never forgive a cancer misdiagnosis that could potentially have killed them, but looking back at it, young cancer survivor Katie Feaster sees her misadventure as a blessing because she believes her diagnosis delay saved her baby's life.
Feaster was only 25 years old when she was diagnosed with triple-negative breast cancer, an aggressive kind of breast cancer that grows quickly, and doesn't have any of the receptors that are commonly found in breast cancer.
As the Centers for Disease Control and Prevention puts it: "Think of cancer cells as a house. The front door may have three kinds of locks, called receptors. If your cancer has any of these three locks, doctors have a few keys (like hormone therapy or other drugs) they can use to help destroy the cancer cells. But if you have triple-negative breast cancer, it means those three locks aren't there. So doctors have fewer keys for treatment."
Feaster, from South Carolina, told Newsweek: "In June of 2021, I felt a lump, so I went to an oncologist and brought up my concerns. He told me he felt it too and decided to have an ultrasound on it. I had the ultrasound done and they told me that it was normal breast tissue. They told me everything was fine."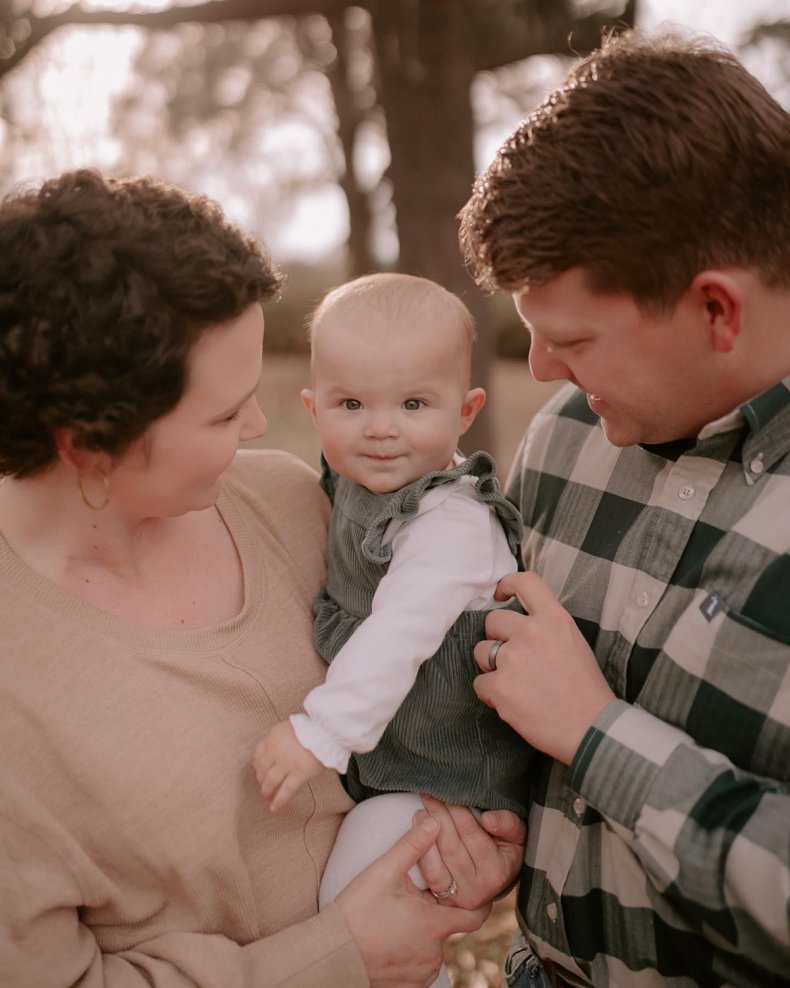 Unfortunately for Feaster, despite the reassuring consultation, her cancer was growing inside her, as was her baby.
"That was a Tuesday, and on Saturday that same week, I found out I was pregnant. It was very nerve-wracking because my nerves were still very shot from the breast cancer scare, which then turned out not to be a scare. But it was exciting to be pregnant!" she recalled.
It wasn't until November of that year that her diagnosis came through, but Feaster kept her faith high.
"In November, when I was six months pregnant, the lump had gotten bigger. I had switched practices and was advised to do a check, just to ease my mind. So I had another ultrasound, but they couldn't do a diagnostic mammogram because I was pregnant. They decided to go ahead and do a biopsy, and within the next two days, I found out that it was cancer. It was pretty quick, honestly. I was terrified."
Breast Cancer Rates in Young Women
According to the American Cancer Society, approximately 1 in 8 women in the U.S. are diagnosed with invasive breast cancer, and about 3 percent (1 in 39) die from the disease in their lifetime. Around 83 percent of invasive breast cancers in the United States are diagnosed in women aged 50 years and older, and the majority of deaths caused by this type of cancer occur in this age group.
The median age at diagnosis for female breast cancer is 62. Women are usually advised to take yearly mammograms from age 40, although this doesn't mean younger women don't run the risk of getting breast cancer too, according to experts.
About 9 percent of breast cancer cases in the United States are diagnosed in women younger than 45 years of age, per the CDC. In these cases, the cancer is most likely to be found at a later stage and is often more aggressive and difficult to treat.
While breast cancer in young women is rare, breast cancer during pregnancy is even rarer, with an incidence of 1 in 3,000 pregnant women, according to the British charity Cancer Research UK.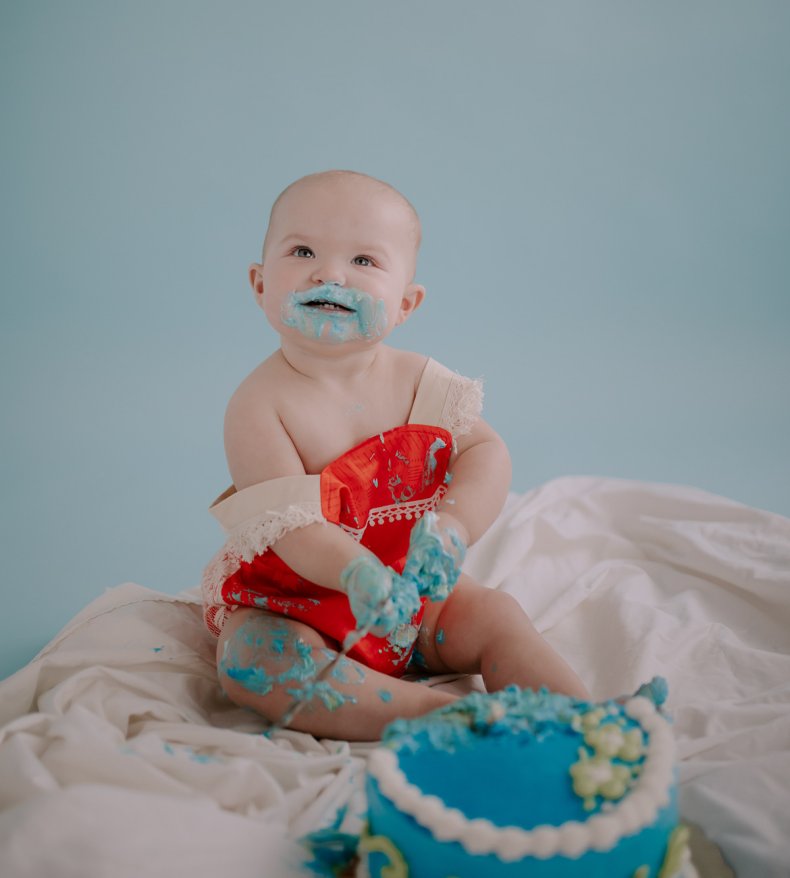 How Cancer May Affect Pregnancy
Due to the severity of the diagnosis, Feaster's doctors decided to start her on chemotherapy treatment soon after, before completing her pregnancy.
She said: "It wasn't a slow-moving cancer. They couldn't wait until I had the baby because I had three more months to go, so they had to go ahead and get things rolling. By my first appointment, they had decided they were going to start chemo and then after the baby was born, they were going to do a double mastectomy. So I did three rounds of chemo while pregnant, and then I did four more after she was born.
"My oncologist was like, 'I know we tell you not to eat sushi when you're pregnant, and here we are, we're literally going to poison you.' But [I] come to find out, chemo is only the most dangerous for babies in the first trimester."
Dr. Karen Hendershott, breast surgical oncologist at Arizona Oncology told Newsweek that most breast cancer treatments can be given during the second and third trimesters: "This includes surgery and most forms of chemotherapy," she said.
But some treatments can harm the fetus at any time during pregnancy, and most doctors try to avoid these until after the delivery. One of them is radiation therapy, which uses high-energy x-rays to destroy cancer cells; depending on the radiation dose and the area of treatment, it could harm the fetus throughout pregnancy. It can affect the support cells and blood supply of the uterus and increase the risk of miscarriage, among other problems.
Chemotherapy includes treatment that may damage heart cells and weaken the heart, forcing it to work harder during pregnancy and labor.
Dr. Troy Gatcliffe, a gynecologic oncologist at Miami Cancer Institute, part of Baptist Health South Florida, told Newsweek that there are chemotherapeutic agents that are completely safe to give to pregnant mothers that do not have a major, deleterious effect on the fetus.
"There are forms of chemotherapy that are acceptable and have an acceptable risk level for the fetus where the benefit for the mother outweighs the risk to the fetus."
According to Dr. Hendershott, the main risk is an increased chance of the baby being born before its due date, and premature births have a higher risk of cognitive issues.
"Multiple studies support the use of chemotherapy during pregnancy as being safe for the fetus. Long-term studies have been performed on these children and even on their offspring. There is no difference in neurological development, educational performance, fertility, or cognition." she said.
She added that it is safe to get mammograms and ultrasounds during all stages of pregnancy: "If you are planning to get pregnant, get a good exam prior to trying and get your mammogram done if one is due."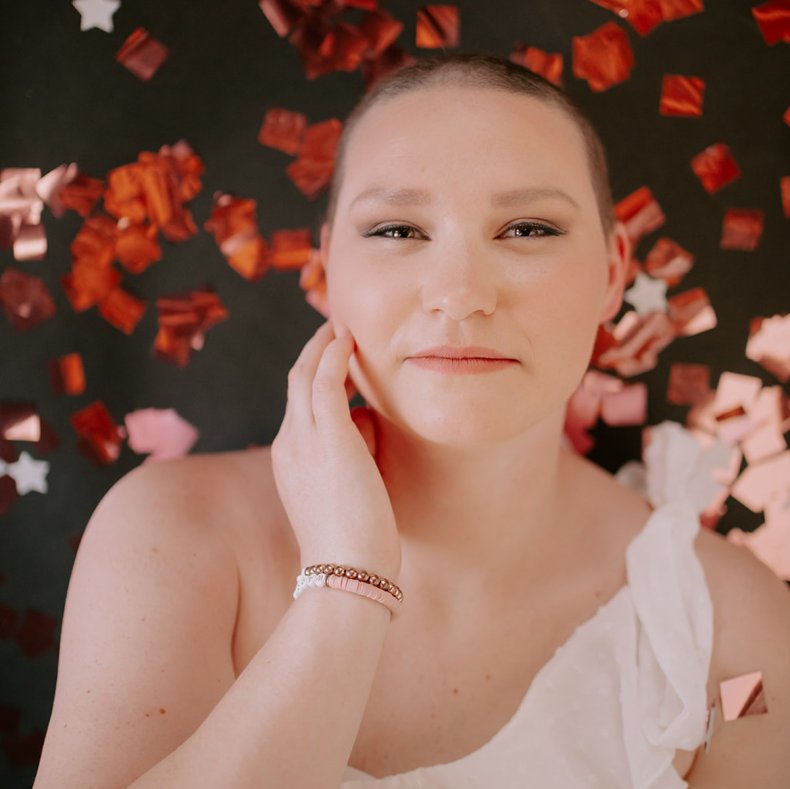 Isla Is Born and Katie Is Cancer-free
After a challenging pregnancy, on February 1, 2022, Isla Feaster was born at 35 weeks, a perfectly healthy baby girl, weighing 5 pounds and 10 ounces.
Feaster said: "If I didn't have my faith and believe in miracles, I don't think I would have made it through. It was very testing for [the baby] but honestly, I never worried that she wasn't going to be okay. I just knew she was gonna be okay. A fetal doctor had told me that [chemo] would slow her growth, but nothing slowed down her growth, she was perfectly healthy. [When she was born,] she didn't have to go the neonatal intensive care unit at all."
After seven rounds of chemotherapy and a double mastectomy, Feaster is cancer free as of June. After everything she went through, she is grateful that her diagnosis was delayed.
"Had they noticed that area, obviously they would have done it right away, so I'm actually grateful! It was definitely a miracle—she was being protected. Definitely hard to say that you're a misdiagnosis with a miracle, but I don't see it any other way?"