The Beatles 'Abbey Road' 50th Anniversary: When Was 'Abbey Road' Released? How to Listen to Full Album, Track Listing
Today (September 26, 2019) is the 50th anniversary of the release of The Beatles' final recorded album, Abbey Road.
First issued on September 26, 1969, it entered the British album chart at No. 1 in October of the same year and stayed there for a total of 17 weeks. It remained in the charts for 81 weeks. In the U.S., it spent 11 weeks at No.1 and stayed for 83 weeks, according to the band's website.
The album itself is iconic for its image of the band walking across the entrance to Abbey Road Studios in London, but it also was the first time the band didn't include the group's name or album title on the front cover, showing just the photograph.
The eleventh studio album from 'the Fab Four' takes influence from progressive rock, blues and pop, with the second side of the album laid out similar to an opera, with excerpts of songs thrown together. Ringo Starr says on the website: "The last section of Abbey Road you know I still think is for me one of the finest pieces we put together."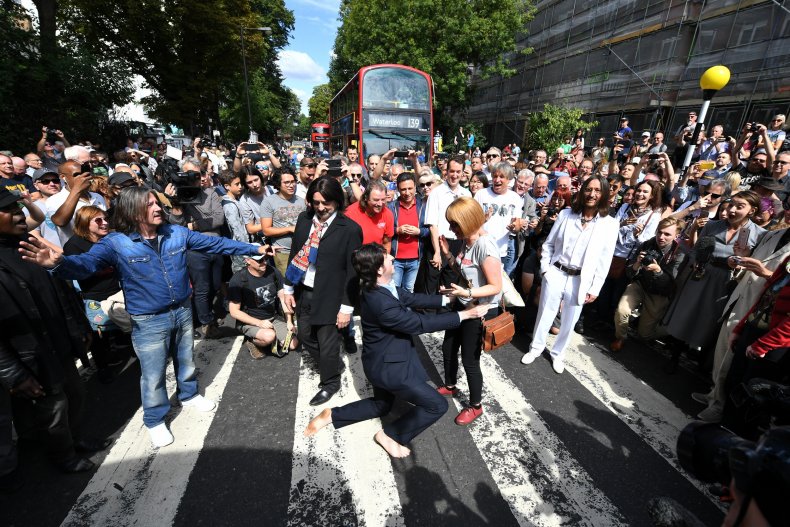 Quotes taken from the band, which appear on its website, show that Abbey Road was conceived during a time of turmoil for The Beatles. The band had taken a different direction with its music, and Abbey Road, according to album producer George Martin, was an attempt to go back to "how they used to do it." The previous recording session the band did was full of arguments, with some band members thinking it was the "end of the line" for the group.
Things started out well during recording for the album, but tensions in the band grew again, with John Lennon leaving the band privately by the time the album was released. Paul McCartney left publicly the following year.
The album, which includes hits such as "Come Together," "Here Comes The Sun" and "Something" can be listened to in full on Spotify.
The full tracklist is:
Come Together
Something
Maxwell's Silver Hammer
Oh! Darling
Octopus's Garden
I Want You (She's So Heavy)
Here Comes the Sun
Because
You Never Give Me Your Money
Sun King
Mean Mr. Mustard
Polythene Pam
She Came In Through the Bathroom Window
Golden Slumbers
Carry That Weight
The End
Her Majesty (originally a hidden track)
The majority of the songs were written by McCartney and Lennon, with George Harrison and Starr writing a couple of songs between them.
A 4-disc deluxe edition of the album, remixed and presented with additional session recordings and demos, is available for pre-order and will be released on The Beatles website from September 27, 2019.