There is a complicated relationship between Apple and Beats: The former actually owns the latter. Both make uniquely branded headphones and earbuds, just different enough to cause a bit of pause when deciding which ones to buy. Beats' earbuds tend to be more sporty, while Apple's AirPods are more casual. Both are excellent, but these latest Beats Studio Buds make the buying choice even more complicated with their healthy dose of features, packed into a small enclosure.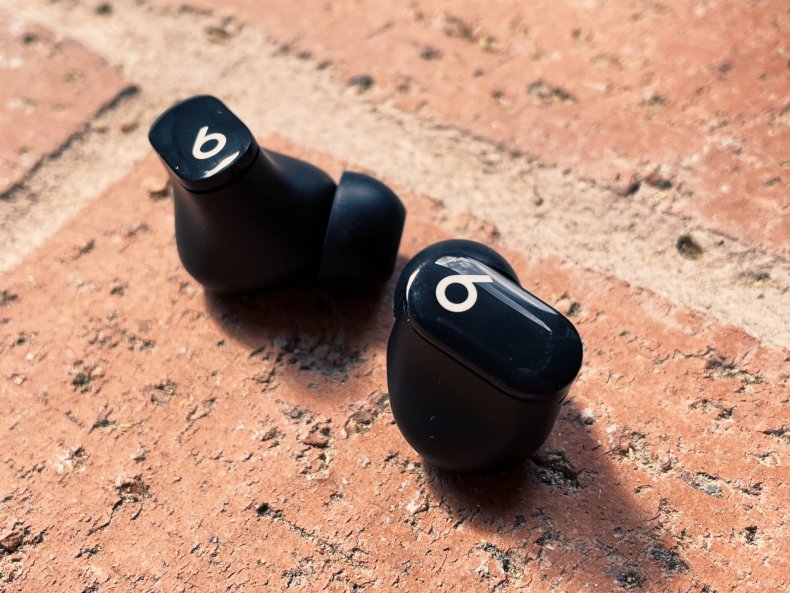 Beats Studio Buds are more like Samsung's Galaxy Buds than they are AirPods. The lack of stem hanging down makes them feel much smaller than anything the all-encompassing Apple corporation has put out before. Throw in active noise cancellation, transparency mode and a listed 8 hours of listening time for $149.99, and you have an immediately tough decision to make.
Are the Beats Studio Buds the true wireless earbuds to get? Are they versatile enough for workouts and airplane rides? Are you going to lose these tiny ear capsules instantly? All these questions and more are answered below.
Beats Studio Buds Compared With AirPods
Based on price alone, it would make sense to purchase the Studio Buds over AirPods 2. The base-level AirPods 2 don't include a wireless charging case, and neither do these Beats earbuds. The ANC feature included in the Studio Buds is a big enough draw, however, to curb AirPods enthusiasm.
In practice, the Studio Buds' noise cancellation feature is weaker, or blocks less noise, than AirPods Pro's. It's there, and you can tell the difference between it and transparency mode, but there are plenty of other brands doing this specific feature better.
Comfort between the two earbuds will be determined by your ear shape. The Studio Buds do have removable rubber tips that come with three sizes in the box to help with the overall fit and comfort level. (The seal of the tips in your ears will also play a role in sound quality.)
The Pros and Cons of Studio Buds
After spending some time with the Studio Buds, I came away with a highly positive reaction to them, but there are still plenty of cons worth mentioning. They are a curious product in this way. For every great thing, there's something peculiar to go along with it.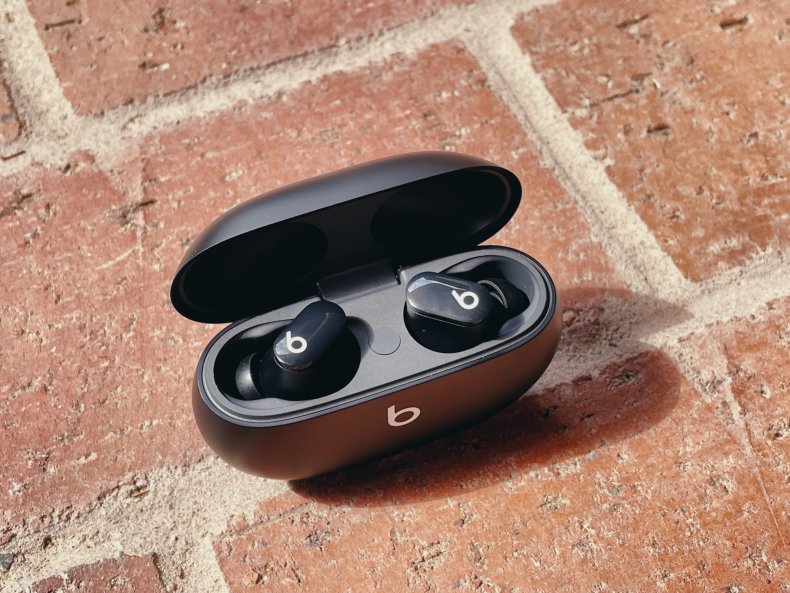 One example is the glorious push-button controls on the earbuds' exterior. There's a physical click and movement, so it's not just touch-sensitive, and that makes it very satisfying and handy to use. The interesting exclusion here is that when you hold down the control button to switch between active noise-canceling mode and transparency, you need to also cycle between three options, off being the third. On the AirPods you can select which of the three modes can be cycled between in the settings—but not on the Studio Buds.
As a whole, the sound is good, but not amazing. I had recently tested the Sony WF-1000XM4 earbuds, and those proved these weren't as vibrant as I had initially thought. The 1000XM4 makes these Studio Buds sound a bit hollow. Sony's bass is the winner, hands down. These Beats earbuds aren't pathetic, of course, but the Sony WF-1000XM4 are just that much better.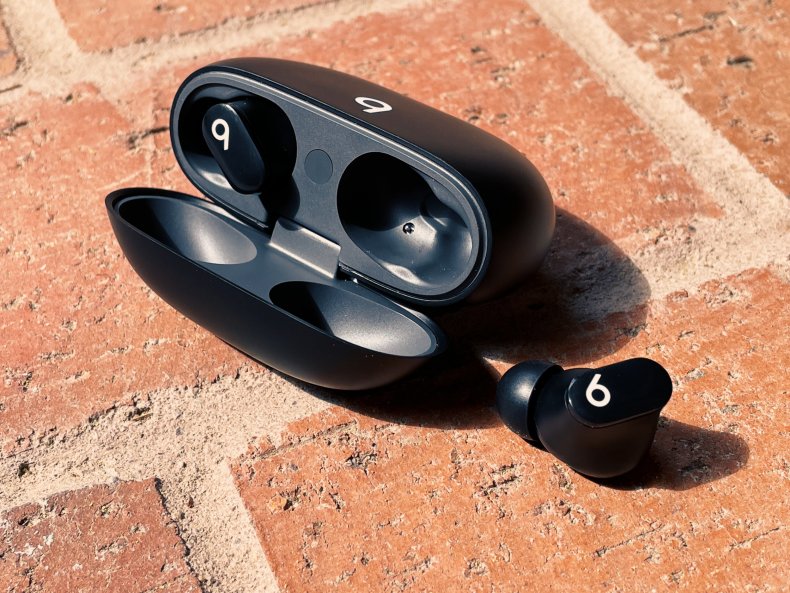 To be diplomatic, these aren't meant to go head-to-head with more premium options. So, in their weight (price) class, they sound respectable. Part of the overall sound is tied to the looser, more casual fit. I really like the Studio Buds' fit which slips in and doesn't present much ear fatigue after extended listening times.
These compact earbuds perform great out and about. Wandering the grocery store? Mowing the lawn? Walking around the neighborhood? The earbuds work wonderfully for all these types of usage. Since Beats is known for its sporty brand image, however, I wanted to see how these stemless, compact earbuds did with exercise.
I went running outdoors with the Beats Studio Buds to get a sense of how they handled that type of motion. I love the small, minimal look these earbuds have, but it also means there's less surface area to grab if they do fall out or need to be adjusted. Unfortunately, the sweat and jostling from running caused these tiny earbuds to come loose and need to be—carefully—readjusted midrun. The thought of losing one or needing to constantly shift it around during heavy exercise is daunting. Plus, on top of that, there was more wind noise than I would have wanted when running with its transparency mode on. Running outside with ANC on, not hearing all my surroundings, makes me nervous.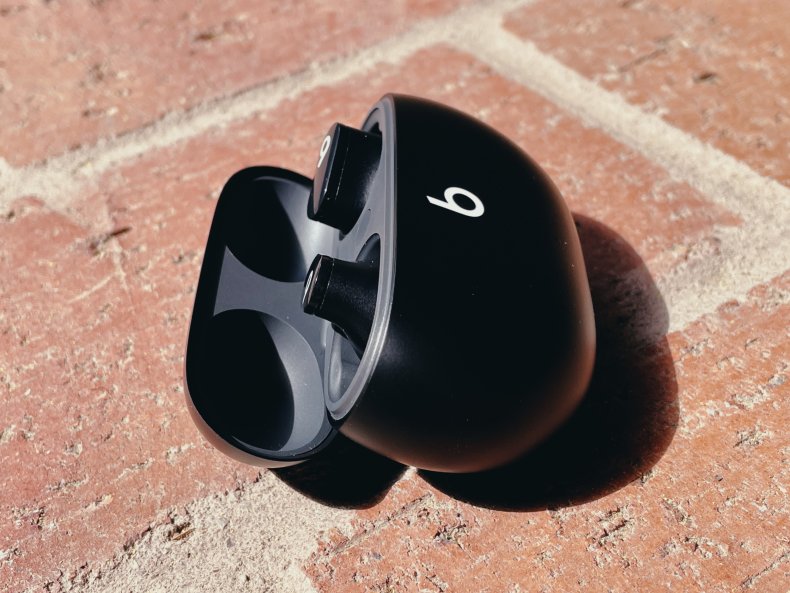 The case housing these earbuds is great—mostly. It's a slim, manageable size, and its magnets pull the earbuds to stay in place securely. There's a USB-C port for charging which is also great. But the lack of wireless charging is disappointing. The back and forth of pros and cons with the Studio Buds is constant.
Should You Buy Beats Studio Buds?
The one word that keeps coming to my mind in describing these earbuds is: compelling. The audio is good, but not as full or rich as AirPods Pro or Sony's WF-1000XM4. The same thing applies to their ANC feature.
Still, the Studio Buds are a compact, lightweight and comfortable listening option that provides enough versatility for daily use. They may not be perfect for exercise or for drowning out noise, but at $149, they are certainly compelling enough to buy—or, at least, to complicate your buying decision.
Newsweek may earn a commission from links on this page, but we only recommend products we back. We participate in various affiliate marketing programs, which means we may get paid commissions on editorially chosen products purchased through our links to retailer sites.