'A Beautiful Day in the Neighborhood': How Accurate is the Tom Hanks Mr. Rogers Movie?
In cinemas now is A Beautiful Day in the Neighborhood, inspired by the real-life meeting between Esquire journalist Tom Junod and Fred Rogers (played in the movie by Tom Hanks), whom Junod wrote a profile of in 1998.
Some of the moments that seem the most unrealistic in the film are in fact taken straight out of Junod's piece, titled "Can You Say...Hero?" For example, a moment seen at the end of the movie's trailer when a subway full of children spontaneously start singing "Won't You Be My Neighbor" to Mr. Rogers is straight from the piece:
"Once upon a time, Mister Rogers went to New York City and got caught in the rain. He didn't have an umbrella, and he couldn't find a taxi, either, so he ducked with a friend into the subway and got on one of the trains. It was late in the day, and the train was crowded with children who were going home from school. Though of all races, the schoolchildren were mostly black and Latino, and they didn't even approach Mister Rogers and ask him for his autograph. They just sang. They sang, all at once, all together, the song he sings at the start of his program, "Won't You Be My Neighbor?" and turned the clattering train into a single soft, runaway choir."
Other moments in the film were even stranger in real life. The part of the film where Rogers tells Vogel to sit in silence for 10 seconds to think about those who loved him happened in real life, but not between the journalist and the presenter. Instead, this was something that Rogers got the entire audience at the Emmys to do when he won a lifetime achievement award.
Junod wrote in his piece: "There, in front of all the soap-opera stars and talk-show sinceratrons, in front of all the jutting man-tanned jaws and jutting saltwater bosoms, he made his small bow and said into the microphone, "All of us have special ones who have loved us into being. Would you just take, along with me, ten seconds to think of the people who have helped you become who you are....Ten seconds of silence."
Though the film takes relatively few liberties in telling the story of Mr. Rogers⁠—after all, any big inaccuracies could be checked against the documentary of his life from 2018, Won't You Be My Neighbor⁠—director Marielle Heller and screenwriters Micah Fitzerman-Blue and Noah Harpster do take some dramatic license with Junod's character.
The Rogers of the movie is a married, accomplished piano player with a strained relationship with one of his sons, who swims every morning and, according to Slate, was a vegetarian who said to people he refused to "eat anything with a mother." All of this is true.
However, the movie's Junod is very different, to the extent he has even been given a different name.
As Junod himself wrote in The Atlantic: "A movie has been made from the story I wrote about him [Rogers], which is to say "inspired by" the story I wrote about him, which is to say that in the movie my name is Lloyd Vogel and I get into a fistfight with my father at my sister's wedding.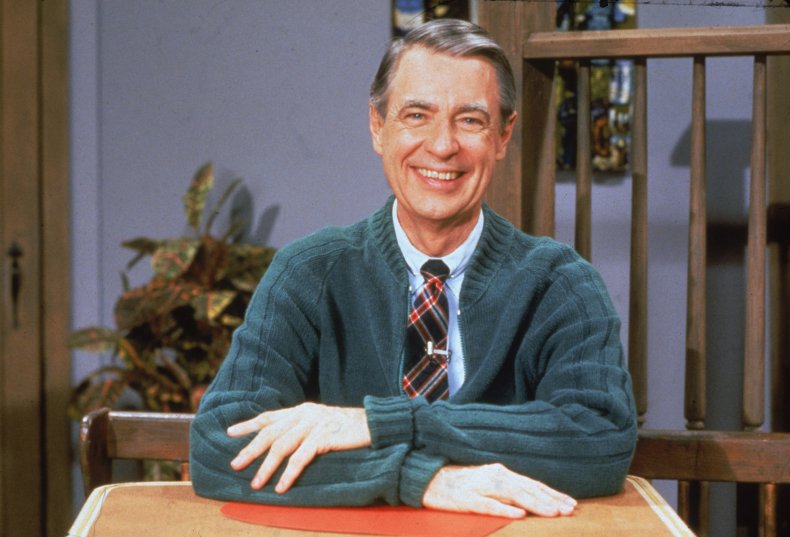 "I did not get into a fistfight with my father at my sister's wedding. My sister didn't have a wedding." In the movie, he gets a black eye from this fight, heads into the office with this and gets assigned the story to counteract his hard-ball image.
For the real Junod, things were a little different: "I was assigned the story about Fred because one of the editors at Esquire thought it would be amusing to have me, with my stated determination to "say the unsayable," write about the nicest man in the world."
Vogel's wife (Susan Kelechi Watson) and young child in the film are almost completely fictional, and are not based on the real family of Junod.
As for the episode of Mister Rogers' Neighborhood we see being filmed, this is all based on actual material, though the actual segments come from different episodes across a number of decades. The scene where Rogers struggles to put up a tent, for example, is actually a blooper from a 1975 episode, as shown as part of Rogers' 1982 appearance on Letterman.
Though Vogel's and Rogers' conversations are mostly fictional, director Heller put in an actual line she was told by his Rogers' widow Joanne (Maryann Plunkett). She told Terry Gross: "She [Joanne] said, 'It's important you don't think of him as a saint. And the reason it's important you don't think of him that way is then his message is unattainable, what he was aiming for is unattainable.' And something about that just clicked for me. So we put that verbatim into the movie, because it made it so clear."
A Beautiful Day in the Neighborhood is in cinemas now.