'As a Black Woman, I Had To Learn These Beauty Lessons Myself'
I was born in Virginia and both of my parents were in the military, so we traveled a lot. I had only lived in Virginia for a month before we began to move around to different states including Florida, California, and Rhode Island.
I grew up in a very blessed and healthy home; I'm very close to my family because of how much we traveled. My parents are one of a kind and they did everything for me and my siblings. They built me up to believe that I could be whoever I wanted to be.
When I was 8 years old, I watched High School Musical for the first time and saw Corbin Bleu. I was in awe, I thought, "Who's that?" I had thought that I was the only person who existed with my type of hair. It made me feel seen to know that there were other people who looked similar to me.
My parents wanted my brother and me to have a good education so we attended several high performing schools but demographically, those schools had a predominantly white and Asian population, so as a Black woman, I never really saw a representation of myself.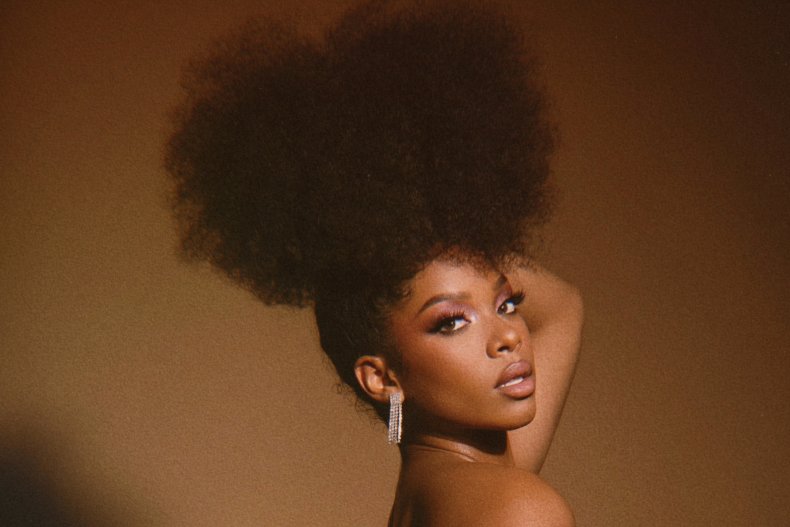 When I had attended a school in Rhode Island in the fifth grade, I was the only Black girl in a class of 100 people. It didn't bother me, as I thought that it was normal. But because of it, I was more aware of myself and my features. So, I struggled with my confidence. As a child, I remember not properly looking in a mirror for almost a year because I hated seeing my reflection.
One day, I had asked myself why I was so afraid of mirrors. I cried because I realized, for some reason, that I did not like myself. It was odd to me because I was always told that I was a pretty person, but I was the only one who looked like me in a lot of my spheres. It was then that I also realized that I wanted to feel better whenever I looked at myself. I wanted to view myself as beautiful and I realized that something within me had to change, so that I could view myself differently.
In 2019, I went to college at California State University and I studied kinesiology. I had planned to graduate and join the military. But at the time, our teachers had shown us several motivational speeches, and we were asked to write essays on them which forced me to have a different perspective. I began to love myself more, and I trained myself to speak positively about my looks and my features, even if I didn't feel like it.
All of the motivational speeches in the videos made me want to create a life that I would enjoy and feel content and passionate about, and I felt like the path I was on was only going to make me hate my life and never bring me any fulfillment, so I had to try another route.
I struggled in middle school and college because I have attention deficit hyperactivity disorder (ADHD). I was such a perfectionist and was very hard on myself; I sometimes stayed up until 3:00 a.m. writing and perfecting college essays because I felt that I had to work extra hard because my brain absorbed information differently.
Becoming an influencer
My dream was to be an actress, so after a few months of attending college, I skipped classes to attend auditions. But every time I went to an audition, I noticed I wasn't getting a lot of acting roles, because a few of the other girls had a larger social media following than me. I then noticed that casting directors had begun asking for actors who had a minimum of 10,000 to 20,000 followers. So, in October 2019, I signed up for TikTok.
When I had first created content on TikTok, there wasn't a large representation of Black women or women of color on the platform. But it was still one of the social media platforms where I had seen a lot of representation, in general.
Being on TikTok wasn't as cool as it is now, there were only a few Black content creators that inspired me. I saw them having fun and being free in their style, fashion, and hobbies.
This inspired me to create videos for girls with curly hair because I hadn't seen many curly hair tutorials on the platform. I then began showing different hairstyles on TikTok for other girls who looked like me, so that they could feel confident in their skin and love their hair. I was insecure about my hair while growing up, so I didn't want others to feel that way.
A few months after creating content on TikTok and posting on Instagram, I had gained a lot of attention online. So, I asked my parents if I could drop out of college to pursue a career in acting, modeling, and beauty influencing. I was so nervous that I cried. My parents had joined the military so that my brother and I could live a good life and I didn't want to disappoint them.
But they believed in me and they told me that I had one year to make a living off of being a social media personality, and if it didn't work out, I had to go back to college. I was relieved that I had a chance to follow my dreams.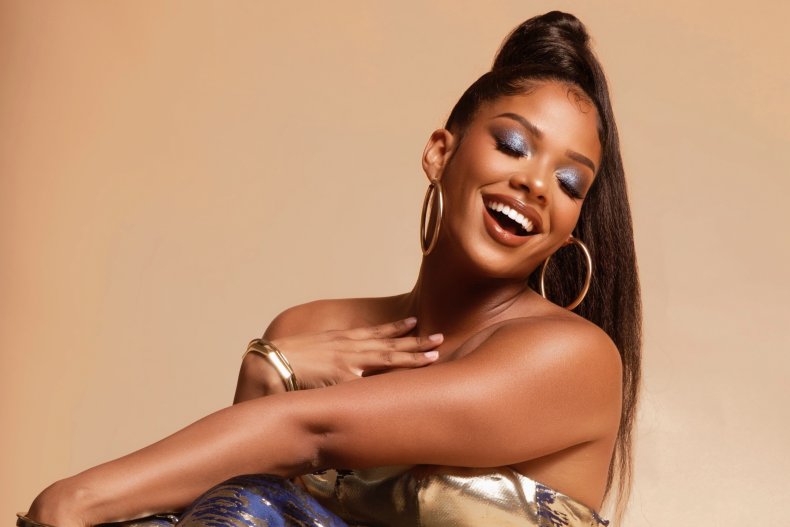 Months after creating content online, people had begun asking me about my makeup routine. The more that I answered their questions about my style, my hair, and my makeup, the more my following grew. Putting myself out there allowed my confidence to grow. I began posting online and not caring what people thought of me.
The beauty lessons I've learned
During the years that I have been a beauty influencer, there have been a lot of beauty lessons I had to learn for myself that I've shared with my followers. A big part of my insecurity growing up stemmed from constantly seeing women who didn't look like me on my social media.
When I was younger, I always asked my mom if I could straighten my hair, and she told me not to. It slowly forced me to fall in love with my hair, despite not seeing others around me who looked the same.
I encourage everyone to embrace their natural hair and try to educate others on different styles, hair techniques, and methods. I had to learn how to style my hair myself through trial and error. I try protective styles, wigs, and braids. I tell everyone to try these methods too, and I demonstrate them to my followers.
Even now, I encourage people to work with and embrace their natural hair. If you see a trend on social media that makes you want to change something unique about yourself, I'd tell you to ask yourself why.
One of the most important lessons that I have had to learn is that confidence is the biggest part of my makeup routine. When you fall in love with your features instead of trying to hide them, you begin to appreciate and accept your face more.
For example, I have very thin eyebrows and my mom didn't let me wear makeup until my senior year of high school. She used to check my face every morning to see if I had makeup on. On several occasions, I had tried to shade my eyebrows to make them look thicker. She noticed and told me to wipe the makeup off. Although it seemed harsh at first, it forced me to be confident in my own features.
I felt insecure during school and it would frustrate me because I had felt uncomfortable in my own skin all day. But my friends told me that they did not notice a difference in my face from when I had shaded my eyebrows. So, a big part of my makeup journey involved me embracing my features, rather than trying to change them.
In 2017, I would wear dark lipstick, my makeup was heavier and I put a lot of setting powder on my face. I realized that, in following a specific beauty trend at the time, I wasn't embracing my own features. I found that darker lipsticks and heavier makeup did not suit me, but they may work for others. Instead, the "natural glow" look suited me more. This involved lighter colors, like lip gloss with a pink tint and blush, which I'd subtly apply. I also keep the shades of contour closer in range to my natural tones.
But I would say, embrace your features and your personality and try out different make-up looks to find what makes you feel the best. Don't just follow a trend, try different makeup techniques to see what compliments you.
I always encourage the people around me to not follow up-and-coming makeup trends. For example, if they have big, beautiful eyes, I often advise them to not wear a lot of thick, fake eyelashes as it may make their eyes look smaller, which then hides such a unique feature of theirs.
A lot of people who have grown up watching social media and beauty trends, including myself, tend to follow them but it may become difficult because you can get used to seeing your face in a certain way, and when you remove your makeup, you may be shocked by the fact that you look completely different. I don't think we should be trying to look different, we should be trying to enhance some of our features instead.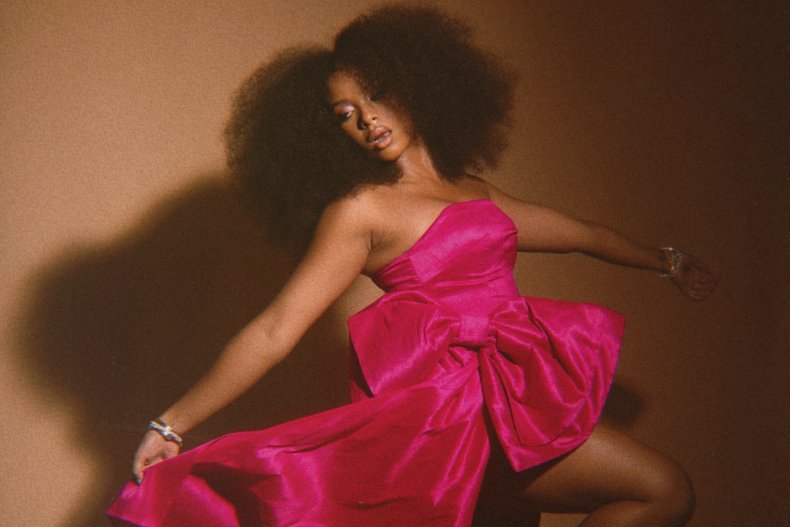 Over the years, a few girls had reached out to me online. They told me that my content has made a difference in their lives. I treat my followers like they are my friends, I want them to feel empowered when they see my content.
I'm very thankful because, through my hair tutorials, I am able to teach girls with hair like mine to fall in love with their curls, so that they don't have to feel insecure. I can teach them to love their hair so they know that there is space in the world for it. It's beautiful, and it doesn't have to look a certain way every day or be molded another way for it to be beautiful and for you to feel good wearing it.
I love my hair now—everything about it. I used to hate all the eyes I got from it, but I have learned to love it and I have learned how to style it. I can bring out how I feel and different sides of me with it. I feel as though if I show my audience that I take and love my hair in all forms, they will be used to seeing their own hair, and they will know that there are ways to take care of it and create different looks with it that make them feel good.
In hindsight, I wouldn't change a single thing about what has happened in my life. If I hadn't felt insecure when I was younger, I wouldn't have had the passion and drive to want to help others. Looking back, I would tell my younger self that everything has happened exactly the way that it was supposed to.
Tatyana Joseph is a social media personality, beauty influencer, and actress. You can find out more about her here.

All views expressed in this article are the author's own.
As told to Newsweek associate editor, Carine Harb.
Do you have a unique experience or personal story to share? Email the My Turn team at myturn@newsweek.com