More than 900 people were left without internet in a municipality in British Columbia, Canada, over the weekend, likely due to beavers gnawing through local fiber cables.
Residents of Tumbler Ridge, four hours northeast of Prince George, were in the middle of a two-day Telus outage over the weekend, due to beavers biting through a 4.5-inch thick tube that provides the internet connection, CTV News reported Sunday.
On Saturday, just after 4 a.m. local time, internet services for around 900 homes and businesses, as well as cable service for 60 customers, were disrupted, and electricians were sent to investigate. Tumbler Ridge's population is nearly 2,000, so the outrage impacted around half of the population.
A photo of the scene posted by Telus, the telecommunications company serving the area, showed a wide hole, several feet deep, with damaged cable ends at the bottom in a puddle of water. In its investigation, the company concluded the damage was likely due to beavers.
Telus spokesperson Liz Sauvé called it "a very unusual and uniquely Canadian turn of events."
"Beavers have chewed through our fiber cable at multiple points, causing extensive damage," she said in an emailed statement to the Canadian news network.
She said that her team had been working "around the clock" but the fact that some of the ground above the cables is frozen has made the repair work more challenging.
"Our team located a nearby dam, and it appears the beavers dug underground alongside the creek to reach our cable, which is buried about three feet underground and protected by a 4.5-inch-thick conduit," Sauvé added.
"The beavers first chewed through the conduit before chewing through the cable in multiple locations," she said.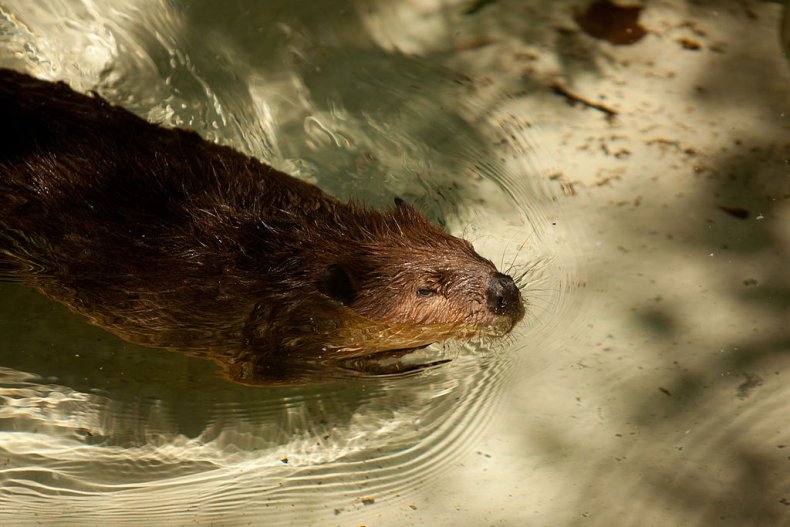 The damage has also disrupted local cellphone services.
"We have some overlapping wireless service in the community from other nearby cell towers, but cell phone service will be spotty or disrupted for many of our customers in the area," Sauvé said.
The company apologized for the disruption.
Newsweek has contacted Telus for further comment.
Although they are revered as the national animal of Canada, beavers can often be a nuisance to both fellow animals and humans. The dams they build can negatively impact ecosystems. For example, beaver dams can block migrating freshwater fish and reduce biodiversity in rare plant and animal habitats.
In September 2018, the Transportation Safety Board of Canada (TSB) investigator revealed that beavers likely contributed to a train derailment near Ponton, Manitoba, which resulted in the death of a railway worker. Investigators found that the swampy area below the train tracks had high levels of water and signs of beaver activity.