Bebe Rexha on Addressing 'Real Stuff' in Second Album, Says She Was 'Bummed' by Grammys Dress Debacle
Bebe Rexha is a rising name in music not just because she's behind some of today's biggest songs in Top 40 radio, but because she isn't afraid to use her voice to speak on or promote various issues.
Rexha is known for top songs like her Florida Georgia Line collaboration "Meant To Be" and the brutally honest track "I'm A Mess." She, however, claims to have become more known for her advocacy than her artistry. This isn't necessarily a problem for her as she desires to use her voice to raise awareness to an assortment of issues, including the fashion industry's practice of catering to women who don't fit into a sample size—a predicament stars like Megan Mullally and Leslie Jones have faced. She addressed this issue in January when struggling to find a designer to create a custom Grammys look for her "size 8 a**" ahead of February's ceremony.
While she wound up wearing Monsoori to the prestigious affair, she was saddened by several designers who declined to work with her initially.
"I was really upset so I recorded a video and I wanted to put it out, but I stopped myself because I don't want people to get upset with me," Rexha, 29, told Newsweek. "The next day, I was still upset about it and I really feel like I want to put this out because I was really bummed by it. The amount of love that I received and the amount of people that have come up to me and told me that it helped them [has] been insane."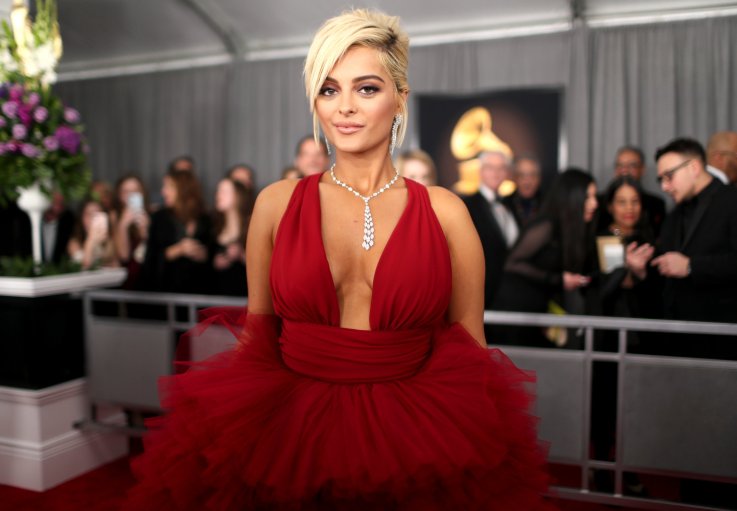 "It's kind of funny. A lot of people know me more about this than anything else that I've done musically overall...That's kind of amazing. I don't mind that. I want to be known for my art but I also want to help people and stand for something," she added.
Music is at the core of much of what Rexha does, including her partnership with Lays for its "Turn Up the Flavor" campaign. "Turn Up the Flavor" introduced three new limited edition flavors—Flamin' Hot Dill Pickle Remix, Electric Lime Sea Salt, and Rexha's favorite flavor of Classic Beer Cheese—inspired by different musical genres.
Rexha was immediately intrigued by the Lays campaign because it was "something completely different" as it combined music and flavor. She created an original track, called "Right Here, Right Now," which was inspired by each chip flavor. It blended the genres of rock n' roll, hip-hop and pop. "It was something I'd never done before. It was really cool because combining music and food, they're both nostalgic in a sense," she said.
"I wrote it with my friend. We were hanging out in the studio and we just wanted to write a song about enjoying the moment because life is short," Rexha explained. "I think sometimes we can let a lot of moments pass us by and it's about enjoying every second. It's saying we're here in this moment, let's just have fun because we don't know if tomorrow is promised. It's just a feel-good record about enjoying life."
"Right Here, Right Now" isn't the only song on Rexha's radar. She dropped "Last Hurrah" in February, which is the lead single to her upcoming sophomore effort. The track's respective NSFW music video was inspired by the seven deadly sins and it even sparked an outcry from her father, who suggested she "stop posting stupid pornography." But when it comes to the direction for the rest of her record, she aims to get more personal.
"I'm working on an album that's talking about real stuff that I'm going through and more than ever, writing about things that I'm scared of and a lot of my insecurities. Hopefully, people can relate to it because I think my fans really love when I write about real stuff," she said. "I grew up listening to P!nk and Gwen [Stefani]—really powerful females. I want to be that for my fans. I just want to be unapologetic whether it comes to the way that I dress or the music that I sing or the music videos I put out. I'm never going to make everybody happy completely, so I don't care. I just do what I want."
Bebe Rexha on Addressing 'Real Stuff' in Second Album, Says She Was 'Bummed' by Grammys Dress Debacle | Culture