Who Is Becca Kufrin's Fiancé? Possible Spoilers Based on 'Bachelorette' 2018 Cast Photos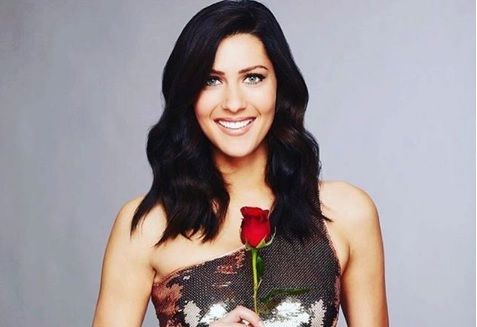 The paparazzi might have just exposed a major spoiler for Season 14 of the Bachelorette. Becca Kufrin was caught kissing a mystery man in photos published by TMZ Thursday. Kufrin already spoiled that she was engaged to one of the men from this season, but she didn't reveal his identity.
Kufrin was caught kissing a man at the Shangri-La's Resort in the Maldives. It should be noted that it can't be confirmed the man is her fiancé, but it seems likely since he's wearing a suit and she's wearing a white dress—typical honeymoon attire.
Fans of the show might be able to guess who Kufrin's fiancé is based on the photos. Some of the cast members can be ruled out based on physical appearances alone, but it's hard to pinpoint one person. Check out the cast photos here.
Kufrin was famously dumped by Arie Luyendyk Jr. on live television after they were engaged for several months. He told her he still had feelings for runner-up Laura Burnham and proposed to her. The racecar driver revealed on The View he and Burnham would be getting married in Hawaii next year. Kufrin doesn't hold a grudge against Luyendyk, and she might attend their nuptials.
"I don't know if they'd invite me," Kufrin, 28, said during a press conference Thursday. "But, yeah, if they would want me there, I would want to share in their love because I truly do wish them nothing but happiness."
According to Luyendyk, Jr., the wedding will be small, so Kufrin might not merit an invite. "It's in Maui — it's at Haiku Mill which has this beautiful, old world feel with a lot of vines and greenery," Luyendyk said Wednesday. "It's not your typical beach wedding. And it's a private wedding, so not on TV — just a close group of friends. Probably 100 guests."
Kufrin might be too busy planning a wedding of her own. "I am engaged!" she told People magazine for their Friday issue. "It was the happiest moment of my life. And it feels so good to say it. I still pinch myself, like, did that all just happen? It's been a whirlwind."
Find out who Kufrin chose as her husband-to-be when The Bachelorette premieres Monday at 8 p.m. ET on ABC.